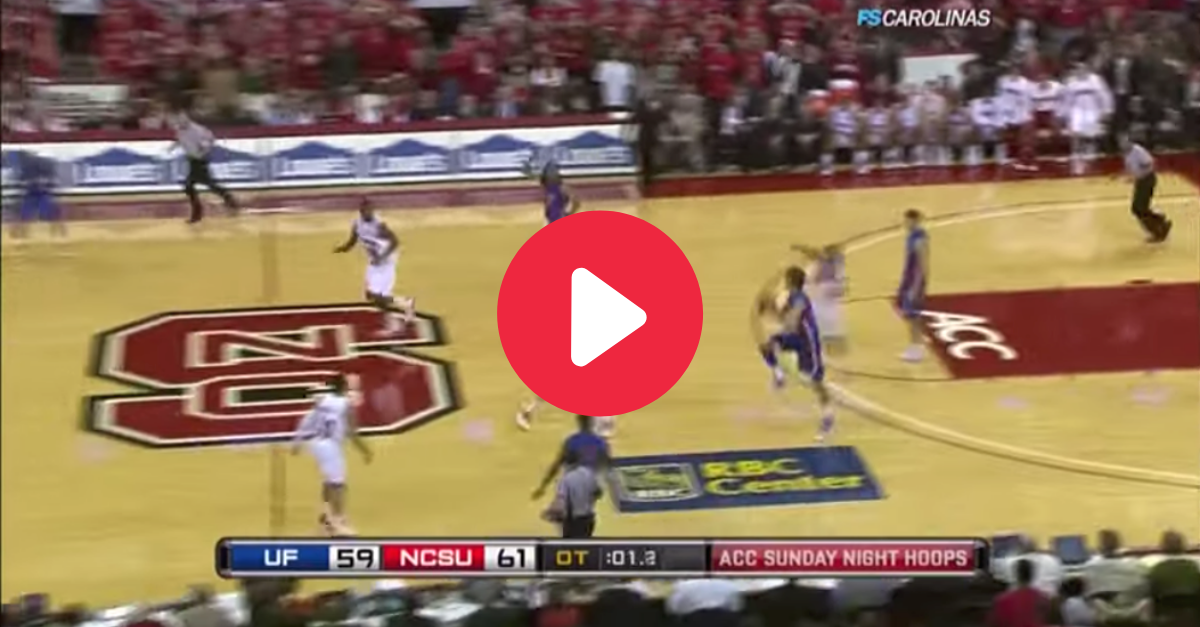 Screenshot from YouTube
North Carolina State point guard Farnold Degand stepped up to the free-throw line for two shots. The Wolfpack held a 60-59 advantage with 2.6 seconds left in overtime against the Florida Gators in Raleigh.
Degand nailed the first one. The second free throw was released too late and hit the front of the rim, beelining towards the middle of the paint.
Florida's Chandler Parsons snatched the rebound, took two dribbles, and heaved as time expired.
Parsons buried the 75-foot buzzer-beater to give the Gators a 62-61 victory. The NC State crowd was stunned while the Gators swarmed Parsons, bursting with excitement.
Florida's Buzzer Beater Devastates NC State
Parsons' overtime buzzer-beater is meant for after hours in the gym. Something practiced while messing around with teammates to see who can make one first. Who knew Parsons' Hail Mary would become an immortal highlight for the University of Florida basketball program.
The win lifted UF to an 11-3 record and pumped the team full of adrenaline before they began Southeastern Conference play. Parsons, along with fellow starters Kenny Boynton, Vernon Macklin, Alex Tyus, and Erving Walker, had momentum for the next part of the season.
The magic didn't stop there. Three weeks later, in an SEC game in Gainesville against South Carolina, Parsons did it again.
Chandler Parsons Does It Again
RELATED: Christian Laettner's Buzzer Beater Capped Greatest College Game Ever
The Gamecocks had just driven the length of the court and taken a 56-55 lead with 5.1 seconds left in the second half. Florida head coach Billy Donovan was out of timeouts. Walker immediately took the inbounds pass and sprinted the length of the floor, changing direction near the logo and driving towards the rim. Parsons found an opening beyond the arc on the left-wing. Walker flipped it to him. Parsons rose for the jumper.
Bang!
The O'Connell Center crowd goes bananas. Parsons winning three-pointer gave the Gators a 58-56 lead and another bonkers moment.
If you played Florida in January 2010, you'd want more than a basket lead heading into the final seconds. Otherwise, you might find yourself on the wrong end of a Chandler Parsons dagger.