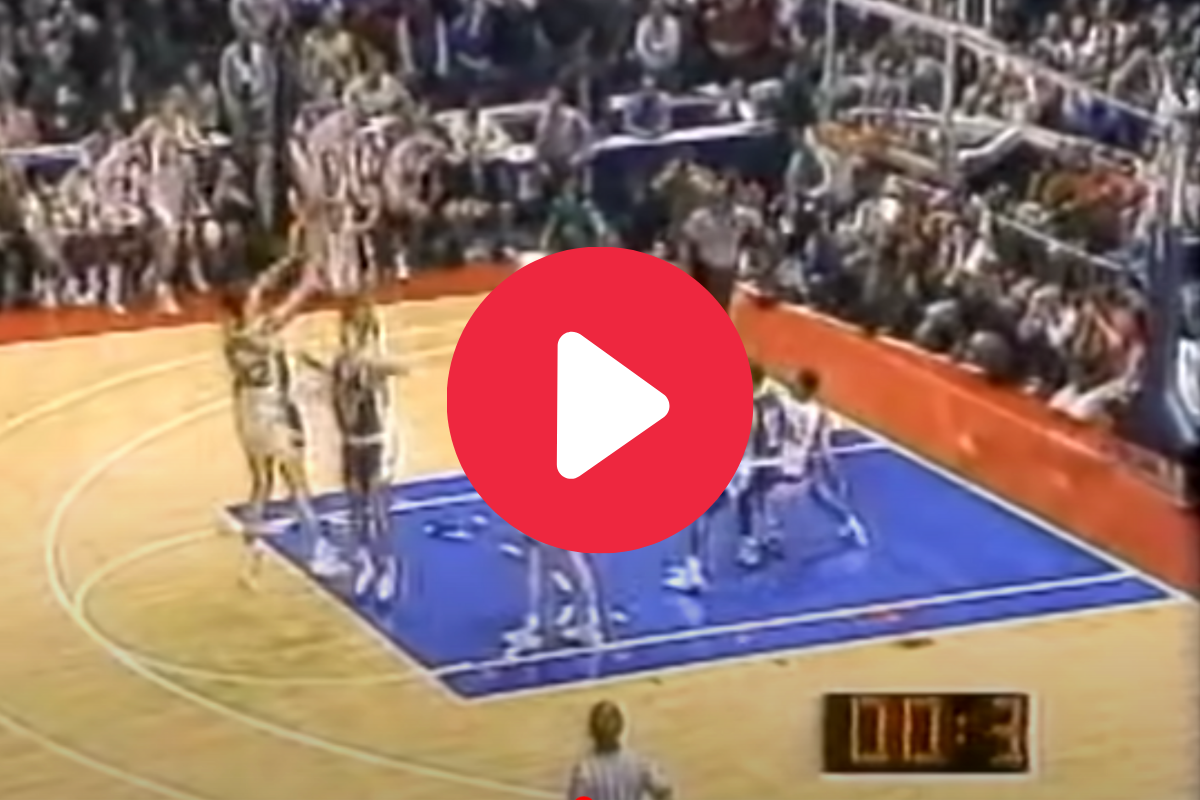 Screenshot from YouTube
The Duke Blue Devils needed a miracle.
They were down 103-102 to Kentucky with 2.1 seconds left and had the length of the court to go. A trip to the Final Four was on the line.
Sophomore Grant Hill lined up for the inbounds pass. He wound up and threw a strike to teammate Christian Laettner at the opposite free-throw line.
Laettner dribbles once, spins, and rises for the turnaround jumper…
YES!!!
Christian Laettner Hits "The Shot"
RELATED: Coach K?s Net Worth: How Rich is Duke?s Iconic Coach?
Greatest game in NCAA Tournament history. One of the greatest shots in basketball history. Laettner's buzzer-beater was the cherry on top of peak hoops.
The top-ranked Blue Devils were the defending national champions with losses only to ACC opponents North Carolina and Wake Forest. The Kentucky Wildcats were fresh off a two-year postseason ban due to recruiting violations and anchored by four seniors ?Indianapolis' Sean Woods and Bluegrass-state natives Richie Farmer, Deron Feldhaus, and John Pelphrey ? as well as sophomore Jamal Mashburn.
They met in the 1992 Elite Eight in Philadelphia.
Leading up to the buzzer-beating shot, Kentucky and Duke went back and forth the entire game. Duke took a five-point lead into halftime, but Kentucky roared back. With 33 seconds left in the second half, Kentucky's Deron Feldhaus tied the game at 93 apiece on a putback.
Duke point guard Bobby Hurley missed the winning shot at the end of regulation.
The lead traded throughout overtime. Laettner gave Duke a 102-101 lead with 7.8 seconds left. Coming out of a timeout, Woods hit a floater to put the Wildcats ahead 103-102.
We all know what happened next.
Duke head coach Mike Krzyzewski showed emotion for maybe the first time ever. Kentucky's Rick Pitino was devastated.
Laettner finished with 31 points and 7 rebounds, shooting a perfect 10-for-10 from both the field and charity stripe.
CBS' Verne Lundquist delivered the all-time call.
Coach K's squad won the East Regional Final and beat Indiana in the Final Four. They defeated Michigan's Fab 5 in the championship game to win the national title, becoming the first repeat champions since UCLA in 1972-73.
Sports Illustrated deemed the Duke/UK matchup the greatest college basketball game of all time in 2004. ESPN ranked it the 17th best sports moment as part of ESPN25 ? the 25th-anniversary celebration of the network ? the same year.
Laettner played for the Dream Team that summer with Michael Jordan, who knows a little something about hitting clutch shots. Hill stayed two more years, leading Duke to the national championship game in 1994 before falling to Arkansas. He had a solid NBA career.
There's a reason we call it March Madness, and Christian Laettner's shot spouted mayhem.
This post was originally published on April 14, 2020.