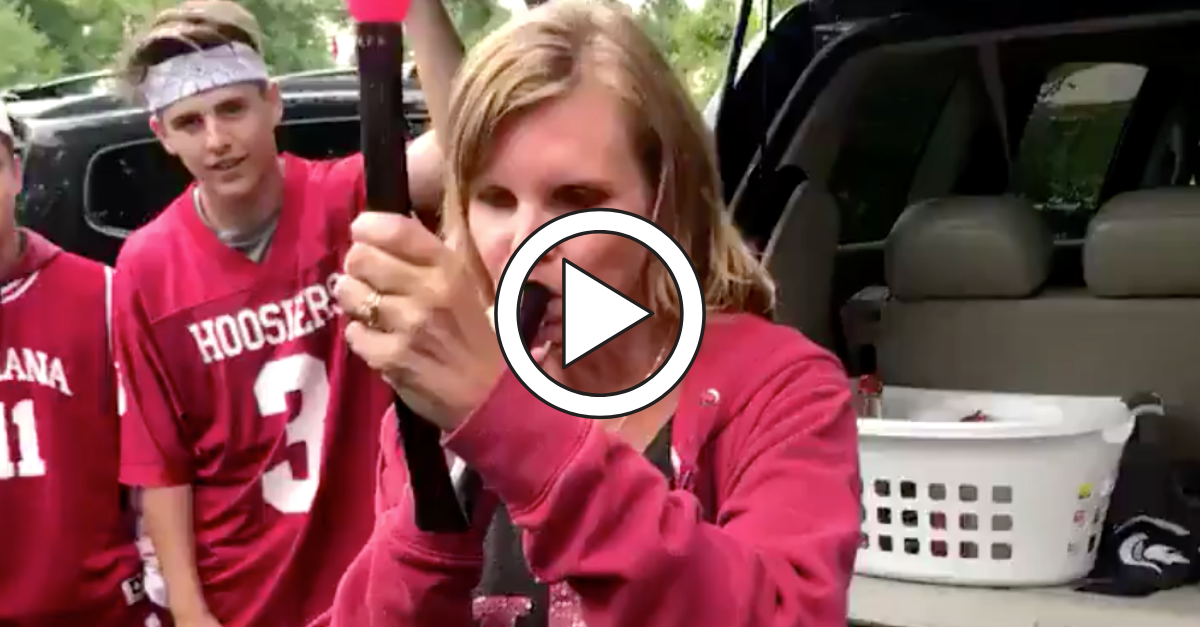 Screenshot from Twitter: b_mueller11
There are times when kids get embarrassed by their parents, like when hot moms dance for the jumbotron at baseball games, but there are other moments that make kids proud in front of their friends. That's exactly what happened during a weekend at an Indiana football tailgate is a perfect example.
Before the Hoosiers battled Michigan State on a Saturday night inside Memorial Stadium in Bloomington, Indiana, one mother decided to chug a beer through a beer bong in the grassy parking lot. It was so cool that the young Brandon Mueller filmed it and posted a video to social media, where it had well over 100,000 views, but his mom downing a cold barley pop is not the only highlight of the 14-second video.
Just look at the way her husband watches and smiles in pure adoration when she chugs the beer like a champion.
Mom Does Beer Bong
The game didn't go very well, as the Indiana Hoosiers couldn't complete a frantic, fourth-quarter comeback and lost to Michigan State, 35-21. However, Brandon Mueller has made his parents famous from the college football tailgate with over 1,500 retweets and nearly 8,000 likes from just his @b_mueller11 Twitter account.
"Find someone who looks at you like my dad looks at my mom while she's hitting a beer bong." — Brandon Mueller
Young Brandon might be wise beyond his years with that advice because nothing screams love quite like watching your wife as she hits beer bongs in front of a bunch of phone-filming college students like this husband did.
He probably knew he had a keeper years ago, but this definitely reaffirms it.
Brandon even tried to get a lady himself as the social media video was going viral.
At college tailgates, or any football tailgate, for that matter, really anything goes. People get into fights, eat amazing food, and even set themselves on fire for whatever reason.
This was definitely a moment in tailgate history when Brandon was proud of his mom. And so was his dad.
This article was originally published September 28, 2018. True love never fades, so of course we had to bring this video back.