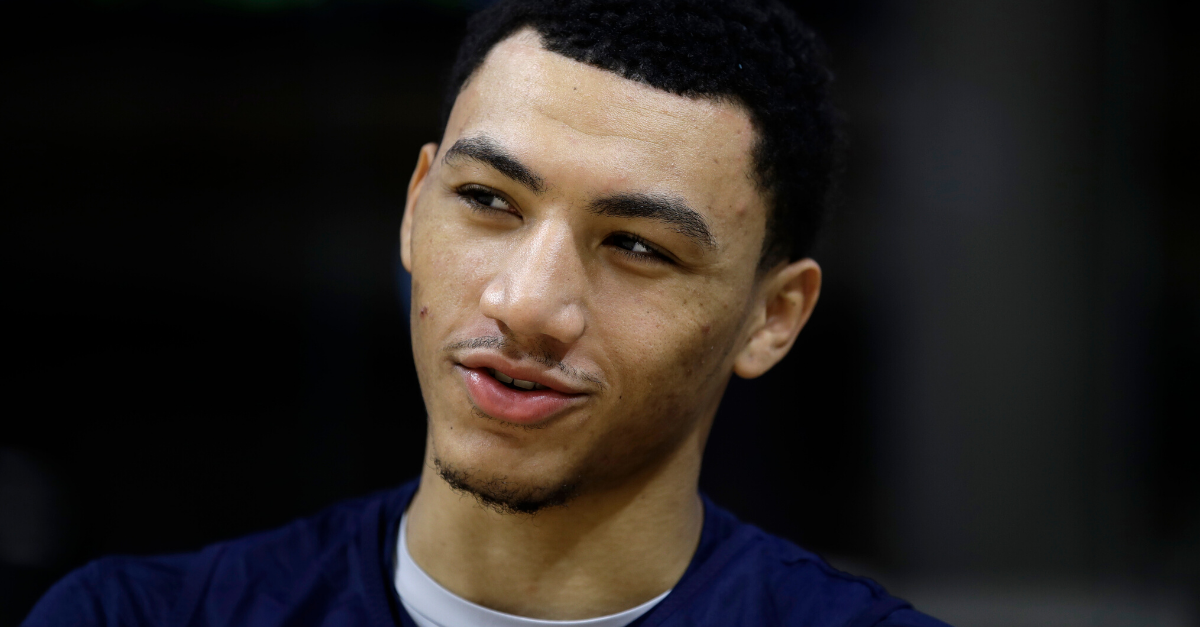 AP Photo/Matt Rourke
When he suited up for Hudson Catholic Regional High School in New Jersey, anyone who followed prep basketball on a consistent basis knew Jahvon Quinerly was one of the best point guards in the country. The 6-foot-1 floor general was simply fearless and knew how to make his teammates better. Any college basketball team would have been lucky to sign him.
Originally, it was the Arizona Wildcats and head coach Sean Miller who landed the 2018 McDonald?s All-American back in August 2017. The move wasn?t overly surprising at the time, but the five-star recruit?s life turned into a nightmare ever since.
From being linked to an FBI probe to limited playing time at Villanova to transferring and getting denied to play immediately for the Alabama Crimson Tide, Quinerly and his family have been through it all it seems.
There?s no doubt he?s fallen victim to the NCAA?s dumb double standard and very inconsistent transfer rules today.
Jahvon Quinerly Recruiting Scandal
Just three weeks after the big commitment, Arizona assistant coach Emanuel ?Book? Richardson ? the primary recruiter for Quinerly ? was arrested in part of an FBI probe into corruption in college basketball.
A wiretap phone call, as reported by AZCentral.com, was recorded between Richardson and Christian Dawkins ? a fired sports agent for ASM Sports ? to discuss paying a recruit to play for Arizona. Later, Dawkins told an undercover agent about another $15,000 to help secure a player identified as a ?top point guard in the country.?
As a result, Quinerly de-committed from Arizona, and Richardson was eventually sentenced to three months at Otisville federal prison.
Jahvon Quinerly Villanova
After the dust cleared from the FBI probe, Quinerly ? the two-time New Jersey Gatorade Player of the Year ? committed to play for Jay Wright and the Villanova Wildcats over the Oklahoma Sooners.
Everyone thought Quinerly would be an instant impact replacement of point guard Jalen Brunson, the National Player of the Year who led the Wildcats to the 2018 National Championship and went to the NBA. However, that was far from the case.
For most of the last season in Big East play, the Hackensack, New Jersey native barely saw the floor and even had a controversial Instagram story midway through the 2018-19 campaign.
Quinerly averaged just 3.2 points and only 9.1 minutes per game in 25 games and transferred following the season.
Jahvon Quinerly Alabama
It didn?t take long for Jahvon Quinerly to find a new home with the Crimson Tide in Tuscaloosa to play for newly-hired head coach Nate Oats.
The hope was for Quinerly to play right away for Alabama basketball and was originally denied in October. Then, the NCAA denied the point guard?s appeal for a waiver for immediate eligibility this year in November and must sit out the entire 2019-20 season.
Needless to say, Alabama athletic director Greg Byrne and Oats were upset at the decision in a joint statement.
"We can't begin to express how disappointed we are with this decision. Jahvon and his family have been through a set of circumstances that no student-athlete in the history of the NCAA has experienced. Their name has been falsely dragged through the mud for two years, and we felt confident that the NCAA Committee for Legislative Relief would recognize this very unique set of circumstances. We will continue to support Jahvon and his family in every way that we can."
?[Jahvon] thought we had a chance for a min, hoping our story would be heard. But we both knew it was bs. Shit, The NCAA scours through my bank statements dated back to 2015 from before I met Book & questions $10 Venmo transactions why would we ever think this could go our way,? Quinerly's mother posted on Twitter. ?It?s time to start talking about this circumstance and this organization & yes why Villanova was not his FIRST choice & why his parents made his decision 4 him! Why? Well stick around and you?ll find out. I?m done being quiet. I?ve stayed under the radar FTS.?
Quinerly will have three years of eligibility remaining, but why can't he play now?
The NCAA's Inconsistent Transfer Rule
Unless you are a graduate transfer, where a student-athlete can play immediately at their next school, there is certain criteria that needs to be met in order for someone to become eligible right away. That?s all understandable, but something with the new NCAA process doesn?t add up.
In an attempt to make sense of it, the rules were outlined by NCAA.org:
? You are transferring to a Division II or III school, or you are transferring to a Division I school in any sport other than baseball, men's or women's basketball, football (Football Bowl Subdivision) or men?s ice hockey. If you are transferring to a Division I school for any of the previously-listed sports, you may be eligible to compete immediately if you were not recruited by your original school and you have never received an athletics scholarship.

? You are academically and athletically eligible at your previous four-year school.

? You receive a transfer-release agreement from your previous four-year school.
For all intents and purposes, Alabama point guard Jahvon Quinerly seems to meet the requirements to play college basketball this season. Yet, for whatever reason, he was denied twice.
Although this is just one example and an isolated case, there?s no denying Quinerly got the raw end of the deal here.
Kansas transfer Quentin Grimes didn?t have to sit out this season at Houston. Kentucky transfer Quade Green only sat out the spring semester after transferring to Washington in the middle of the season. Both of these players were former McDonald?s All-Americans. Both were allowed to play right away at their new school.
So why not Quinerly?
Is it because of past allegations? Is it simply because the NCAA didn?t want to do it? There are so many more questions than answers here, but some players shouldn?t be forced to sit out while others are allowed to play.
All student-athletes should be eligible immediately or all of them must sit out a year. It honestly doesn?t matter which the NCAA chooses, either. There simply needs to be some consistency because what happened to Quinerly is a bad look.
There's nothing anyone can do about it now, but Jahvon Quinerly absolutely fell victim to the NCAA's inconsistent model and now the nightmare continues.