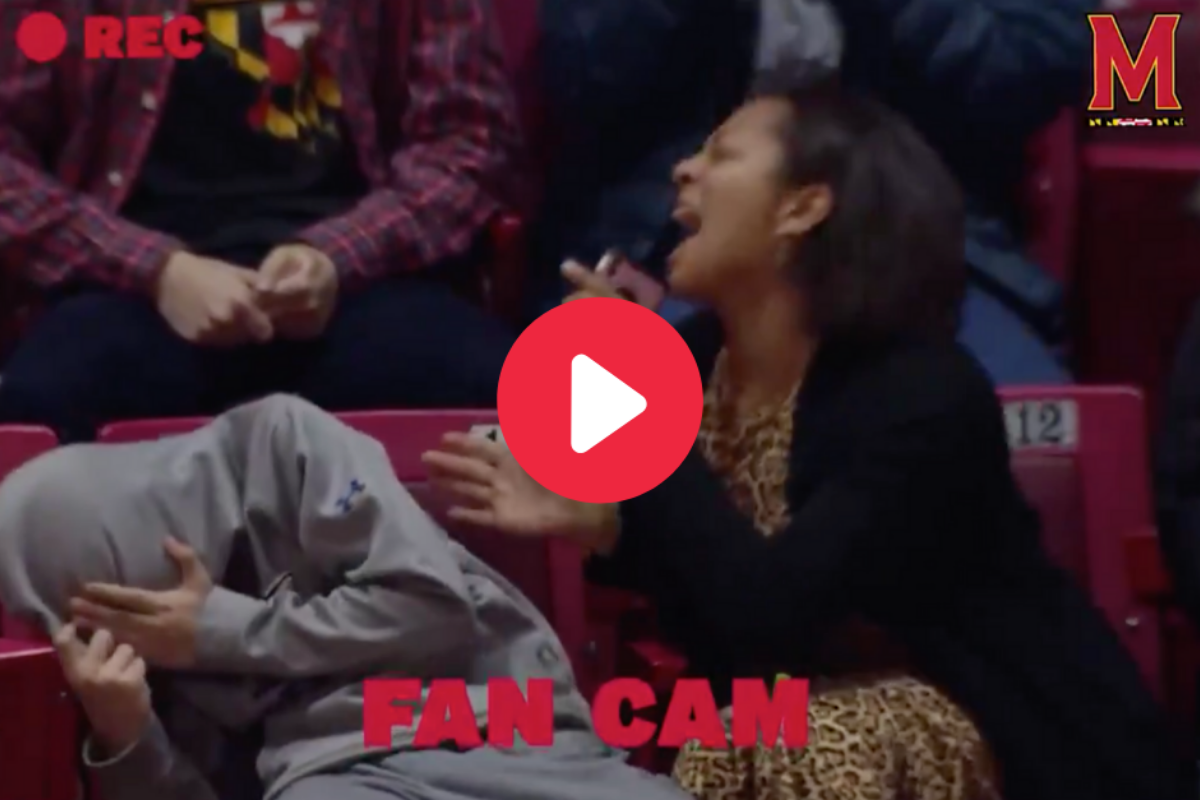 Screenshot from Twitter
Going to a sporting event with your family is supposed to be fun, they say. Highlights and big-time performances are what you go for, they say. Just relax and enjoy, they say. But when your mom?s favorite song comes on the loud speakers and the jumbotron camera is pointed right at her? All of that flies out the window.
That?s exactly what happened during a University of Maryland basketball game back in December 2018. The 94-71 final score over Loyola (Maryland) is what many Terrapins fans went to the XFINITY Center for that Tuesday night in College Park, but they also got a pretty spectacular lip-syncing concert as well.
When Kelly Clarkson?s hit song ?Since U Been Gone? started playing and the Fan Cam popped up, Mandy Remmell grabbed her iPhone like it was a microphone and lip-synced to her 10-year-old son Blake like nobody was watching.
It created an embarrassing moment for her son and an amazing viral video for the rest of us.
Maryland Mom Lip-Syncing Kelly Clarkson
RELATED: Dancing Mom Embarrasses Her Son on Stadium Jumbotron
The social media video of Mandy Remmell, a special projects coordinator at the Maryland Shock Trauma Center, garnered nearly 1 million views. She was even featured in The Washington Post and got a shoutout from Kelly Clarkson herself after the Terps game.
?This is my kind of mama #ThatKidIsNotHavinIt,? Clarkson posted in a tweet.
However, aside from Remmell?s performance of Clarkson by itself, nothing holds a candle to her 10-year-old son?s reaction. All Blake could do is hide under his hoodie and wait for the Maryland game to start up again.
?Embarrassing your kids and doing it in a fun way is a great opportunity,? Remmell told The Washington Post.
This isn?t the first time something like this has happened at a sporting event in the United States. It certainly won?t be the last. But even if you didn?t go to the Maryland men?s basketball game that night, watching an amazing mom and her embarrassed son will forever be priceless.
This post was originally published on January 23, 2020.