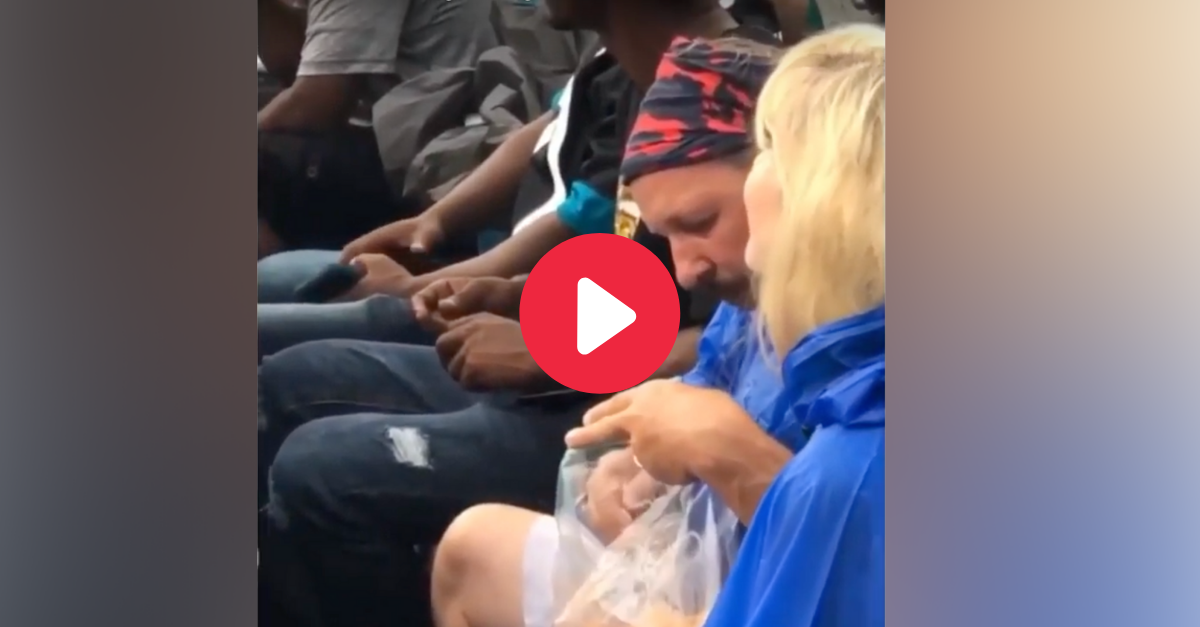 Screenshot from YouTube
Going to a National Football League game is never cheap. From ticket prices to concessions, the prices can add up in a hurry. There is also nothing like a home-cooked meal, and one fan decided he wanted to have the best of both worlds on a rainy Sunday afternoon.
At TIAA Bank Field in Florida, where the Jacksonville Jaguars beat the New York Jets, the biggest highlight of the game had nothing to do with what took place on the field. It?s actually the moment when a Jaguars fan decided to whip out a plastic bag full of spaghetti, put it in his lap, and eat it.
Luckily for us, other fans at the Jaguars game decided to film it and share it to the world.
Jags Fan Spaghetti Video
?RELATED: Women Flash World Series Cameras, Receive Lifetime MLB Ban
We?ve all seen NFL fans do some crazy things over the years, from throwing dildos on the field to blowing themselves up with fireworks, but have you ever seen a sports fan eat spaghetti from a Ziplock bag during a game? That?s definitely a new one here.
To his defense, the matchup itself wasn?t overly exciting. Jaguars rookie quarterback Gardner Minshew was impressive with 279 passing yards and three touchdowns and Jets quarterback Sam Darnold threw three more interceptions. The 29-15 final score was nothing to write home about, by any means.
The Jets-Jaguars game didn?t have history like the New England Patriots beating the Cleveland Browns for Bill Belichick?s 300th victory, drama like the Chicago Bears losing to the Los Angeles Chargers with a missed field goal, or excitement like the Houston Texans squeaking out a victory over the Oakland Raiders.
But watching a man basically reenact an episode of It?s Always Sunny in Philadelphia in real life is priceless.
If the NFL really has a loose spaghetti policy, it?s time for us all to hop on Amazon and get noodles for the next game.