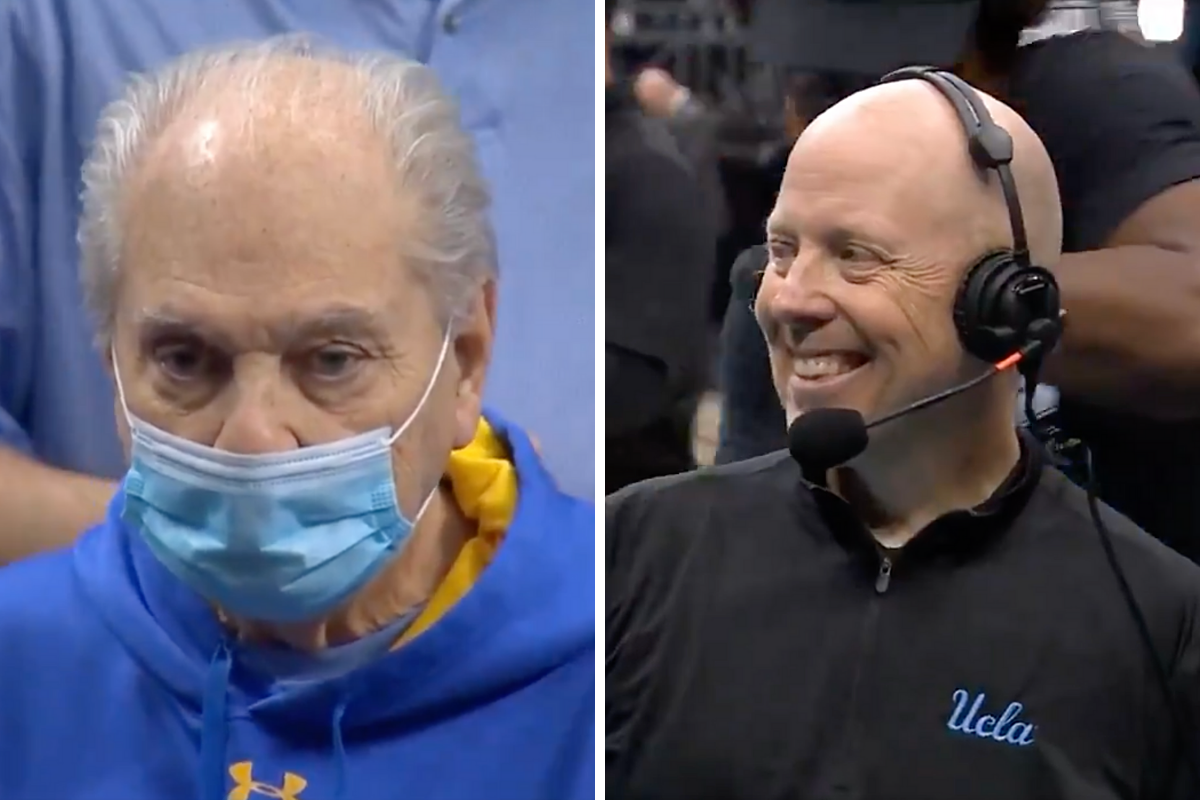 Screenshot from Twitter: NCAA March Madness
UCLA Bruins men?s basketball head coach Mick Cronin is no stranger to March Madness. The 49-year-old has coached in 12 different NCAA Tournaments.
He began his career at Woodward High School in Cincinnati, Ohio, before earning a job as a video coordinator under Bob Huggins at the University of Cincinnati, where he served as an assistant coach. Cronin joined Rick Pitino at Louisville in 2001 and parlayed that into head coaching gigs at Murray State, Cincinnati and UCLA.
The 2020 Pac-12 Coach of the Year guided the 11-seed Bruins to an improbable Final Four berth against Gonzaga after wins over Michigan State (in the First Four), BYU, ACU, Alabama and Michigan in 2021.
Every step of the way, his father and biggest fan Hep Cronin has been cheering him on from the stands. But just who is the man whose become a famous figure this March?
Who is Mick Cronin's Dad Hep Cronin?
RELATED: Florida?s Two-Title Feat in 2006? Don?t Expect to See It Again
Mick Cronin's dad (and biggest fan) is Harold "Hep" Cronin. He's been shown in the bleachers during UCLA's tournament games quite a bit.
Hep was Mick's basketball coach when he played at La Salle High School. Mick stood just 5-foot-3 and played point guard, earning all-city honors. However, a knee injury all but ended his playing career.
Mick's father helped kickstart his basketball coaching career. While Mick was enrolled at the University of Cincinnati, he joined his dad to scout a Woodward High game. There, he was offered to coach the freshman team. Mick eventually became the junior varsity coach and helped develop multiple NCAA Division I players as a high school coach.
Hep Was a Pro Baseball Scout
Mick's dad was more than just his basketball coach. He was a Major League Baseball scout for the Atlanta Braves.
According to a Sports Illustrated article, when Hep went on scouting trips to Tennessee or Kentucky, Mick was more than happy to join him. One of Hep's biggest finds was David Justice, the three-time All-Star who won two World Series.
In fact, Hep Cronin played a major role in the Braves drafting Chipper Jones with the first overall pick of the 1990 MLB Draft. Sports Illustrated noted that he wrote the first scouting report on Chipper. It even hung on a wall in "Scouts Alley" at Turner Field for years.
?I followed the kid every game for two weeks,? Hep told Sports Illustrated. ?The guy working the ticket gate said, ?We might have to invite you to the team banquet. You?ve been to more games than some players.?"
Chipper Jones was inducted into the Baseball Hall of Fame in 2018, so I'd say Hep Cronin justified his job.
Hep wasn't the only family member affiliated with the Braves. Mick's brother Dan played baseball at Bethel College and was drafted by the Georgia-based team in 1988.
Mick's Mom Died of Cancer in 2005
Mick, Hep and the rest of the Cronin family experience tragedy back in 2005.
Hep's wife Peggy died of a rare blood cancer called multiple myeloma 16 years ago. Mick temporarily left his head coaching position at Murray State to return to Cincinnati to help take care of her, according to an ESPN article. She was 62.
Two years after her passing, the Cincinnati Bearcats kicked off the inaugural Peggy Cronin Classic college basketball tournament.
"Obviously this is a special event for my entire family, as we plan to donate sponsorship proceeds to cancer research," Mick told Rivals in 2007.
Mick Cronin's Divorce & Daughter
Mick Cronin was formerly married to Darlene Taylor, who is a former Division I track and field athlete. The two divorced more than a decade ago.
They share a daughter named Sammi together. According to ESPN, she was the reason he didn't want to leave Cincinnati. He wanted to stay close so he could see her more often.
When Mick accepted the UCLA job, he made sure Darlene was also able to move to Los Angeles, California, so he could be near his daughter.
"I was never leaving without my daughter, so there's only so many places where Darlene would have come with me," Cronin told ESPN. "We weren't going to separate. Even here, we'll get places near each other because that's just how we do things. We're 'the Ozzie and Harriet of divorce,' or whatever you want to call it. So where would she have gone? Very few places."
UCLA coach Mick Cronin seems to be in a good place in LA.
Cronin earned nine straight NCAA Tournaments berths and coached NBA players like Lance Stephenson at his alma mater in Cincinnati. He's in the Final Four alongside Gonzaga, Baylor and Houston for the first time in just his second season at UCLA after last year's tournament was canceled due to the coronavirus pandemic.
If he and the Bruins pull off the unthinkable in Indianapolis, Indiana, Hep will be right there cheering him on.