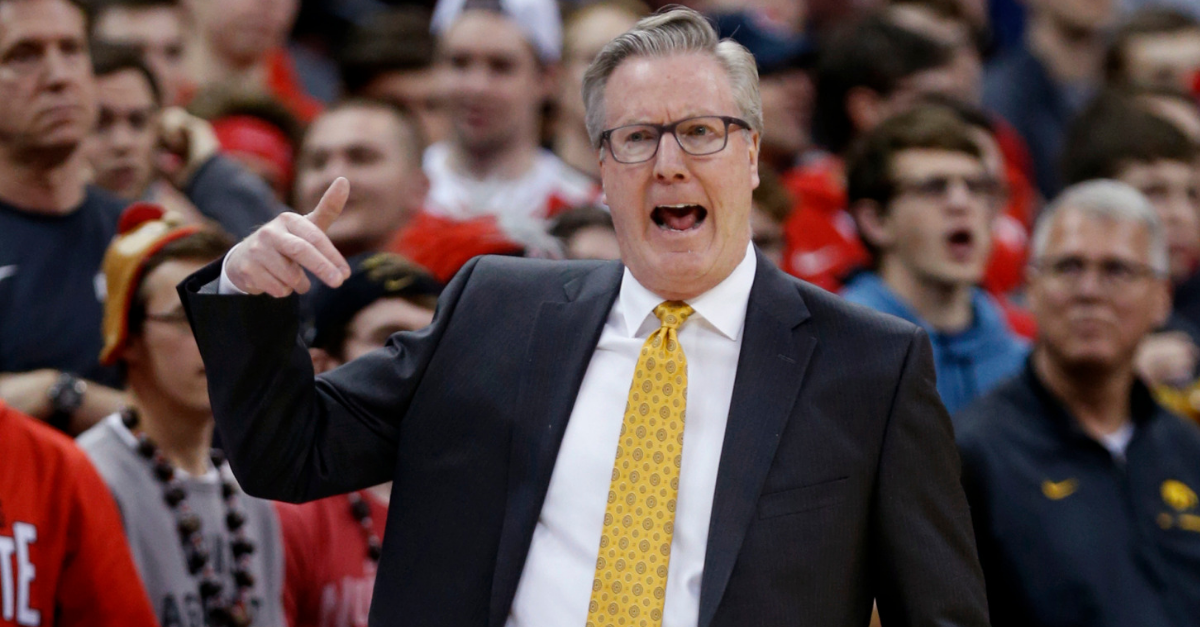 AP Photo/Paul Vernon
If you are a member of the University of Iowa athletics department, you might want to completely duck for cover. Nothing seems to be going right these days and it just got even worse.
Less than a week after Hawkeyes play-by-play announcer Gary Dolphin was suspended for the rest of the season for referring to a Maryland player as ?King Kong? during a college basketball game, Iowa coach Fran McCaffery was suspended two games and fined $10,000 for going off on an official following an ugly 90-70 loss to the Ohio State Buckeyes at Value City Arena in Columbus.
Athletic director Gary Barta made the announcement on Wednesday that McCaffery, the men?s basketball coach, will be suspended for Iowa?s upcoming Big Ten Conference games against Rutgers and at Wisconsin.
RELATED: Did This SEC Referee Show Favoritism in LSU?s Win Over Tennessee?
So, what did McCaffery say?
Following the game Tuesday night when both he and his son received technical fouls within a minute of each other, McCaffery saw one of the conference officials in the hallway, and the rest is history and filled with ?unsportsmanlike comments.?
McCaffery accused the official of being a cheater and a disgrace with some f-bombs thrown in there, according to Toledo Blade reporter Kyle Rowland.
Yeah, that will do it.
?Following the basketball game at Ohio State, Coach McCaffery made unacceptable comments to a game official in the hallway headed to the locker room. Fran?s comments do not represent the values of the University of Iowa, Hawkeye Athletics, and our men?s basketball program.?

? University of Iowa Director of Athletics Gary Barta
When asked about the exchange in the postgame press conference, McCaffery declined to comment, but he was forced to make a statement back in Iowa City.
?I?m a very passionate person. I think everybody in this room knows and understands that,? McCaffery said. ?I love my family. I love my players. And we live in a very competitive environment. Last night was one of those nights and my emotions got the better of me. I apologize for that. I regret that. I?m sorry to Mr. Barta and President [Bruce] Harreld, and I accept full responsibility and I think that?s what?s necessary.?
Big Ten officials support Iowa?s decision to suspend McCaffery and the fine was the result of violating the Big Ten Sportsmanship Policy in addition to issuing the public reprimand.
If anyone has watched McCaffery coach in his nine seasons at Iowa, you know he can get heated. He just took it too far this time to add to the public relations nightmare currently at the University of Iowa.