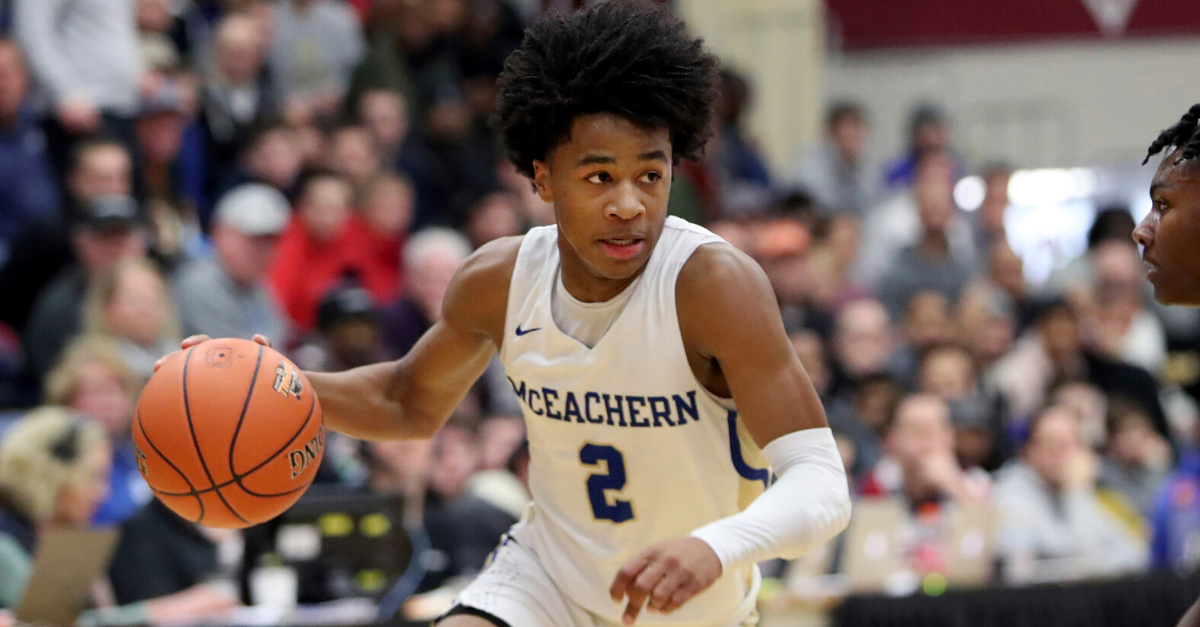 AP Photo/Gregory Payan
By now, it's no secret. Wherever Bruce Pearl goes, success follows. No matter where the dynamic head coach has been, he's led that program to new heights, including winning a conference title at every stop. He's now doing it for the Auburn Tigers.
Coming off a Final Four bid in last year's NCAA Tournament, Pearl knew the Tigers would have a target on their backs, especially in the SEC. So what did he do? Not only did he reload the roster with talented freshmen, but he also just signed the highest-rated recruit in school history.
Auburn fans, it's time to get to know McEachern High School point guard Sharife Cooper. The five-star prospect from Powder Springs, Georgia is going to be special while donning the orange and blue uniform.
Bruce Pearl knows it, too.
Auburn Basketball 2020 Recruiting Class
On November 17, five-star point guard Sharife Cooper made his commitment official by signing his National Letter of Intent to play for the Tigers for the 2020-2021 season. It was a joyous occasion for both sides, especially what it means to Auburn's 2020 basketball recruiting class.
Cooper is the headliner, no doubt, but the Tigers landed some other key pieces in four-star power forward Chris Moore out of West Memphis, Arkansas, and three-star shooting guard Justin Powell from Goshen, Kentucky, according to 247Sports.
"We signed three great kids who have all worked extremely hard to try to separate themselves from the competition – Justin Powell as an elite shooter, Sharife Cooper as a unique and special playmaker and scorer, and Chris Moore as a powerful, versatile mismatch.

"All three have been competing at the highest levels of AAU and high school basketball in areas of the country that love basketball. Sharife is a state and national champion. West Memphis, Arkansas and Kentucky are geographic areas with deep history and tradition of great high school basketball."

— Auburn Coach Bruce Pearl
The biggest prize of all, of course, is Cooper, who has two former McEachern and AAU teammates currently on Auburn's roster in forward Isaac Okoro and big man Babatunde Akingbola.
Sharife Cooper Highlights
At 6-foot and 160 pounds, Sharife Cooper will never be the biggest player on the floor, but it would be hard to find a time when it's not the best basketball player. Whether playing for McEachern or Athletes of Tomorrow (AOT) on the Nike EYBL circuit, Cooper is a walking bucket.
As a consensus Top-20 player, Cooper earned Georgia Gatorade Player of the Year and USA Today National Player of the Year honors after guiding the Indians to a perfect 32-0 record and a Georgia state championship. He averaged 28.6 points, 6.0 rebounds, 8.7 assists and 4.1 steals as a junior, where he earned numerous All-American honors.
For AOT, he dropped 25 points, 4.5 rebounds and 8.0 assists during the AAU circuit.
Needless to say, Cooper was heavily recruited. He fielded offers from Kentucky, Alabama, UConn, Florida, Florida State, Georgia Tech, Maryland, Tennessee, Texas A&M, and Vanderbilt, among many others.
Yet, it was the Auburn Tigers who truly got his attention first.
"What jumps out to me about Sharife is loyalty. He could have gone anywhere in the country. Auburn was his first love and he stayed loyal to us. We were the first to recognize that this was a very special, don't-come-around-often type of impact players. He appreciated that fact that we recruited him hard before it became fashionable."
Pearl went as far as saying Cooper is special, unique, and rare, and that he will be "worth the price of admission" next season, according to AL.com.
That's some lofty praise, but there's no doubt Cooper and his game have earned it.