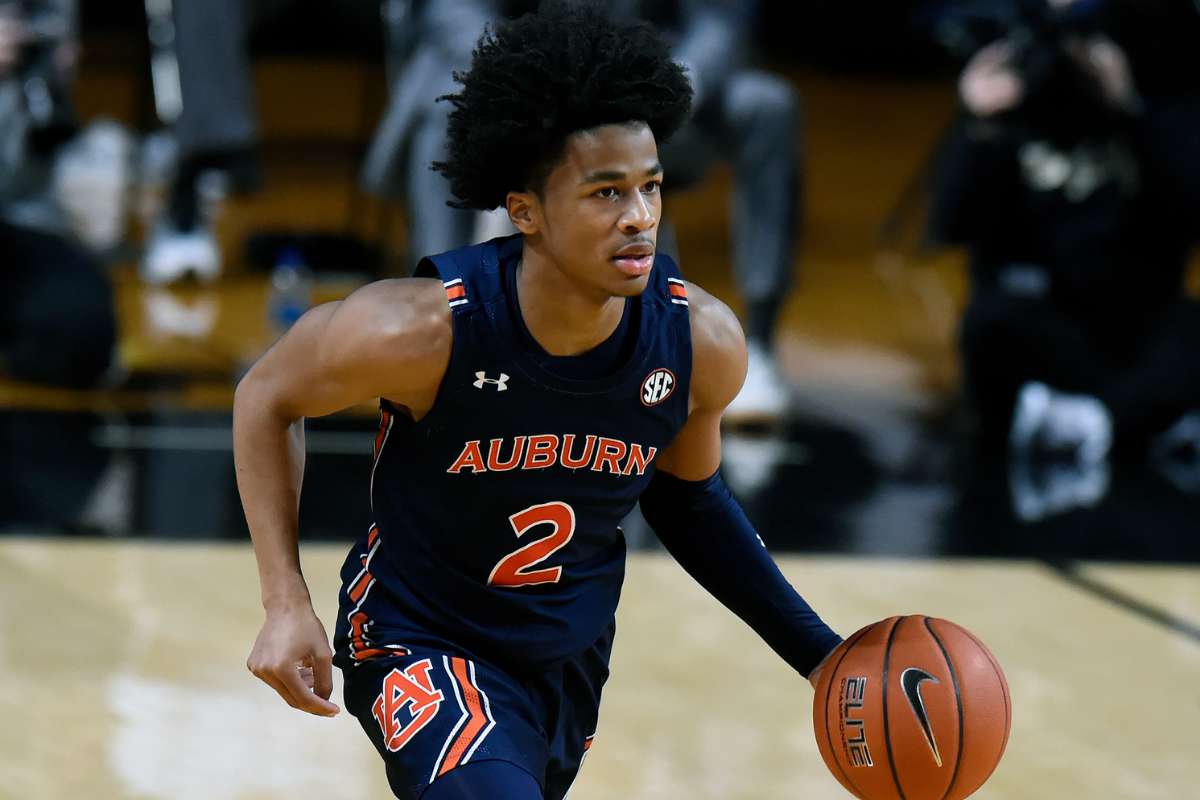 AP Photo/Mark Zaleski
Wherever Bruce Pearl goes, success follows. No matter where the dynamic head coach has been, he?s led that program to new heights, including winning a conference title at every stop. He did it again for the Auburn Tigers, and he also brought Sharife Cooper to The Plains.
Auburn may not have had the greatest 2020 season after a Final Four bid the year prior, but fans in Alabama were at least able to witness Cooper's greatness. After coming to the school as the program's highest-rated recruit ever, he set the SEC ablaze and solidified his status as a top NBA Draft pick.
Sharife Cooper High School
At 6-foot and 160 pounds, the Powder Springs, Georgia, native was never be the biggest player on the floor. But it was hard to find a time when he wasn't the best basketball player on the floor. Whether playing for McEachern High School or Athletes of Tomorrow (AOT) on the Nike EYBL circuit, Cooper was a walking bucket.
Cooper earned Georgia Gatorade Player of the Year and USA Today National Player of the Year honors after guiding the Indians to a perfect 32-0 record and a Georgia state championship. He averaged 28.6 points, 6.0 rebounds, 8.7 assists and 4.1 steals as a junior, where he earned numerous All-American honors.
For AOT, he dropped 25 points, 4.5 rebounds and 8.0 assists during the AAU circuit.
Needless to say, Cooper was heavily recruited. He fielded offers from Kentucky, Alabama, UConn, Florida, Florida State, Georgia Tech, Maryland, Tennessee, Texas A&M and Vanderbilt, among many others.
Yet, it was the Auburn Tigers who truly got his attention first.
"What jumps out to me about Sharife is loyalty. He could have gone anywhere in the country. Auburn was his first love and he stayed loyal to us. We were the first to recognize that this was a very special, don't-come-around-often type of impact players. He appreciated that fact that we recruited him hard before it became fashionable," Bruce Pearl told AuburnTigers.com.
Pearl went as far as saying Cooper is special, unique and rare, and that he will be ?worth the price of admission? next season, according to AL.com.
Sharife Cooper was born with tiger blood. The five-star recruit spurned scholarships from the Alabama Crimson Tide, Cincinnati Bearcats and the UConn Huskies to become an Auburn Tiger. He led an elite recruiting class when he signed with the Tigers in 2019. Between the coronavirus pandemic and an eligibility investigation, Cooper didn't appear in an Auburn jersey till two years later.
Sharife Cooper Auburn
RELATED: Former 7-Foot Auburn Commit Flips to Rising AAC Program
Perhaps the most hyped-up signee in program history, Sharife Cooper was also one of the most short-lived players in Tiger basketball history.
Cooper played a one-and-done season at Auburn University for the 2020-21 men's college basketball season. Due to an NCAA eligibility investigation, Cooper didn't debut until January 2021. He started against the eventual SEC champions and Auburn rival Alabama, posting a 26-9-4 stat line in the game. Auburn lost, but Cooper looked great.
That was the theme for the entire season. Auburn's Sharife Cooper played well against Arkansas, Missouri, Kentucky, LSU and everyone in between.
Cooper started 12 games for the Tigers, who finished the season 13-14. He recorded a few double-doubles, averaging 20 points and eight assists a game despite shooting a sub-40 field goal percentage. (He shot over 80 percent from the free throw line.) He was named to the SEC All-Freshman team after leading the SEC in assists per game.
His college basketball career was remarkable but short. Three months after making his first NCAA start, Sharife Cooper declared for the 2021 NBA Draft.
Sharife Cooper NBA Draft
Sharife Cooper has been destined for the NBA since his days at McEachern. The undersized point guard can draw comparisons to and inspiration from similar guards like Damian Lillard, Kyrie Irving or Steph Curry. Auburn head coach Bruce Pearl is sad to see him go. But one lucky NBA coach is about to be overjoyed.
With a small NCAA sample size complicated by a fresh ankle injury, NBA draft scouts are cautiously optimistic about Cooper's draft stock. Most mock draft boards have Cooper going early second round, possibly late first. If he does go in the first round, he will join the ranks of Chuma Okeke and Isaac Okoro, becoming the third consecutive Auburn player to be drafted in the first round.
That's only if Cooper is a first-round pick. The elite point guard has interviewed with the Chicago Bulls, Indiana Pacers, Oklahoma City Thunder, Los Angeles Clippers, Portland Trailblazers, New Orleans Pelicans and Milwaukee Bucks. ESPN has Cooper listed as the No. 18 best player available, but NBADraft.net has him going in the second round to the Thunder.
The Thunder are a good matchup for Cooper. Shai Gilgeous-Alexander needs a point guard to replace NBA Finals star Chris Paul. Or maybe he'll join Zion Williamson and the burgeoning Pelicans, another young core looking to make their mark.
Only time will tell, but one thing is for sure: Wherever Cooper goes, he's sure to receive thunderous applause.