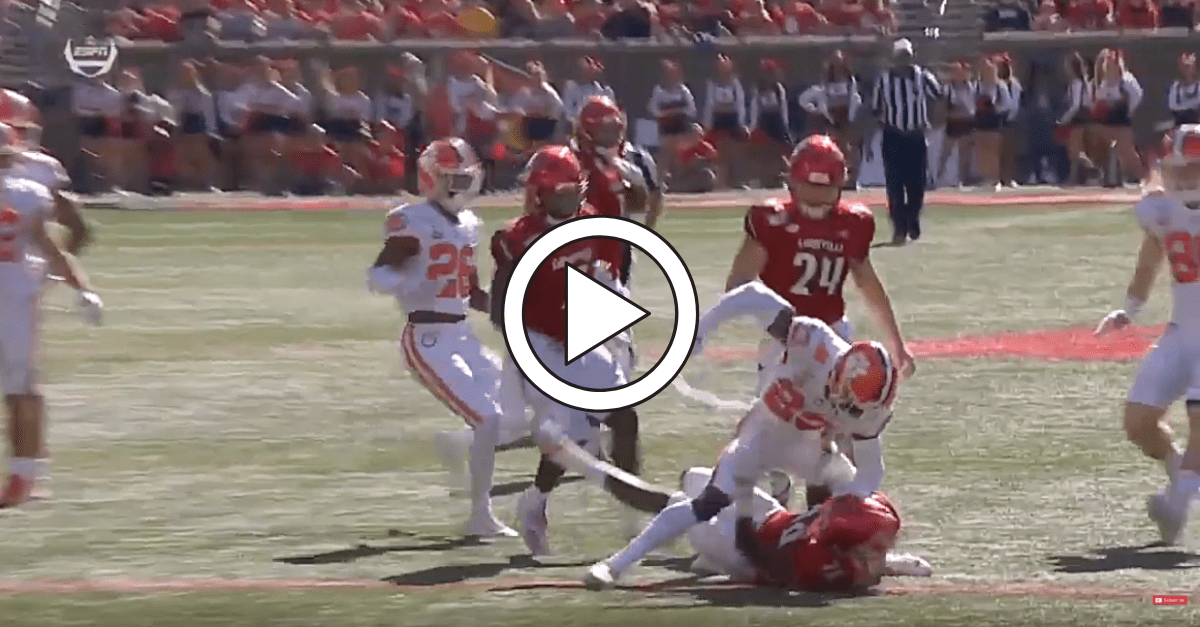 Screenshot from YouTube
Discipline comes in many shapes and sizes. One Georgia school brought back paddling in order to get its students on the right path. When you're talking the authoritarian regime of the NCAA, showering someone in confetti is, apparently, also worthy of punishment.
After Clemson Tigers cornerback Andrew Booth Jr. threw a punch at Louisville's Trenell Troutman in Saturday's game, head coach Dabo Swinney went full "you can't sit with us" and forced the true freshman to take a 450-mile bus ride home rather than fly with his teammates.
"He rode back on our manager bus. That's where it started," Swinney said after the game, per ESPN. "The rest of it will be handled in-house."
Late in the third quarter, Booth and Troutman got tangled up on the turf during a punt return. That's when the pair of defensive backs rolled to the ground, Booth socked Troutman's helmet (When is this ever a good idea?), and players from both teams descended to break up the scrum.
Booth was flagged for unsportsmanlike conduct and ejected from the 45-10 win at Cardinal Stadium.
Clemson DB Punches Louisville Player
RELATED: Ohio State Jumps Clemson as No. 3 Team in AP Top 25
Even before officials kicked Booth out of the game, Swinney made the decision to send the freshman to the locker room. The two-time national championship-winning head coach said he apologized to Louisville Cardinals head coach Scott Satterfield, adding later, "That's not who we are and that's not who [Booth] is."
Booth came to Clemson from Archer High School in Dacula, Georgia. He was a five-star prospect and the highest-ranked recruit of Clemson's 2019 class; Rivals ranked him as the No. 8 overall player in America.
How do you humble a highly-touted 19-year-old kid?
Force him to take a 450-mile bus ride with the team's managers from Louisville, Kentucky to Clemson, South Carolina.
"[Booth] has responded well. He is disappointed in himself, embarrassed. He has apologized to our team and [athletic director Dan Radakovich]. He's been extremely remorseful. What happened is way out of character for who he is. Very pleased with how he has taken ownership. He had a long bus ride home last night and plenty of time to think about it."

? Dabo Swinney, via ESPN
I've heard of game suspensions and running extra sprints after practice, but barring a kid from flying home after a game and making him sit on the manager bus for seven hours?
I hope Swinney at least gave Booth a good book on Clemson football for the trip.

One thing's for sure: I bet that's the last punch Andrew Booth throws in a college football game.