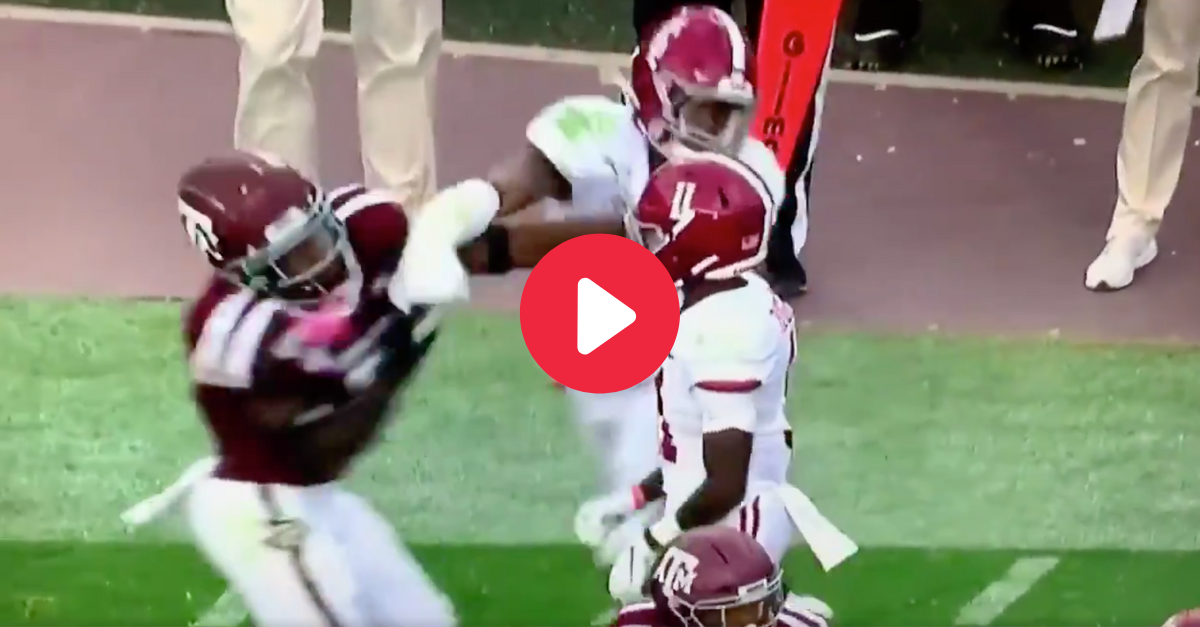 Screenshot from Twitter
Late in the fourth quarter with the game all but done at Kyle Field, Alabama Crimson Tide running back Brian Robinson Jr. took a handoff for a short run to try to run down the clock. The play was harmless, but what happened after in College Station landed wide receiver DeVonta Smith in some trouble.
After the play in the second half of Saturday?s game, Texas A&M defensive back Leon O?Neal threw down Smith and appeared to throw a punch. Then, the star wide receiver retaliated and threw a punch of his own. The reaction and punch got Smith ejected and sent into the locker room before the end of the game.
The discipline didn?t end there, either. Alabama head coach Nick Saban decided to suspend Smith for the first half of the Tide?s upcoming game against the Tennessee Volunteers at Bryant-Denny Stadium in Tuscaloosa.
Devonta Smith Fight Video
RELATED: Georgia?s Sacred Hedges Damaged by South Carolina Players After Upset
With actions come consequences, and Smith, who caught seven passes for 99 yards and a touchdown in the game against the Aggies, definitely learned that the hard way. He wasn?t the one who instigated the fight, but his reaction to the situation is what got him in trouble.
This was not discipline handed down by the SEC. This was strictly Saban?s decision.
?Basically, he got hit ? punched and he retaliated. We?ll have to wait for the conference office to see what his status is. It was offsetting fouls. Obviously their player shouldn?t have punched him but he should have had the discipline not to hit him back because that?s a foul. We would have got a 15-yard penalty and that would have basically ended the game.?

? Statement from Alabama Coach Nick Saban
With quarterback Tua Tagovailoa under center, running backs Najee Harris and Robinson, and a wide receiving corps featuring Jerry Jeudy, Jaylen Waddle and Henry Ruggs III, losing Smith for a half won?t be a big deal at all for Alabama football.
First and foremost, it?s Tennessee. There is likely no way not having one of several talented offensive threats will stop the Crimson Tide from winning this matchup. But for a team with SEC Championship hopes and College Football Playoff national championship aspirations, it?s never fun to see a player lose his cool.
This marks the second suspension for Smith this season. The junior, along with Harris, Robinson, and outside linebacker Terrell Lewis were suspended for the first half of the season opener against Duke Mercedes-Benz Stadium in Atlanta for missing a team function.
Not having Smith for kickoff isn?t the end of the world, but it goes to show that no matter how good Alabama players are, Saban will still punish them if they make a mistake.