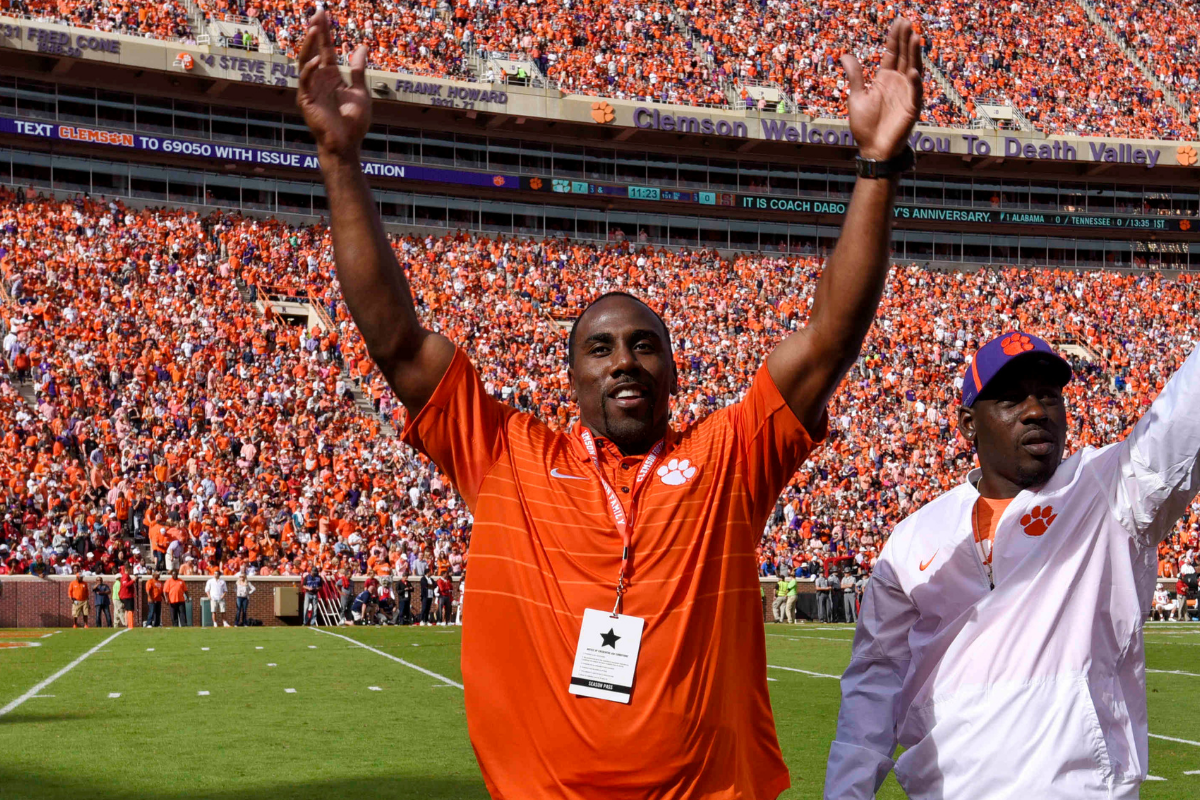 AP Photo/Richard Shiro
Former NFL running back C.J. Spiller seemed destined to be the next big thing in professional football.
However, he was never quite able to live up to the massive hype. The former Clemson Tigers star played eight seasons in the league before calling it a career at the age of 30.
While Spiller's NFL career left much to be desired, the running back is still widely popular thanks to his tremendous college days and life after he hung up his cleats.
So, what is Spiller doing now?
C.J. Spiller's Football Career
RELATED: Travis Etienne?s Parents Raised a Family Full of Athletes
C.J. Spiller grew up in Lake Butler, Florida, and attended Union County High School. After his sensational prep career, Spiller joined Clemson University and was ready to dominate NCAA college football.
Spiller was a four-year starter for the Tigers. He was named an Unanimous First-Team All-American, All-ACC First-Team, and won ACC Player of the Year in 2009 after rushing for 1,212 yards with 12 touchdowns.
He also returned four touchdowns on kickoffs that year, including a dominant return against rival South Carolina.
Spiller finished sixth in Heisman Trophy voting under head coach Dabo Swinney, placing behind fellow running backs in Alabama's Mark Ingram and Stanford's Toby Gerhart.
His superb college football career made him a first-round draft pick. He was selected ninth overall by the Buffalo Bills in the 2010 NFL Draft.
Spiller spent five seasons with the Bills, making his lone Pro Bowl in 2012. He joined the New Orleans Saints in 2015 and split the 2016 season between the New York Jets and Seattle Seahawks. Spiller played his final NFL season in 2017 as a member of the Kansas City Chiefs before retiring from professional football.
Spiller never featured in a playoff game, nor a Super Bowl, and retired with more than 4,900 all-purpose yards and just 12 touchdowns throughout his career.
C.J. Spiller Now
After his playing career, C.J. Spiller returned to Clemson to earn his degree in athletic leadership, and worked as a graduate assistant under Dabo Swinney and offensive coordinator Tony Elliott.
In 2020, Spiller earned a role as an assistant coach on the Tigers' coaching staff and was named the team's running backs coach — a job title he still holds in 2021.
The star running back was selected for induction into the College Football Hall of Fame in 2021.
Now a Clemson grad and kicking his coaching career off, Spiller is hoping to find more success in his post-playing days than he did in the NFL.