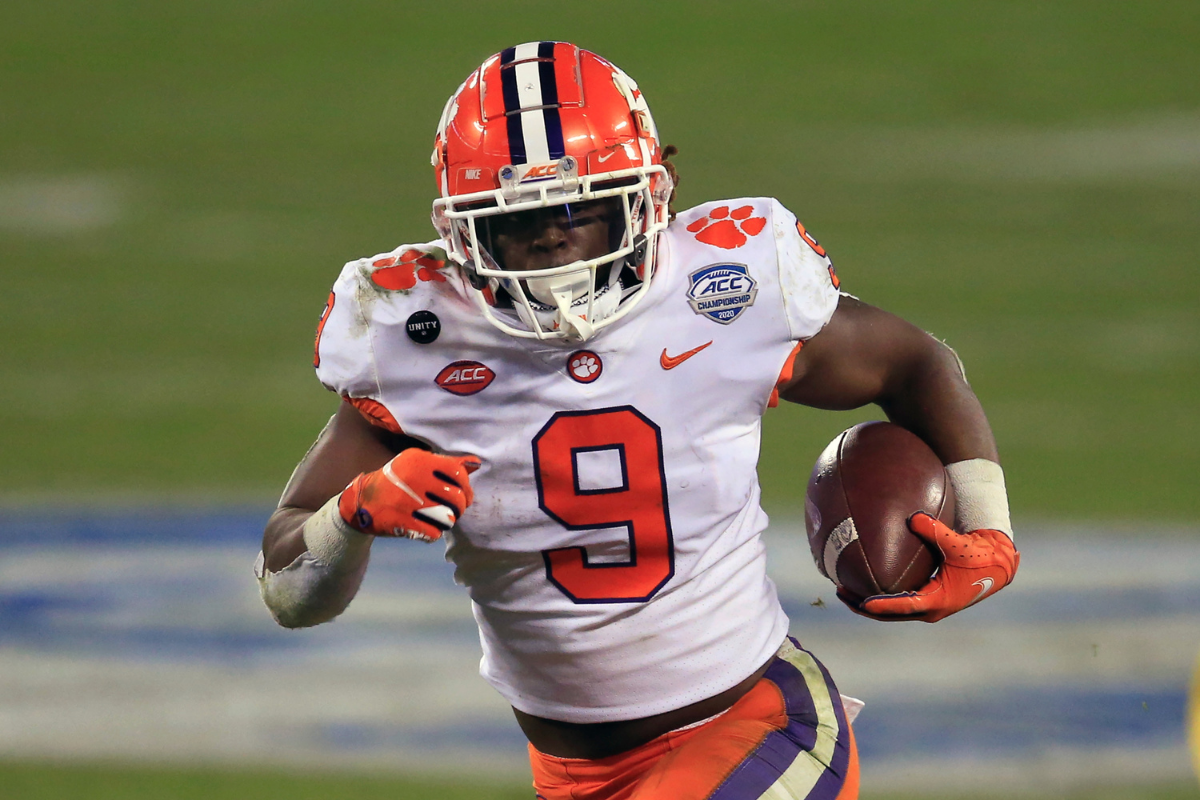 AP Photo/Brian Blanco, File
Former Clemson star running back Travis Etienne Jr. may run South Carolina, but the NFL Draft prospect is originally from Louisiana. You could tell if you looked in his mini-fridge.
Etienne Jr. loves his hometown creole cuisine. His fridge is stuffed with jambalaya and Popeyes. His dad says he eats too much, but the ACC's All-Time Career Total Touchdowns Leader has an appetite just right for the NFL.
Even if his two Sugar Bowls in New Orleans left a bad taste in his mouth, Travis Etienne Jr. is still hungry for more.
Etienne Jr. will be in the NFL next season. He comes from a religious family led by Etienne Sr. and his wife Donnetta. Junior has a younger brother named Trevor who is being recruited by Clemson football and two sisters who are known for basketball and track.
Travis Etienne Jr.'s upbringing made the Clemson running back the draft prospect he is today, and he probably won't be the last Etienne to say so.
Who is Travis Etienne Jr.?
Alabama and Clemson have competed for College Football Playoff (CFP) dominance since 2015. Travis "Run-ETN" Etienne Jr. has been Alabama's arch-nemesis since he joined Clemson in 2017.
He joined Coach Dabo Swinney and the Clemson Tigers the same season they lost to Saban's Boys in the Sugar Bowl CFP semifinal. Run-ETN had his revenge in the National Championship Game the following season, earning Clemson their second CFP Championship in three years.
Clemson football got "out-Tigerered" the following season, suffering a National Championship Game loss to the unstoppable Joe Burrow and LSU.
Playing against the LSU Tigers held a special significance for Etienne, who is from nearby Baton Rouge.
Travis Etienne Jr.'s Parents
RELATED: Family of Clemson RB Received Death Threats From LSU Fans
The All-American running back hails from an All-American family. The Etienne family lives in Jennings, LA, which is where Jr. was born.
Sr. works in oil and Donnetta Etienne is a nurse. The family has a history in Jennings. Jennings High School is where Travis Jr. earned his Clemson scholarship.
Jennings is a small town proud of its biggest talent. Of course, many in the town hoped Jr. would join the hometown favorite LSU Tigers. Even though Jr. earned his stripes with a different ambush, his family and friends in Jennings always have his back.
Besides, there's still hope for an Etienne at LSU.
Travis Etienne Jr. isn't the only Etienne kid who can run like a tiger.
Travis Etienne's Siblings
Travis Etienne Jr. is one of four children. His sisters Danielle and Shanea played basketball and ran track for Jennings High School. His younger brother Trevor Etienne still plays ball for Jennings High, and the way he runs has people excited.
The younger Etienne is giving the ACC Player of the Year a run for his money within his own household. Trevor Etienne is putting together his own Jennings High School highlight reel, and Coach Dabo Swinney is impressed.
Clemson has offered the younger Etienne a scholarship, though he has not made any commitments yet. Ed Orgeron still hasn't reached out to the youngster, apparently not learning his lesson from the elder Etienne. Etienne Jr. is proud of Trevor's talent and even cites his younger brother as inspiration.
If LSU wants an Etienne on their roster, they'll need to act fast. The younger Etienne won't be available much longer, and the older one is heading to the NFL.
2021 NFL Draft Outlook
Travis Etienne Jr. is going to the 2021 NFL Draft as the No. 2 running back on many boards.
ESPN's Todd McShay has him going to the New York Jets at No. 23 as the top RB in the first round. McShay predicts Run-ETN will be selected a pick ahead of rival Alabama running back Najee Harris.
Etienne Jr. is just the latest evidence of Clemson's recent NCAA dominance. This year, the CFP powerhouse has produced the No. 1QB (and overall pick) in Trevor Lawrence and the No. 1 running back with Etienne Jr.
It's impossible to tell which Tiger will have the best career. But I can tell you this – no matter where Jr. goes, his family will always welcome him back with open arms and a full plate.