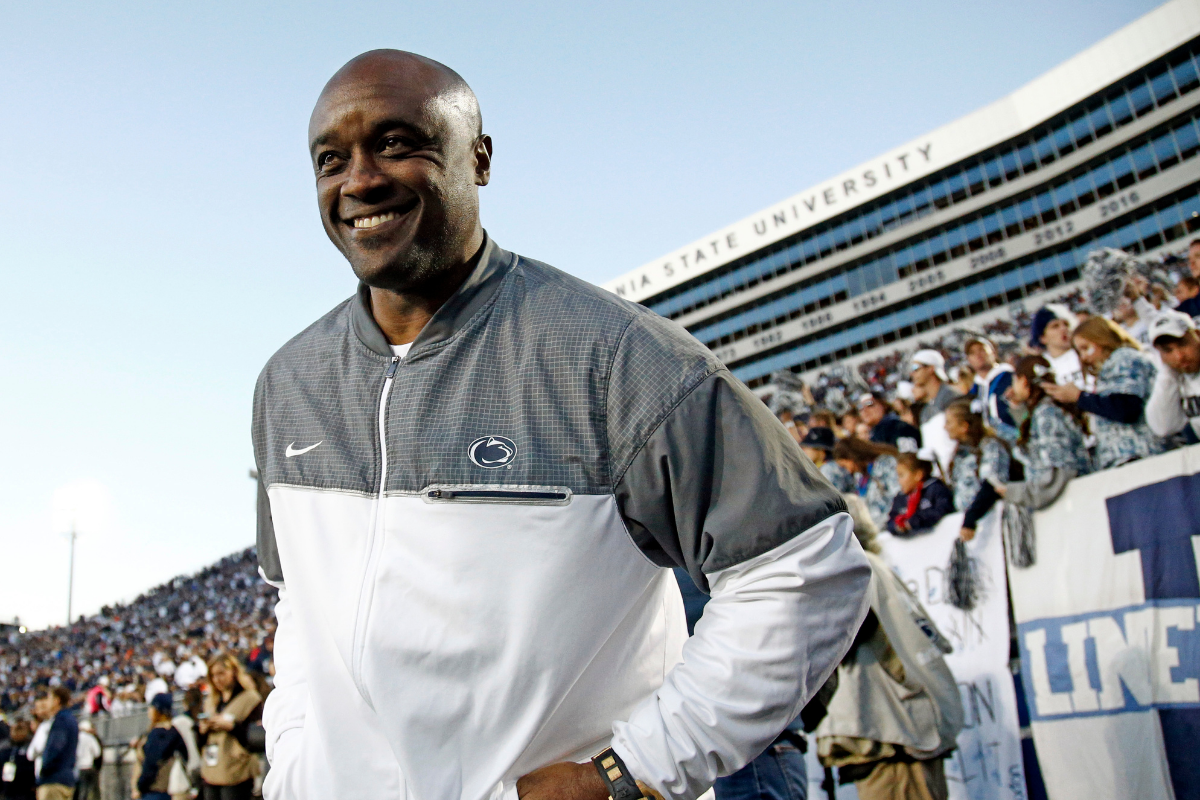 AP Photo/Chris Knight
Not every iconic college football player translates their success to the NFL. They may get labeled as a "bust," but nobody can take away the collegiate memories.
They can, however, fade with time.
Ki-Jana Carter was once at the forefront of the mind of most college football fans. The Penn State running back tore through college defenses, but he barely made a blip in the NFL.
It's probably been a while since you've thought of the Nittany Lions legend. So what has Carter been up to since those Penn State football days?
Early Life & College Career
RELATED: College Football?s Best Teams That Didn?t Win A Championship
Born Kenneth Leonard Carter in Westerville, Ohio, the future NFL player was nicknamed "Ki-Jana" at the time of his birth.
Evidently, it comes from a long-forgotten Shaft sequel called Shaft in Africa, which came out in 1973, the year Carter was born. He was a star athlete at Westerville South High School and excelled at football, basketball, and track.
A highly sought-after prospect, Carter decided to play for Joe Paterno at Penn State University. He was part of an impressive team that included Kerry Collins under center and Kyle Brady at tight end.
Carter was the lead back as a sophomore after only getting a smattering of carries as a freshman. He rushed for 1,026 yards and seven touchdowns and added 93 yards and two touchdowns against Tennessee in the Florida Citrus bowl.
However, it's the 1994 season that made Carter's name. Ki-Jana averaged 7.8 yards per carry en route to 1,539 yards and a robust 23 rushing scores. This made Carter a Consensus All-American and led to him being the runner-up for the Heisman Trophy, finishing second to Colorado running back Rashaan Salaam.
Carter would get the chance to put the sting of being the Heisman bridesmaid behind him with a Rose Bowl for the ages to cap the 1994 season, though. F
acing off against the Oregon Ducks, the back broke free for an 83-yard touchdown on his very first touch of the game.
Carter ultimately finished with 21 carries for 156 yards and three touchdowns as Penn State capped off an undefeated season.
Needless to say, he was named the Rose Bowl MVP and is now in the Rose Bowl Hall of Fame. So after a game like that, what else was Carter to do but go pro?
Ki-Jana Carter's NFL Career
The Cincinnati Bengals traded up to get the first-overall draft pick in the 1995 NFL Draft, swapping spots with the Carolina Panthers.
The NFL was a different league back then, and so the Bengals were comfortable taking a running back first overall. Cincinnati had traded up to get Carter, and they got their man. Meanwhile, the Panthers made their first-ever draft pick as an expansion team with the fifth-overall pick from the Bengals. They ended up taking Carter's Penn State teammate Kerry Collins.
Injuries and Carter's NFL career go hand-in-hand. In his first preseason game with the Bengals, Carter tore his ACL. As a result, he missed the entire 1995 season. While Carter could play the whole 1996 season, he was not the lead back for the Bengals, getting only 91 carries. He did score eight touchdowns, however.
The 1997 campaign is the closest we got to see what Carter's potential was. He had the most carries of his career, 128, but only rushed for 464 yards and seven scores.
In 1998, Carter only played in one game before breaking his wrist and missing the rest of the season. Then, in 1999, he was limited to three games due to a dislocated kneecap, which ended Carter's four-year run with the Bengals.
For the price of trading up and a first-overall pick, the Bengals got 747 rushing yards.
After not playing in 2000, Carter signed on with Washington in 2001 and actually managed to appear in 14 games, though he only got spot duty. Once again, Carter could not find work in the NFL in 2002, as the Green Bay Packers cut him during training camp.
However, in 2003 and 2004, he had a spot on the New Orleans Saints. Even so, he got all of 10 carries in the 2004 campaign, which would be his last in his seven-year NFL career.
Ki-Jana Carter Now
For a while after retiring, Ki-Jana Carter was utterly out of the spotlight. He was remembered as a great college player and an NFL bust, but that was essentially it.
Recently, though, Carter's name reemerged, but not for good reasons. Carter founded Byoglobe, a business services company he runs as CEO.
In 2020, Carter was sued by Penn State Health for $935,000. According to the lawsuit, Carter reached out to Penn State Health with an offer to supply 400,000 surgical masks, which the state needed in the early days of the COVID-19 pandemic. Penn State Health provided $2.4 million upfront, which was supposed to be held in escrow.
Unfortunately, Carter and Byoglobe did not provide a single mask, and the money quickly disappeared from escrow. The amount of the lawsuit represents the outstanding money that Byoglobe has not refunded Penn State Health.
For all the disappointment – much of it admittedly injury-related – from Ki-Jana Carter's NFL career, nothing on the field is as disappointing as this news.
It's tainted his reputation in Pennsylvania, even among Nittany Lions fans. At least they'll have the fond memories of Carter vying for the Heisman Trophy by slashing through the Oregon Ducks' defense in the Rose Bowl.