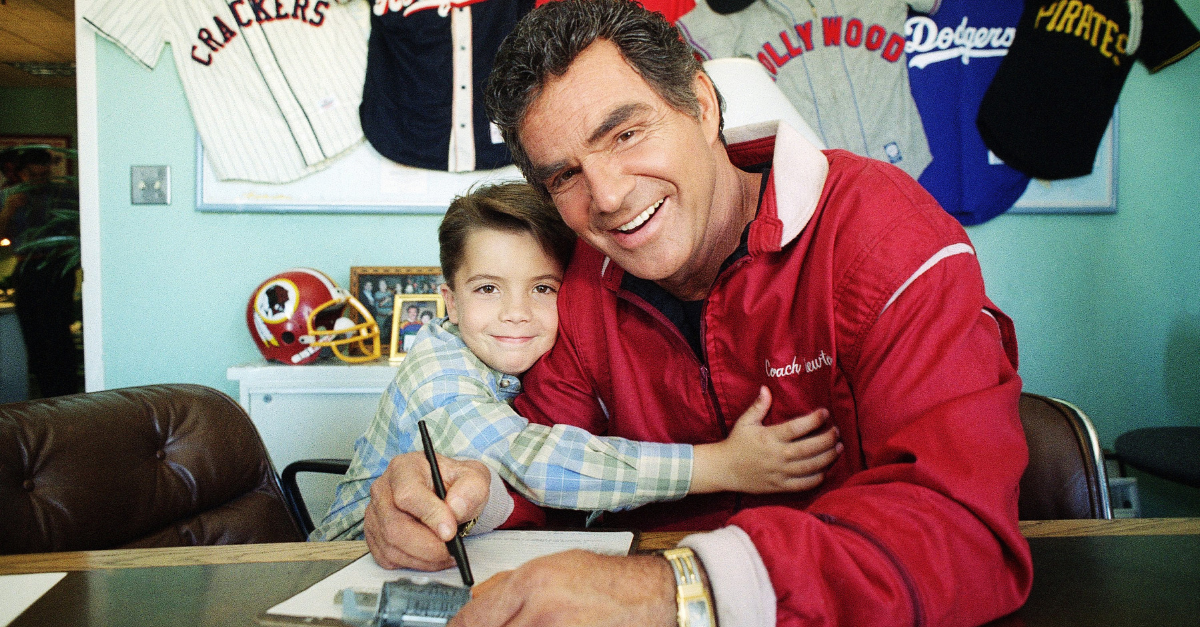 AP Photo/Bob Galbraith
He may be known more for his career as a box office-busting movie star, but Burt Reynolds will always be a legend at Florida State University.
His football career may not have gone as planned, but Reynolds' life-long allegiance with the Florida State Seminoles, both on and off the football field, built a legacy that will be hard to match by anyone.
What Sport Did Burt Reynolds Play in College?
Known as "Buddy" before he was famous, actor Burt Reynolds was a football star out of West Palm Beach where he played halfback for Palm Beach High School. He accepted a football scholarship to play for FSU and roomed with ESPN College Gameday co-host Lee Corso.
He started his career as a college football player in Tallahassee pretty well, rushing for 134 yards and two touchdowns on 16 carries and adding four catches for 76 yards.
But that would come to an end due to a knee injury during the 1954 college football season. Reynolds took the next year off as well, but after a car accident leading to the loss of his spleen and re-aggravating his knee injury, his football career was ultimately over.
Reynolds left the school before graduating, though he did eventually go to Palm Beach Junior College where he took up acting.
But the end of his playing days did not end his relationship with Florida State. Not even close.
Burt Reynolds & Florida State's Uniforms
After the 1980 season, Reynolds wasn't impressed with the Seminoles' uniforms, so he took it upon himself to get new uniforms designed and sent them to the team without anyone inside the program knowing about it. The Seminoles began wearing the new uniforms shortly after.
While he was a famous actor in Hollywood with starring movies roles throughout the 70's like Deliverance, The Longest Yard, and Smokey and the Bandit, Reynolds was still a part of the FSU football program. He was close with former head coach Bobby Bowden and would even join him on a weekly television show. Reynolds was regularly spotted on the sidelines and in the stands at FSU football games.
Reynolds gave back to the school, not just the football program, enough that they eventually named a new dormitory building after him.
RELATED: FSU Honors Burt Reynolds With Awesome Helmet Decal
Burt Reynolds made sure to always support his school, hanging FSU pennants around the sets of his movies and also had it in his contract that he wear Florida State clothing at least once in each movie.
In the 1981 film Cannonball Run, Dom DeLuise's character, Victor Prinzim, was named for Reynolds' former FSU teammate, quarterback Vic Prinzi.
The man known as the Bandit, Buddy, or Burt may not have had the great career as a running back with Florida State football he dreamed of, but he was always thankful to the school that gave him an opportunity, and he will be remembered for his dedication.
His connection to football always continued, even away from his school. He had roles in several football movies like both versions of The Longest Yard, he starred in Semi-Tough, and also became a part owner of the Tampa Bay Bandits, a USFL football team.
He will not only be remembered as one of the best actors ever multiple accolades, including an Academy Award nomination for Boogie Nights, but as a great member of FSU athletics. Reynolds was elected to the Florida State Hall of Fame in 1977.
Burt Reynolds died of a heart attack at the Jupiter Medical Center in Florida on September 6, 2018. He was 82 years old. Bobby Bowden, Lee Corso and Doug Flutie were among those in attendance at his memorial service.
When it comes down to it, the reason Reynolds will always be remembered as a great Seminole is because he always had garnet and gold in his heart. When a player or student leaves a school, it is a dream to have them support the school half as much as Reynolds did throughout his life after leaving Tallahassee. He was a true FSU great, and he always will be.
This article was originally published July 30, 2019.