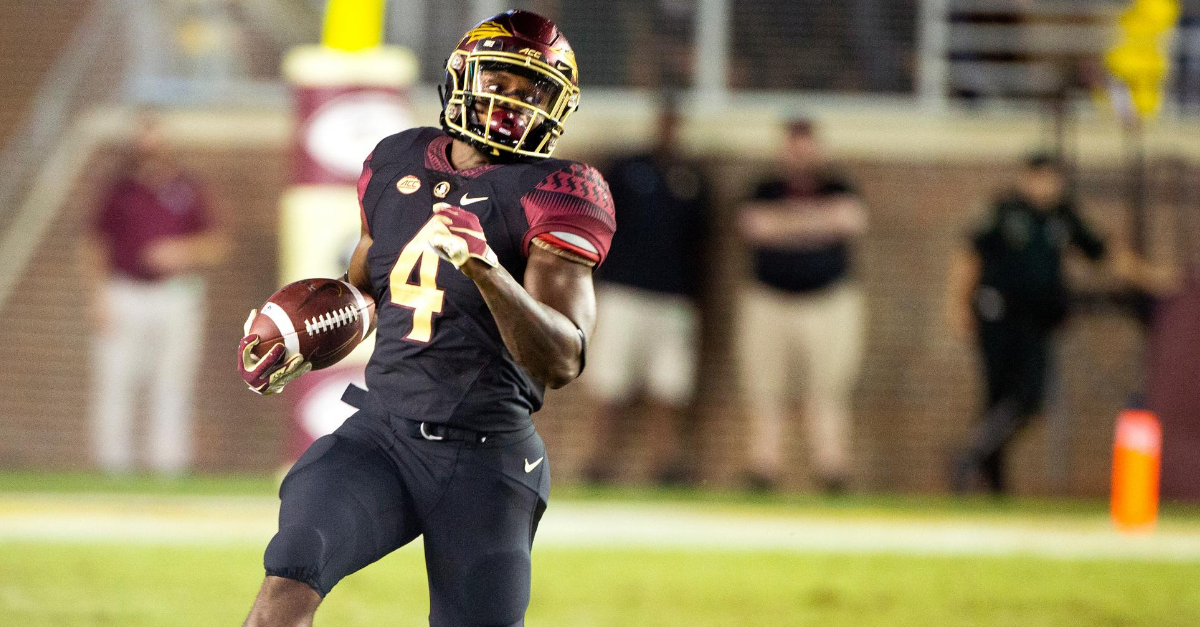 AP Photo/Mark Wallheiser
When running back Khalan Laborn committed, Florida State Seminoles fans were ecstatic. FSU had landed the No. 1 all-purpose back in the country, according to the 247Sports Composite, and big things were ahead. Nothing has gone as planned since he arrived on campus and now his days in Tallahassee are officially over.
Laborn, a former five-star recruit in 2017, has been dismissed from the ACC program "due to violation of team policy." The redshirt junior had been in trouble before and it appears this was the final straw.
Needless to say, head coach Mike Norvell isn't playing around.
RB Khalan Laborn Dismissed From FSU Program
RELATED: FSU Transfer Running Back Granted Immediate Eligibility
With star running back Cam Akers on the depth chart, Khalan Laborn wasn't an instant star. He patiently waited for his time to be the primary ball carrier, including redshirting in 2017.
Laborn, a Virginia Beach, Virginia native, only appeared in two games in 2018, mainly due to a knee injury, and 10 games last season, where he rushed 63 times for 297 rushing yards and four touchdowns. He also recorded 10 receptions for 66 yards.
In addition to the injury, Laborn also served multiple suspensions, including the Florida game last year for a violation of team rules and FSU's Sun Bowl game against Arizona State. He was also sent home from the 2017 Independence Bowl, according to Noles247.
With Akers now in the NFL and Laborn dismissed, Florida State football will look to Texas A&M transfer Jashaun Corbin, JUCO transfer La'Damian Webb, Lawrance Toafili, Deonte Sheffield, Ja'Khi Douglas, Treshaun Ward, Keoki Abasial, Raekwon Webb and Corey Wren to help carry the load next season.
Only time will if there will be NCAA college football this year due to the coronavirus pandemic and COVID-19 outbreak, but if there is, the FSU football team will be without Khalan Laborn.