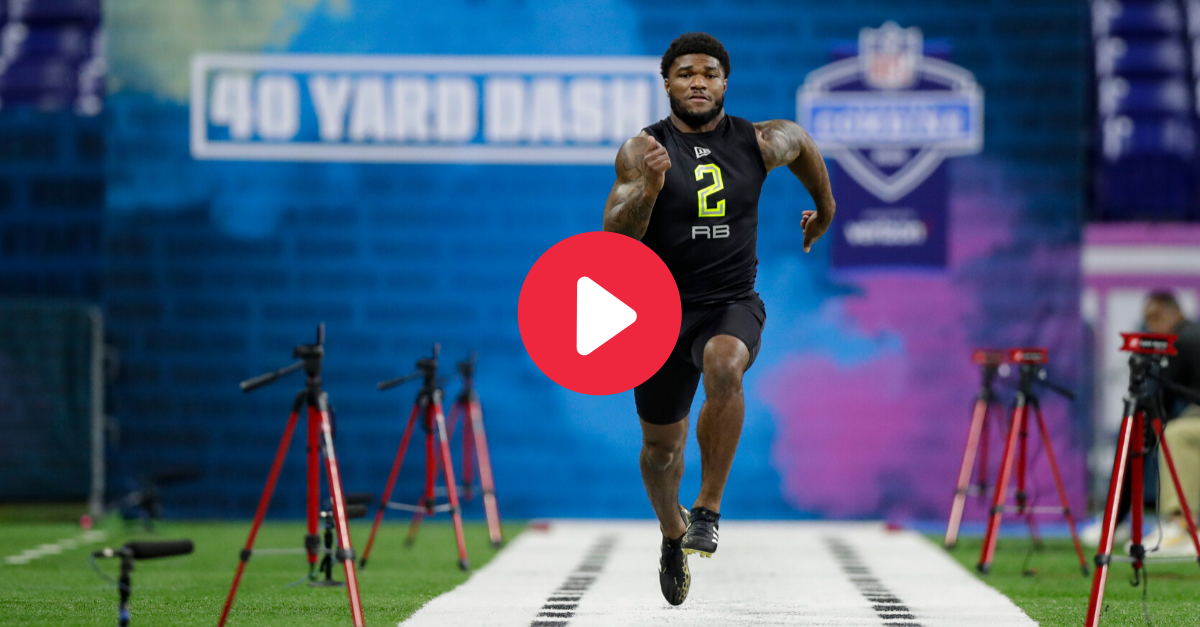 AP Photo/Michael Conroy
The NFL Scouting Combine proves a few things. First, we're reminded that watching NFL Draft prospects run around in head-to-toe spandex while Rich Eisen narrates is the perfect recipe for an afternoon nap. Second, and more importantly, the combine shines a light on the athleticism and ball skills of guys who maybe didn't get the same recognition as others in college. Not every future NFL player needs this showcase ? likely No. 1 and No. 2 overall picks Joe Burrow and Chase Young didn't participate in on-field drills ? but others play themselves into higher draft positions, and as a result, more dollars in their pocket.
A lot of guys made waves at the 2020 Scouting Combine in Indianapolis, but perhaps no one was as impressive as former Florida State Seminoles running back Cam Akers.
Every FSU football fan knows about Akers. When the five-star prospect arrived in Tallahassee, he was rated as the No. 2 player in the nation by 247Sports ? The U.S. Army All-American racked up over 5,000 total yards and 65 total touchdowns as a dual-threat quarterback as a senior in high school and was named Mississippi's Gatorade Player of the Year.
The Seminoles landed a big fish, but coaching changes and offensive line issues diminished some of Akers' potential on college football's national stage.
Florida State's Cam Akers
With Jimbo Fisher at the helm, Akers broke Dalvin Cook's school record with 1,024 rushing yards as a freshman. When Willie Taggart took over as head coach, Akers suffered a sophomore slump and battled an ankle sprain most of that season. He rebounded in 2019 to finish 13th nationally in total touchdowns (18) and 21st in the nation at 104.0 rushing yards per game.
Akers declared for the 2020 NFL Draft as Florida State's sixth leading rusher all time (2,874 yards), but many believe the program's shortcomings left a lot on the table when it comes to Akers.
RB Cam Akers' NFL Combine Workout
RELATED: Alabama WR Runs 6th-Fastest 40-Yard Dash in Combine History
Suffice to say, Akers solidified himself as one of the top running back prospects in this year's draft after his combine workout inside Lucas Oil Stadium.
Akers ran a blazing 4.47 40-yard dash, which ranked fifth among all running backs. His 20 reps on the 225-pound bench press was tied for ninth, and only nine off the leader. (Ole Miss' Scottie Phillips did 29.) Akers measured in at 5-foot-10 and 217 pounds, and his on-field drills over the weekend really improved his stock.
His fluidity catching passes and low center of gravity as a runner were obvious, but Akers most notably dominated what's known as the "Duce Staley drill," showing off the foot speed and balance that made him the most-coveted running back of his high school recruiting class.
NFL Network's Peter Schrager received a text message from an AFC position coach who said the drill should be renamed after Cam Akers.
Clemson linebacker Isaiah Simmons made waves. Ohio State cornerback Jeffrey Okudah looked like the most NFL-ready player in the draft. Fellow running backs Jonathan Taylor and Joshua Kelley showed out, but it's Akers whose draft stock rose the fastest in Indianapolis.
Mock drafts projected Akers becoming a fourth or fifth round pick, but if he does slip that far, one NFL team is going to get a plug-and-play rookie who will make their backfield as dangerous as any when he takes the field.
This article was originally published March 2, 2020.