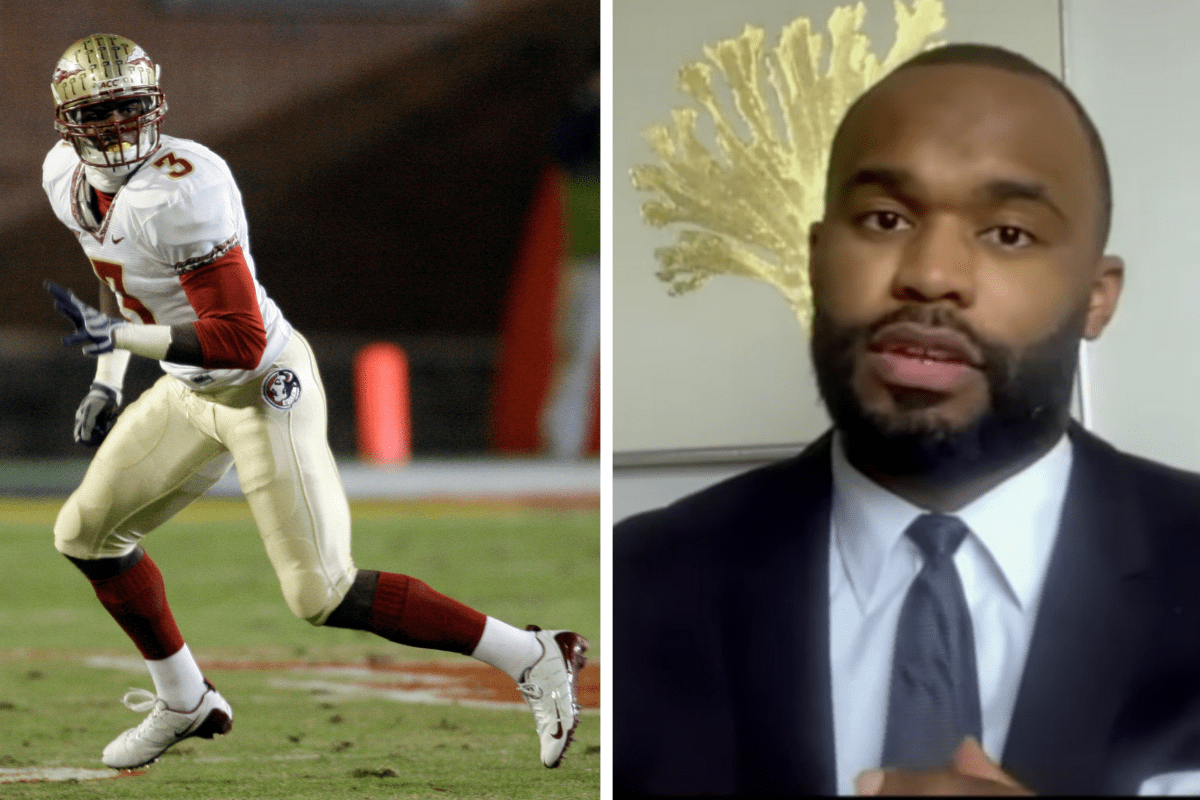 AP Photo/Rob Carr (left), Screenshot from YouTube (right)
Most fans probably don't remember the career of former NFL safety Myron Rolle. It was brief, to say the least, as the defensive back never played in a professional game, despite being a sixth-round draft pick in the 2010 NFL Draft by the Tennessee Titans.
After his tenure with the Titans concluded, Rolle got another opportunity with the Pittsburgh Steelers, but was released in 2012 after a short stint with the team, effectively ending his professional career.
Rather than continue to pursue football, Rolle decided to move on with his life.
Football had long been preset in his life. He was an All-American defensive back who ESPN ranked as the No. 1 high school prospect in the country in 2006. But being an NFL player wasn't always the plan for Rolle, who grew up in New Jersey.
After reading Dr. Ben Carson's "Gifted Hands" in the fifth grade, Rolle decided he wanted to be a neurosurgeon. And that's exactly what he did.
Medical School
RELATED: Trent Richardson?s NFL Career Failed, But Where Is He Now?
In 2013, Rolle announced that he would be returning to FSU, where he was a college football player and a Rhodes scholar, to attend medical school at the Florida State University College of Medicine in hopes of fulfilling his dream of becoming a neurosurgeon.
His Rhodes Scholarship helped him earn a full scholarship to study medical anthropology at Oxford University for a year, which he accepted, opting to forgo his senior season with the Florida State Seminoles.
Medical Career
After graduating from medical school, Rolle is now a third-year neurosurgery resident at the Massachusetts General Hospital in Boston, as well as at Harvard Medical School. Amid the coronavirus pandemic, Rolle volunteered to work on the front lines and help treat COVID-19 patients, working brutal 24-hour shifts at Mass General.
While he would normally be working in the operating room removing brain tumors, Rolle instead finds himself working in the surge clinic. In a column on Peter King's "Football Morning in America," Rolle described his role at the surge clinic in the ICU and emergency room as being a "foot soldier in this larger fight."
Having worked on the front lines in New England, Rolle has publicly pleaded for people to heed the advice and warnings regarding COVID-19 which have been issued by healthcare workers.
While his current profession is a far cry from his NFL career, Rolle is making a meaningful impact in the field of medicine and is living out a dream he's had since he was just a kid.