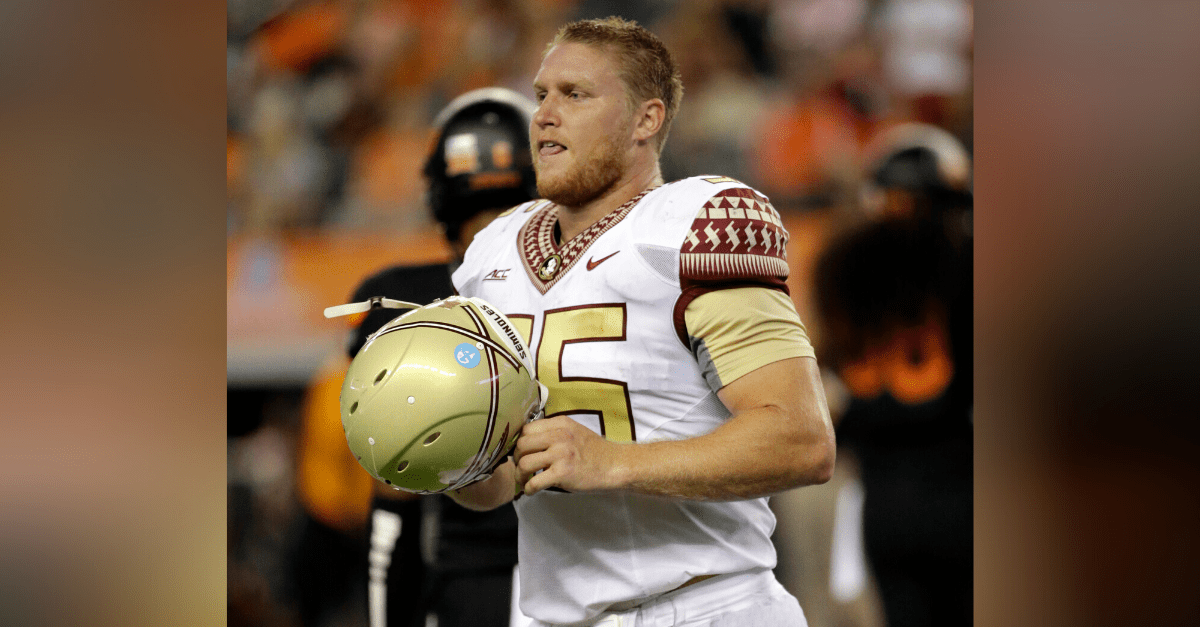 AP Photo/Tony Gutierrez
Nick O'Leary was an instrumental part of the Florida State Seminoles' 2013 BCS National Championship season. The 6-foot-3, 250-pound tight end was tough as nails in college and even won the John Mackey Award in 2014 given to the nation's top tight end.
The grandson of golfing legend Jack Nicklaus, O'Leary played like he was indestructible even into his NFL career. That attitude makes a whole lot of sense considering he was thrown off his motorcycle some 100 feet after crashing into a car in 2013 and walked away like nothing happened. He even once suplexed a dude.
Seven years later, FSU's all-time greatest tight end suffered another crazy health scare.
Former FSU TE Suffers Heart Attack, Undergoes Surgery
RELATED: The Best Wide Receivers in Florida State History, Ranked
Former Florida State tight end Nick O'Leary told The Palm Beach Post's Tom D'Angelo he suffered a heart attack and had surgery to clear 100 percent blockage of an artery to his heart last month on May 19.
The 27-year-old is expected to make a full recovery and didn't suffer any long-term damage to his heart. He told The Post he felt pain in his left arm and chest while working out and then while playing pickleball with his brother.
?I said sarcastically to my brother there?s something wrong with my heart, I don?t know what it is,? O'Leary told The Post. ?I happened to go to the hospital, and they told me it was a heart attack.?

?For it to happen to me, I was in shock. I didn?t think that?s what it would be. For that to happen and me ending up being in the hospital for three days and having a heart issue is pretty weird.?
O'Leary had two stents put into the blocked passageway by staff at Palm Beach Gardens Medical Center. He's currently allowed to perform light exercises while he's on blood thinners for at least the next six months following the heart procedure.
"That?s really the only reason now why I can?t play football," he told The Post. "If I (got cut), they said that would be the biggest problem, wouldn?t be able to stop the bleeding."
Reports originally surfaced that Las Vegas Raiders' Nick O'Leary may be retiring when he was placed on the reserve/non-football injury list on June 22. However, he plans to be back on the gridiron next year when he's in better shape and given the all-clear.
O'Leary's Career At FSU & In NFL
O'Leary was born in North Palm Beach and starred at Dwyer High School before making his way to Tallahassee.
He developed into one of the best tight ends in the school's history under Jameis Winston. O'Leary won the 2014 John Mackey Award and finished with more than 1,500 receiving yards and 17 touchdowns over his NCAA career.
The Buffalo Bills selected him in the sixth round of the 2014 NFL Draft. He posted his best season of pro football career in 2017 when he caught 22 passes for 322 yards and two touchdowns. He's played for the Miami Dolphins, Jacksonville Jaguars and Oakland/Las Vegas Raiders since then.
Hopefully we see O'Leary back in uniform next season.