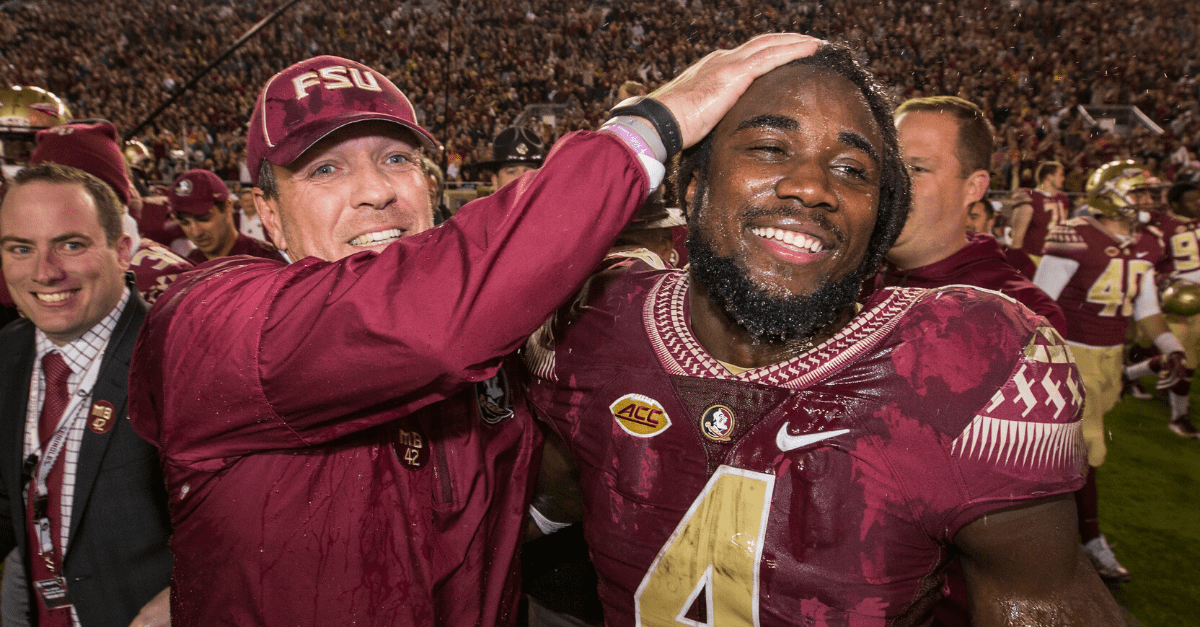 AP Photo/Mark Wallheiser
When I sat down to compile a list of the best football players in Florida State University's history, I was not prepared for the hours of time this task demanded and deserved.
I shouldn't have been surprised. FSU football boasts one of the best winning percentages among all FBS teams (.672) since the program's launch. During its 36-straight seasons reaching a bowl game (by far the NCAA record) under Bobby Bowden's reign, the Seminoles clobbered nearly everyone they faced. Legendary matchups between the rival Miami Hurricanes and Florida Gators fueled the state's pedigree for producing some of the best players to ever buckle a chinstrap. It's no surprise many of them wore garnet and gold during their college years.
Even after finally settling on my list, it still felt like too many legends were left off. Just look at this "Best of the Rest" group. It's a national championship-caliber roster! (Forgive me if some players may be forgotten here. Again, the list was mind-bendingly long.)
Lee Corso, quarterback/halfback/defensive back
Chris Rix, quarterback
Danny Kanell, quarterback
Greg Allen, running back
Devonta Freeman, running back
Cam Akers, running back
E.G. Green, wide receiver
Ron Sellers, wide receiver
Rashad Greene, wide receiver
Anquan Boldin, wide receiver
Nick O'Leary, tight end
Clay Shiver, center
James Dukes, guard
Jason Whitaker, guard
Alex Barron, tackle
Walter Jones, tackle

Corey Simon, defensive tackle
Darnell Dockett, defensive tackle
Ron Simmons, defensive tackle
DeMarcus Walker, defensive tackle
Timmy Jernigan, defensive tackle
Reinard Wilson, defensive end
Andre Wadsworth, defensive end
Aaron Carter, linebacker
Sam Cowart, linebacker
Peter McGowan, linebacker
Telvin Smith, linebacker
Lamarcus Joyner, safety
Derwin James, safety
LeRoy Butler, defensive back
Terrell Buckley, defensive back
Jalen Ramsey, defensive back

Robert Aguayo, kicker
Ron Simmons set the tone for FSU's dominant defensive lineman throughout history. Only fools threw in Jalen Ramsey's general direction. Lee Corso is THE Sunshine Scooter, doing it all for the Seminoles back in the day. Terrell Buckley holds the NCAA record for career interception return yards (501). LeRoy Butler invented the damn Lambeau Leap.
Heck, even Burt Reynolds laced up his cleats for Florida State.
I know someone's not going to agree with this list, but it's impossible to fit Florida State's long history into 12 slots. The legends I landed on defined the program and made it what it is today.
So without further ado, here are 12 of the greatest Florida State football players to walk through Tallahassee.
Best Florida State Football Players Ever
12. Sebastian Janikowski (1997-99)
Since the 1954 NFL Draft, only five kickers have been selected in the first round. One of them was "The Polish Powder Keg" who went No. 17 overall to the Oakland Raiders after dominating at Florida State.
During his three seasons in Tallahassee, Janikowski connected on 66 of 83 field goal attempts and 97.7 percent of his extra points. He was a Consensus All-American twice (1998, 1999) and won the Lou Groza Award as the nation's top kicker in both of those seasons. As of 2020, he is the only person to ever win the honor two times.
The lefty still ranks second in FBS history with 1.94 field goals made per game, and he regularly sent kickoffs sailing out of the end zone and into the stands.
Former head coach Bobby Bowden once said of Janikowski, "Boy, have you ever thought about (I have!) how many national championships we might have won if we had Janikowski every year of my career?"
Not a bad endorsement for a guy who once attempted a 76-yard field goal.
11. Peter Boulware (1993-96)
If you want a clinic on rushing the passer, watch Peter Boulware's highlights.
After leading the ACC in sacks as a sophomore, Boulware went off in his junior season to the tune of 19.0 sacks, which led the nation and remains the FSU record. The 1996 ACC Defensive Player of the Year was a Consensus All-American and was named Football News' National Player of the Year. Finishing his career just 1.5 sacks shy of teammate Reinard Wilson's school record, Boulware left school early to enter the 1997 NFL Draft and was the No. 4 overall pick of the Baltimore Ravens.
A Defensive Rookie of the Year award, four Pro Bowls, 70.0 career sacks, and Super Bowl XXXV title bookended one of the greatest careers for a Seminole ever.
10. Marvin Jones (1990-92)
Since 1990, only six defensive players finished top-four in the Heisman Trophy voting: Steve Entman (1991), Charles Woodson (1997), Ndamukong Suh (2009), Manti Te'o (2012), and Chase Young (2019).
The other was Marvin Jones in 1992.
"Shade Tree" covered every inch of Doak Campbell Stadium. During his final season, the junior racked up 111 tackles as FSU went 11-1 and defeated Nebraska in the Orange Bowl to finish No. 2 in the country. He won the Lombardi Award, which is given to the best college football player regardless of position. The two-time Consensus All-American who amassed 369 tackles in only three seasons (7th in FSU history) was the fourth overall pick of the 1993 NFL Draft and record over 1,000 tackles during his career with the New York Jets.
One of the best pure tacklers to ever do it. Period.
9. Dalvin Cook (2014-16)
Only one running back in school history boasts over 4,000 rushing yards in his career. That's Cook, who did it in just three seasons.
The two-time First-Team All-American owns the two highest single-seasons rushing totals, four of the ten best single game rushing performances, and the school record for career rushing touchdowns (46). He averaged 6.5 yards per carry, tacked on another 935 career receiving yards on 79 catches, and finished his time with an MVP performance in the Orange Bowl.
Cook left school early to enter the 2017 NFL Draft and made his first Pro Bowl in 2019 with the Minnesota Vikings. Had he stayed at FSU one more season, there's no chance Cook's records would be touched for years to come, if ever.
8. Warrick Dunn (1993-96)
RELATED: What Happened to Red Lightning, Football's Greatest Ball Boy?
With all due respect to Mr. Cook, the title as best running back in FSU history belongs to Warrick Dunn until further notice.
The Baton Rouge native arrived in Tallahassee in 1993 and immediately made in impact, helping Bobby Bowden, Charlie Ward and company win the national championship. Over the next three seasons, Dunn ran for more than 1,000 yards every year and finished with 1,314 receiving yards to boot. He was a three-time All-ACC selection, second-team All-American in 1996, and earned an AP All-American selection running track for FSU's 4×100-meter relay team.
The 12th overall pick in 1997 made three Pro Bowls and was named Walter Payton NFL Man of the Year in 2004. As of the 2019 season, Dunn ranks 23rd on the NFL's all-time rushing list.
7. Jameis Winston (2013-14)
In his first season, "Famous Jameis" went undefeated as FSU's starting quarterback, won nearly every national award possible, became the youngest player to win the Heisman Trophy, and defeated Auburn with a last-second, game-winning drive to win the BCS National Championship. He still holds FBS freshman records for passing yards (4,057), passing touchdowns (40), and passing efficiency (184.8).
Talk about making an impact.
Winston followed up arguably the best season ever by an FSU quarterback with 3,907 passing yards (third-most in school history) as a sophomore. Yet another undefeated regular season carried FSU and head coach Jimbo Fisher into the first-ever College Football Playoff, but they lost to the Oregon Ducks.
Had he played another season in college, Winston's legacy would be hard to top.
Winston finished his career 26-1 as FSU's starter and was the No. 1 overall pick in the 2015 NFL Draft. He's still setting records in the NFL, even if they aren't the most exciting.
6. Fred Biletnikoff (1962-64)
At a time when football was still developing, Biletnikoff blossomed as the gold standard of wide receivers.
In 1964, Florida State boasted a dangerous attack led by quarterback Steve Tensi who found Biletnikoff early and often. Biletnikoff led the nation with 1,179 receiving yards and 15 touchdown catches, plus he finished second nationally with 70 receptions. Those numbers include a record-setting Gator Bowl performance in which he caught 13 passes for 192 yards and four touchdowns. He was a First-Team All-American by every major publication, making him FSU's first-ever consensus selection.
Biletnikoff left FSU as the school's all-time leader in every major receiving category, went on to win Super Bowl MVP with the Oakland Raiders, and was later inducted into both the Pro Football Hall of Fame and College Football Hall of Fame.
College football's top receiver each year receives the Fred Biletnikoff Award. How many other Florida State Seminoles boast a trophy named after them on their resume?
5. Chris Weinke (1997-2000)
His NFL career didn't pan out like many hoped, but Chris Weinke is without a doubt one of FSU's greatest players of all time.
After being a second-round MLB Draft pick by the Toronto Blue Jays and playing several seasons in the minors, Weinke enrolled at Florida State at 25 years old where a scholarship awaited him. From that point, Weinke put together a record-setting, four-year career.
He still owns school records for career passing yards (9,839) and touchdown passes (79), the single-season yardage record (4,167), and four of the 10 most prolific games in school history.
As a senior in 2000, the Heisman Trophy winner swept the awards circuit, claiming the Davey O'Brien Award, Johnny Unitas Award, and was named ACC Player of the Year. The 'Noles reached three-straight national title games during his tenure, including an undefeated championship run in 1999.
Weinke's coaching quarterbacks in the SEC these days, so don't rule out a potential return to Tallahassee one day.
4. Peter Warrick (1995-99)
If there was a real life cheat code, it'd be wearing a garnet and gold No. 9 jersey.
Peter Warrick was a freak. Give the two-time Consensus All-American and three-time First-Team All-ACC selection six inches of space, and he was gone. Warrick's 15 career 100-yard receiving games are highlighted by his performance against No. 16 Clemson in 1997. Facing a hostile environment, Warrick amassed 372 total yards, including a 90-yard punt return and an 80-yard reception.
Had the infamous Dillard's shoplifting fiasco not earned Warrick a two-game suspension during his senior season, Warrick could have won the 1999 Heisman Trophy in a landslide as FSU went undefeated, was the wire-to-wire No. 1 team, and won the national championship.
Despite the suspension, Warrick still finished sixth in the Heisman voting that year and punctuated his career with an MVP performance in the Sugar Bowl.
Warrick still ranks third on FSU football's career list for catches (207) and receiving yards (3,517), plus he's first all time with 31 touchdown catches.
3. Derrick Brooks (1991-94)
No sight was more terrifying in the early '90s than Derrick Brooks and his cowboy collar coming off the edge.
Originally recruited as a safety, Brooks transitioned to outside linebacker during his sophomore season and put on a clinic every single game. Twice he garnered Consensus All-American honors and was named ACC Player of the Year in 1994. During his three First-Team All-ACC seasons, FSU's defense allowed just 14 points per game over 37 contests. He finished his illustrious college career with 274 tackles, five interceptions, 8.5 sacks, 13 passes defensed, four forced fumbles and three fumble recoveries.
On top of that, Brooks was a two-time Academic All-American.
The 28th overall pick in the 1995 NFL Draft was named All-Pro nine times, reached 11 Pro Bowls in 14 seasons, was the 2002 NFL Defensive Player of the Year, and won Super Bowl XXXVII with the Tampa Bay Buccaneers.
Both the College Football and Pro Football Hall of Fames honored Brooks, who is a living legend.
2. Charlie Ward (1989-93)
No one in Florida State history did what Charlie Ward managed to accomplish during his time in Tallahassee.
For starters, Ward won every award he was eligible for during the 1993 season, including the Heisman Trophy, Maxwell Award, Walter Camp Award, and Davey O'Brien Award on his way to the national championship. FSU defeated Nebraska, 18-16, in the Orange Bowl to claim the title, sealing Ward's incredible season. He was a two-time ACC Player of the Year in 1992 and '93, and he was twice named ACC Athlete of the Year in 1993 and '94 because, well, football wasn't even his true calling.
Ward led three Seminole basketball teams to the NCAA Tournament, including reaching the Sweet Sixteen in 1992 and Elite Eight the following year. The 6-foot-2 point guard was selected 26th overall in the 1994 NBA Draft by the New York Knicks and appeared in 630 games during his 12-year career in pro basketball.
Ward was jokingly referred to as the "best quarterback in New York" during his NBA years, adding to the mystery of just how his NFL career would have panned out had he chosen to go that route.
1. Deion Sanders (1985-88)
When the lights flickered on, it was Prime Time.
Sanders was a two-time unanimous All-American selection as a junior and senior, as well as a Third-Team All-American as a sophomore. Sanders won the 1988 Thorpe Award winner as college football's best defensive back ? That was the same season he finished eighth in the Heisman Trophy voting and led the nation with a 15.2 yard punt return average. His 14 career interceptions tied Lee Corso for third all time in Florida State history.
When he wasn't busy dominating on the gridiron, Sanders started on FSU's baseball team and also helped the track and field team to an ACC Championship in his freshman season. Sanders was selected fifth overall in the 1989 NFL Draft, then went on to make nine All-Pro teams as a cornerback, one as a kick returner (1992) and another as a punt returner (1998). The eight-time Pro Bowler won two Super Bowls with the Dallas Cowboys and was the NFL Defensive Player of the Year in 1994.
Sanders commanded your attention every second No. 2 trotted onto the field for Florida State. His style was undeniable and his presence was dominant, which is why he's not only considered the best player in Florida State football's history, but perhaps the greatest pure athlete to ever do it.