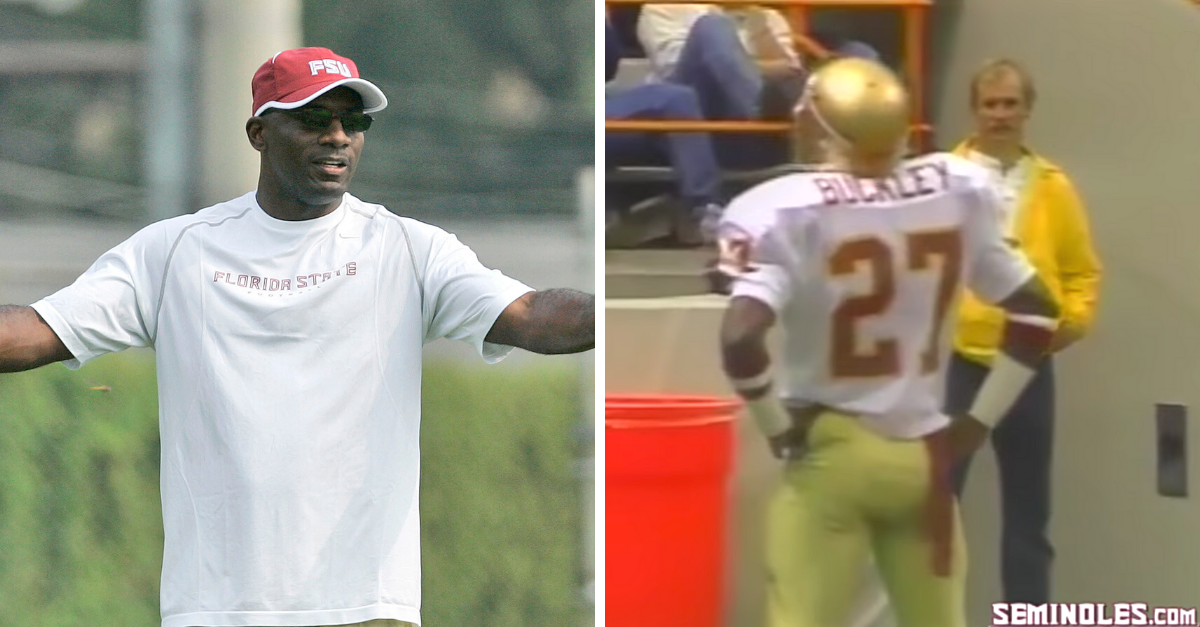 AP Photo/Phil Coale (left), YouTube: Florida State Seminoles (right)
The 2019 College Football Hall of Fame class was officially inducted at the 62nd National Football Federation Annual Awards Dinner on December 10. If you're like me, reading the list of inductees invokes memories from some of the game's greatest icons. From Texas quarterback Vince Young to USC safety Troy Polamalu, the list is truly remarkable, but one name jumps way off the page for die-hard Florida State Seminoles fans in Tallahassee and beyond.
Former FSU defensive back Terrell Buckley was, in short, a complete nightmare for opposing offenses. The two-year starter and three-time letterman terrorized quarterbacks on his way to setting multiple records at the school and NCAA level, many of which still stand today.
Florida State's Terrell Buckley
The pride of Columbia, Mississippi led Pascagoula High School to the 1987 state championship before taking his talents to Tallahassee. Playing for Bobby Bowden, Buckley is still FSU's all-time leader in interceptions (21) while tying school records with four INT returns for touchdowns and three punt return touchdowns. Buckley was a two-time All-American, won the 1991 Jim Thorpe Award as the nation's top defensive back, and finished seventh in Heisman Trophy voting that same year. (If all that wasn't enough, Buckley also played baseball and ran track for the 'Noles.)
Buckley's 501 career interception return yards are still the NCAA record.
The fifth overall pick of the 1992 NFL Draft played 14 years of professional football with the Green Bay Packers, Miami Dolphins, Denver Broncos, New England Patriots, New York Jets and New York Giants. Buckley picked off at least one pass in 13-straight seasons, retiring with 50 for his career, and won Super Bowl XXXVI as a member of the Patriots.
"T-Buck" was inducted in the FSU Sports Hall of Fame in 2003, and his No. 27 was retired by in 2011.
Terrell Buckley on Hall-of-Fame Induction
"It's awesome [going into the HOF] with some other guys I played with. I played with Derrick Brooks and Charlie Ward, who's in the college hall of fame. Those memories of putting on that garnet and gold, and being in Tallahassee and running out of that tunnel with those guys, now we can laugh and talk about that. All of us are still in contact with each other. They are sending texts and congratulations, the same way that I did for them. It is a little surreal that all this is happening and it has happened to a bunch of guys I know."

— Terrell Buckley, via Warchant TV
Where is Terrell Buckley Now?
After beginning his coaching career at FSU, Buckley served as cornerbacks coach at Akron, Louisville, and has held the same position at Mississippi State since 2016. Buckley's mentored All-SEC talent like Jamal Peters and Jaire Alexander, and according to his MSU football bio, 13 of Buckley's prodigies have signed professional contracts.
Buckley's impact at Florida State still resonates inside Doak Campbell Stadium, but the veteran mind isn't done teaching his game-changing tricks to the next generation of football players in one of the college football's best defensive units every single year.
This article was originally published December 11, 2019.