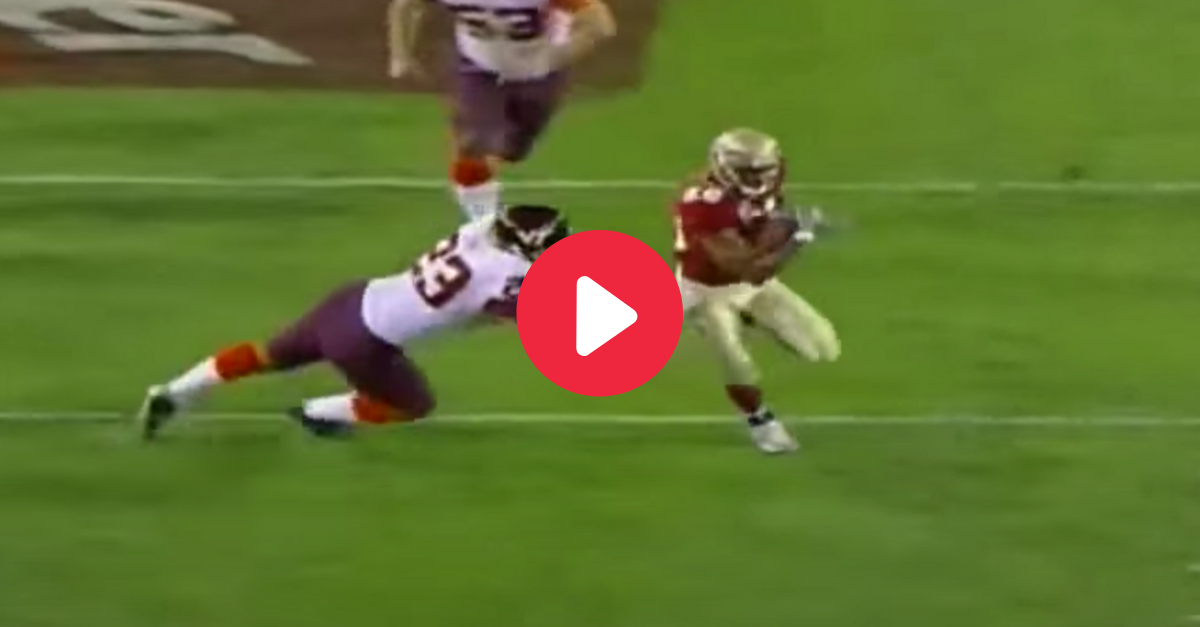 Screenshot from YouTube
The dynasty former Florida State Seminoles head coach Bobby Bowden built was legendary and might be impossible to duplicate ever again. It spanned four decades and featured a pair of national titles, a dozen ACC championships, over 30 bowl games and countless records and memories. There's not a single college football coach, both past or present, who boasts that type of resume.
Back in 2005, the dominant era was slowly coming to an end in Tallahassee. The Seminoles finished the regular season with three-straight loses, but it was only fitting they would play in the inaugural ACC Championship Game against the Virginia Tech Hokies.
The first half of the title game in Jacksonville was a complete snoozer. It was tied 3-3 at halftime and both teams were riding the struggle bus. Then, early in the third quarter, wide receiver and punt returner Willie Reid busted the game wide open with an iconic 89-yard punt return touchdown that is still remembered by FSU football fans today.
Willie Reid's ACC Title Game Punt Return TD
RELATED: Snoop Minnis' 98-Yard TD Made Doak Campbell Stadium Shake
Florida State University needed a spark. Honestly, anything positive would have been nice. That's when Willie Reid etched his name in FSU lore. He juked and sprinted his way for an 89-yard punt return touchdown that sparked the Seminoles in a big-time way. They scored 24 unanswered points in the third quarter, which was good enough to hold off Virginia Tech.
Reid finished with five receptions for 79 yards and 131 return yards to be the game's MVP. A month later, he scored an 89-yard punt return touchdown against Penn State in the Orange Bowl in Miami.
Forget the losses that season. The Seminoles were ACC champions once again, and it would be head coach Bobby Bowden's final league title in his legendary career.
Reid, a native of Kathleen, Georgia, was a third round pick in the 2006 NFL Draft by the Pittsburgh Steelers. He also played for the Philadelphia Eagles and Dallas Cowboys during his career.
Although he never made a huge impact at the professional level, that special teams touchdown made him a legend and helped create a lasting memory in the Bobby Bowden era.