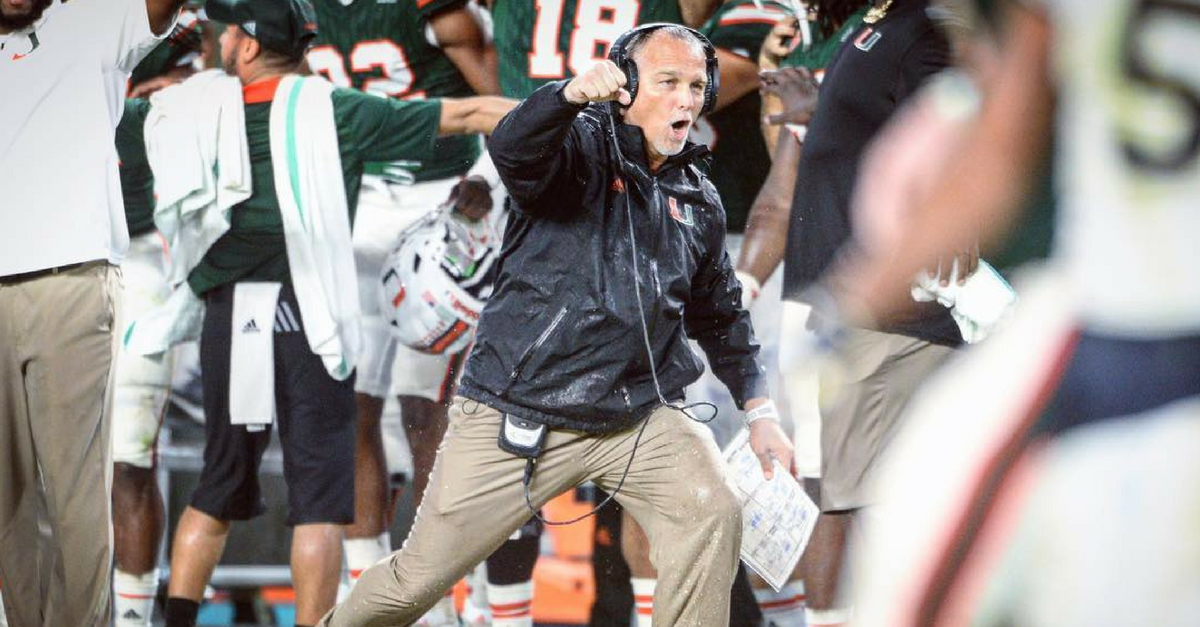 Instagram:@canesfootball
Instagram: @canesfootball
Media days signal the official start of the college football season. It sets the table for all kinds of storylines, from Nick Saban's disdain for quarterback controversy to Larry Fedora acting like football is going to ruin America. Questions lead to juicy details that football fans, and the media, have awaited since the previous year ended.
At ACC Media Day, the first question faced by Miami coach Mark Richt wasn't about his team, or about the Hurricanes opening game against SEC powerhouse LSU.
No. The first question Richt heard was about Miami's, now famous, Turnover Chain.
"It's the greatest thing since sliced bread. It's really the greatest thing since the 10-bite sandwich, actually," Richt said. "First of all, I didn't know about the turnover chain until the first game. Coach Diaz is like, hey, Coach, by the way, we've got this chain, in case we get a turnover we're going to put it on their neck."
Like or not, the turnover chain worked.
The Miami Hurricanes were fifth in the nation forcing 31 turnovers in 2017. Miami also led the nation with 3.38 sacks per game as a team.
Senior safety Jaquan Johnson said of the phenomenon, "I mean, the turnover chain itself is definitely like the 12th man. As soon as it comes out — as soon as we get the turnover, it starts. You start to hear all the yelling and the shouting, but once the turnover chain goes on our neck, it's like a whole 'nother notch."
Johnson tied for the Hurricane team lead with four interceptions last season. He also led the team with 96 total tackles on his way to being named a second team All-American.
Johnson added, "It motivates the team. It excites the crowd, and it bothers the other team."
Make no mistake, the Turnover Chain will be back in 2018.
"So indeed the turnover chain is coming back this year?" Johnson was asked.
He responded with a smile, and a single word: "Definitely."
Miami won the ACC's Coastal division and posted a 10-win season in year one under Richt in 2017. Returning Malik Rosier at quarterback, and having Doak Walker watchlist running back Travis Homer on the roster, sets the Hurricanes up to make a run at Dabo Sweeney and Clemson for the ACC title.
Before Richt left the podium, he made one final mention, and a telling one, that Miami football is back on the map in Coral Gables, Florida.
Miami's head coach closed, "We're about to sell out our season tickets for the first time at Hard Rock Stadium. And I know a lot of schools sell out for like the last 90 years, but for us it's a big deal. And if you don't get your tickets now, you're going to be in trouble. I had to put that plug in. God bless, and go 'Canes."