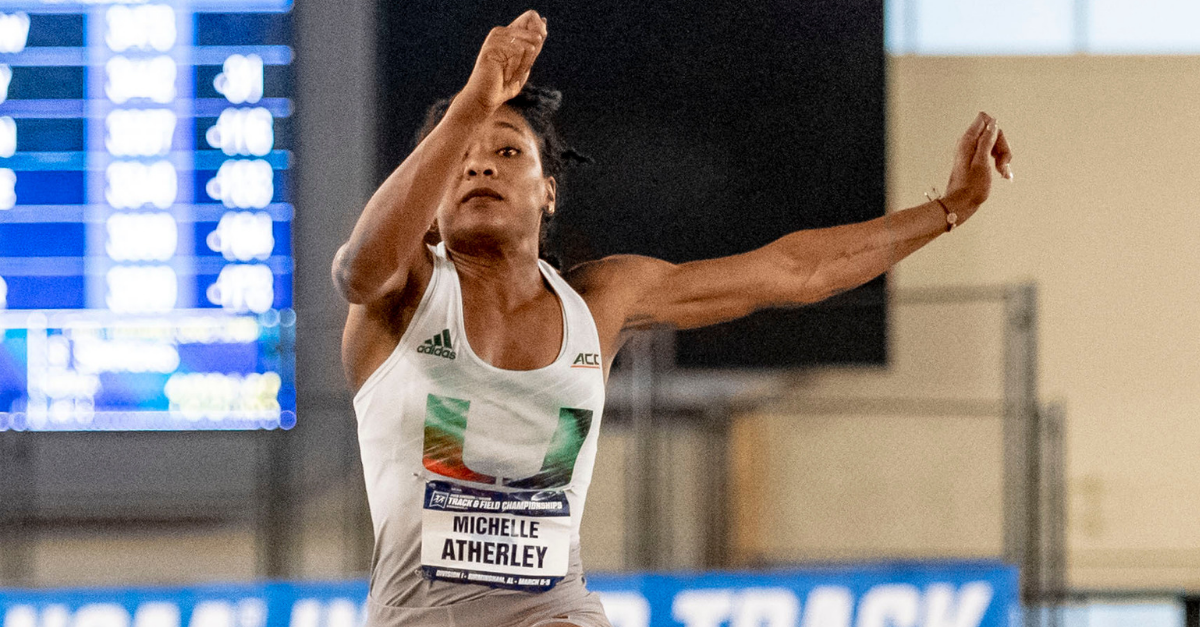 AP Photo/Vasha Hunt
When thinking about the Miami Hurricanes, one would probably conjure up memories of great football players and moments. But recently, one of the best athletes on campus can be found on the track.
Meet Michelle Atherley. She has been nothing short of great this year, not only dominating the Atlantic Coast Conference in the Women's Pentathlon, but on the national stage as well. And it is still easy for her to go under-appreciated with most 'Canes fans paying attention to football, basketball and baseball.
Atherley, a senior from North Port, Florida, has been breaking school records along with winning national awards such as the 2019 NCAA Pentathlon Championship, USTFCCCA Indoor All-American First Team, ACC Women's Field Performer of the Year, 2019 ACC Indoor Field MVP, and 2019 ACC Indoor Pentathlon Champion. Not bad for just the indoor season, and she continues to dominate Division I track and field into the outdoor season.
RELATED: 10 Miami Hurricane Records That You'll Never See Touched Again
Most recently, the Miami track star was named the ACC Women's Field Performer of the Week on April 17, her second time receiving the track & field honor this season. She was the performer of the week with her showing at the Hurricane Alumni Invitational with a school-record of 5,966 points in the heptathlon. Of the seven events, she placed first in five and second in another out of 13 total  participants.
Of the four events on the first day of the meet, she won three; the 100-meter hurdles, shot put, and 200-meter dash. She finished second in the high jump, just 1.25 inches below Quamecha Morrison of Bethune-Cookman.
On the second day, she won two events and placed fourth in the other. She once-again started the day with a victory, this time winning in the long jump by three-tenths of a meter. She placed fourth in the javelin, but found herself back on top with a win in the 800-meter run by almost three seconds.
Her multi-event point total of 5,996 points is currently the best in the ACC and behind just one in the country. She trails Ashtin Zamzow of Texas, who finished with 6,148 points on March 28. During the indoor season, Zamzow finished with the fifth best score in the country.
But the point of all of this is the fact that one of the best athletes in Coral Gables is not running around inside the new indoor practice facility, on Green Tree Practice Field, or on Mark Light Baseball Field. She is running, jumping, and throwing at Cobb Stadium in Coral Gables, and she deserves more respect and more notoriety.