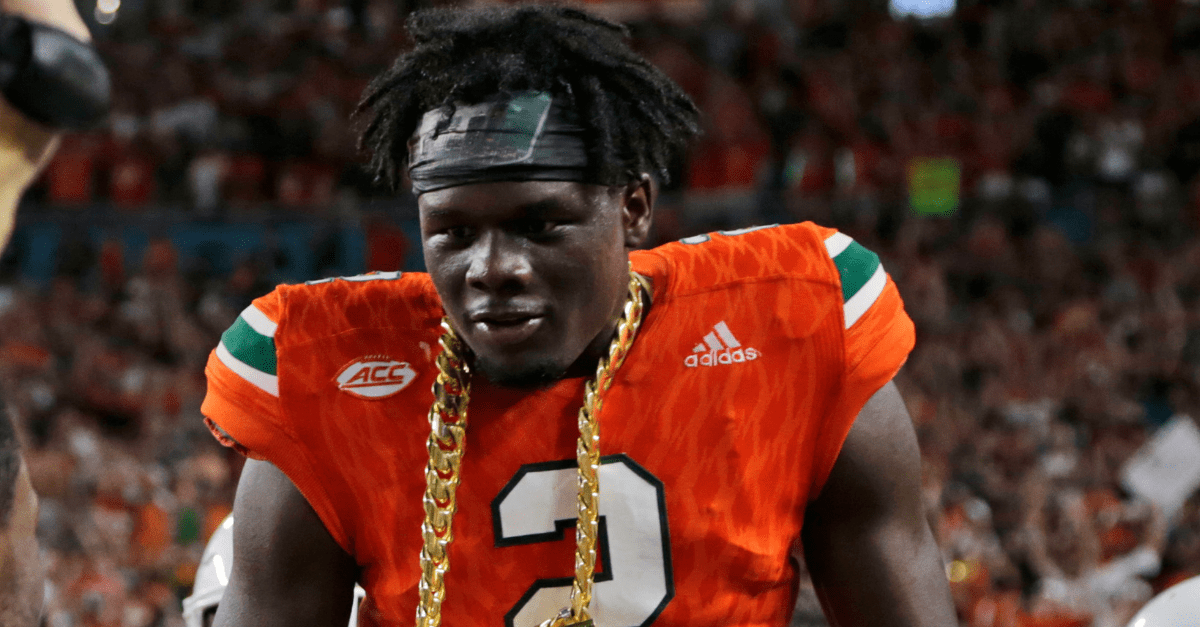 AP Photo/Lynne Sladky
The Miami Hurricanes may have lost their top three defensive backs from last season, but they have one who will return and could be the best of them all when his time is done in Coral Gables. His name is Trajan Bandy.
The 5-foot-9, 188-pound cornerback recently posted on Twitter that he is the best corner in the country, and the way he has defended opposing receivers gives him a case. He has made a ton of huge plays in his first two seasons, and he should be seen as one of the best at the college level entering the 2019 campaign.
RELATED: Manny Diaz, Miami are the Bad Boys Once Again, But Will They Back It Up?
Not many cornerbacks can cover from the slot as well as outside to the level Bandy has done in the last two seasons. Not only does he cover well, though, he also makes huge plays. One of the biggest and most memorable plays for Miami in the last decade came from Bandy.
In a huge game against Notre Dame — a match-up between top-10 teams — the Hurricanes were dominating, but the Irish were driving late in the first half to narrow the deficit. As a true freshman, Bandy jumped a pass, intercepted the ball and ran 65 yards for a touchdown. That was his first time wearing the famous turnover chain and it was an incredibly memorable moment.
However, those big plays don't fully describe how good Bandy has been. As a sophomore last season, he was one of the best cover-corners in the country. He earned an 89.4 cover grade by Pro Football Focus, which was 12th-best in the country. If you pair that with how good of a tackling cornerback he is, that makes for a really good defensive back.
In 2018, Bandy made 36 total tackles with 25 of those being solo tackles. He also had 4.5 tackles for loss, three interceptions, two fumble recoveries, and a team-high eight passes defended. That was good enough to earn him Third-Team All-ACC honors, but easily could have been on one of the top-two teams.
This season, we will see why he is talking about being the top cornerback in college football when he takes over as the team's No. 1 corner with the loss of Michael Jackson. He will also be tested with no experienced safeties behind him since Jaquan Johnson and Sheldrick Redwine each graduated as well.
He might be tested early in the season, but expect teams to go after the other corners on the team since there will be quite a few younger players in the game as the second and third corners. Bandy has shown how good he is, but he is also pretty short, and so teams may want to go after him if they get favorable match-ups.
He may not be seen as the top corner in the country now, but by season's end, expect for his name to be in the conversation for some national recognition.