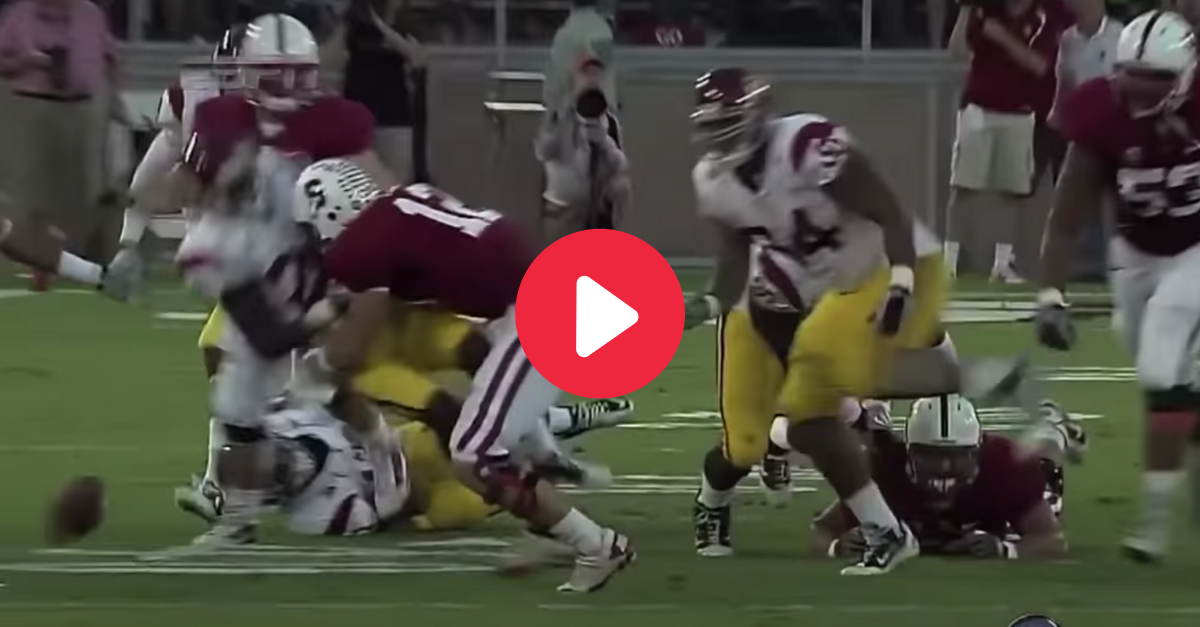 Screenshot from YouTube
Before quarterback Andrew Luck became famous for throwing touchdowns with the Indianapolis Colts for nearly a decade, he dominated college football like no other with the Stanford Cardinal. The two-time All-American was the gold standard at his position and a sure-fire lock to be an NFL star. There?s nothing he couldn?t do.
Luck, who retired from the NFL in 2019, was best known for his rocket right arm. He went to four Pro Bowls, won the Pac-12 Offensive Player of the Year twice, and won several major awards at the NCAA level. One of his best highlights in college, however, is a tackle that made him look like a middle linebacker.
Back in 2010 against the USC Trojans in Palo Alto, a fumble at the end of the first half looked like trouble for Stanford. Then, out of nowhere, Luck came up and delivered a massive boom on cornerback Shareece Wright that potentially saved a touchdown.
Andrew Luck?s Big Hit vs. USC
RELATED: Monster Hit Knocks Punter Into Next Week, Maybe Even Next Year
With under a minute left in the second quarter, the game tied and facing 3rd-and-14, Stanford head coach Jim Harbaugh elected to run the football. The Cardinal was inching toward field goal range, so any positive yards would help. The handoff to running back Stepfan Taylor ended in disaster, though.
Taylor tried to bounce outside, but was immediately swarmed by USC players. The ball came loose, and cornerback Shareece Wright scooped it up. Just when he thought he was off to the races and heading for the end zone, Andrew Luck sprinted over and delivered a massive hit.
It was the type of tackle you would expect from any football player on the field except for the quarterback. Yet, Luck and his 6-foot-4, 240-pound frame lowered his shoulder better than any running back, wide receiver, tight end, or even offensive tackle could do.
The half was over and Luck was the hero. Stanford even held off USC for a 37-35 victory on a Nate Whitaker field goal. The hit was just as big as the kick.
The rest is history. Luck helped the Cardinal to an Orange Bowl win against Virginia Tech that season and a Fiesta Bowl berth against Oklahoma State the following year. Although he didn?t win the Heisman Trophy or capture a national championship, he became the No. 1 pick in the 2010 NFL Draft, won the NFL Comeback Player of the Year award in 2018 and retired prior to the 2019 season.
Luck?s career ended in the middle of his prime, but we will always have that hit against USC to replay over and over to remember his greatness.