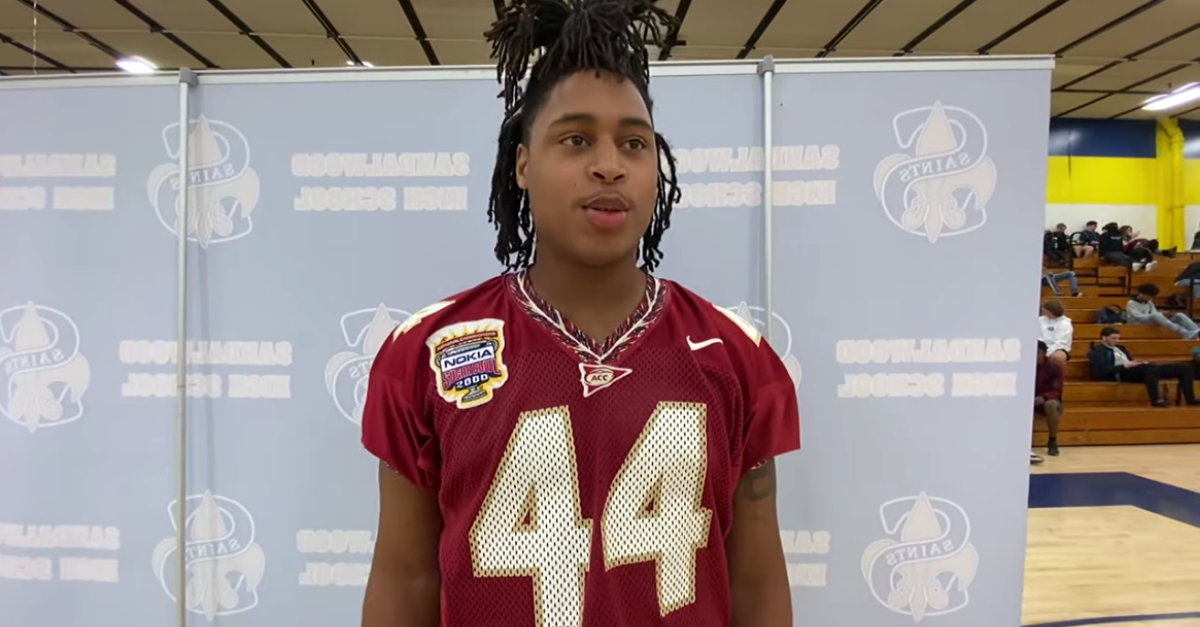 Screenshot from YouTube: Noles247
College football recruiting is absolutely insane right down to National Signing Day, but that fight for the best players in America gets even tougher when a recruit is the son of an alumni.
Branden Jennings from Jacksonville has shown heavy interest of his father's former school, Florida State University, but can the Seminoles hold on to one of the best linebackers in high school football?
4-Star LB Branden Jennings
Trying to predict what a high school student will do is nearly impossible, but Florida State fans are hoping the fact that Bradley Jennings — an All-Conference linebacker in Tallahassee from 1997 to 2001 — will help the 'Noles land his son and All-American linebacker.
Out of Sandalwood High School, Jennings is one of the top linebackers in the 2021 recruiting class. Not only does he carry expectations as a great college player, but Jennings could blossom into an NFL linebacker with his physical tools. Rated inside the top 50 and already a four-star recruit, he is one of the most sought after recruits in the country.
247Sports ranks him as the 77th overall player in the country, sixth-best at his position and 12th in the state of Florida.
UPDATE: On February 7, Jennings announced via his Twitter account that the four-star outside linebacker was verbally committing to head coach Mike Norvell and the Florida State football program ahead of his senior season. Even cooler, he committed while wearing his dad's Sugar Bowl jersey.
Branden Jennings Commits to Florida State
Even though his father played at Florida State, that doesn't solidify where he will end up playing college football. He could definitely land in Tallahassee come signing day, but nearly every program in the country wants him.
According to 247Sports, Jennings holds at least 41 offers, and the top teams he seems to be considering aren't surprising. He's committed to FSU, but Miami and Michigan are still alive, two great programs when it comes to producing NFL-caliber linebackers. He also has offers from Notre Dame, Texas A&M, Tennessee, Virginia Tech, Clemson, Penn State, Georgia Tech, Ohio State, Boston College, LSU, and Nebraska, among many others.
Branden Jennings Highlights
Listed at 6-3, 220 pounds, Jennings is close to the size many coaches want in an ideal linebacker. He may need to put on a little weight to be an every-down linebacker for a Power Five program, but he's proving to carry that weight well already — As a sophomore in 2018, Jennings racked up 136 tackles and six sacks on his way to multiple honors.
As one of the top players at his position, he's definitely wreaked havoc on opposing offenses at the high school level, but he also showed a great amount of athleticism in workouts and during visits to campuses. It definitely won't be long before Branden Jennings is doing that at the next level.
This article was originally published December 4, 2019. It was updated to reflect Jennings' verbal commitment in February 2020.