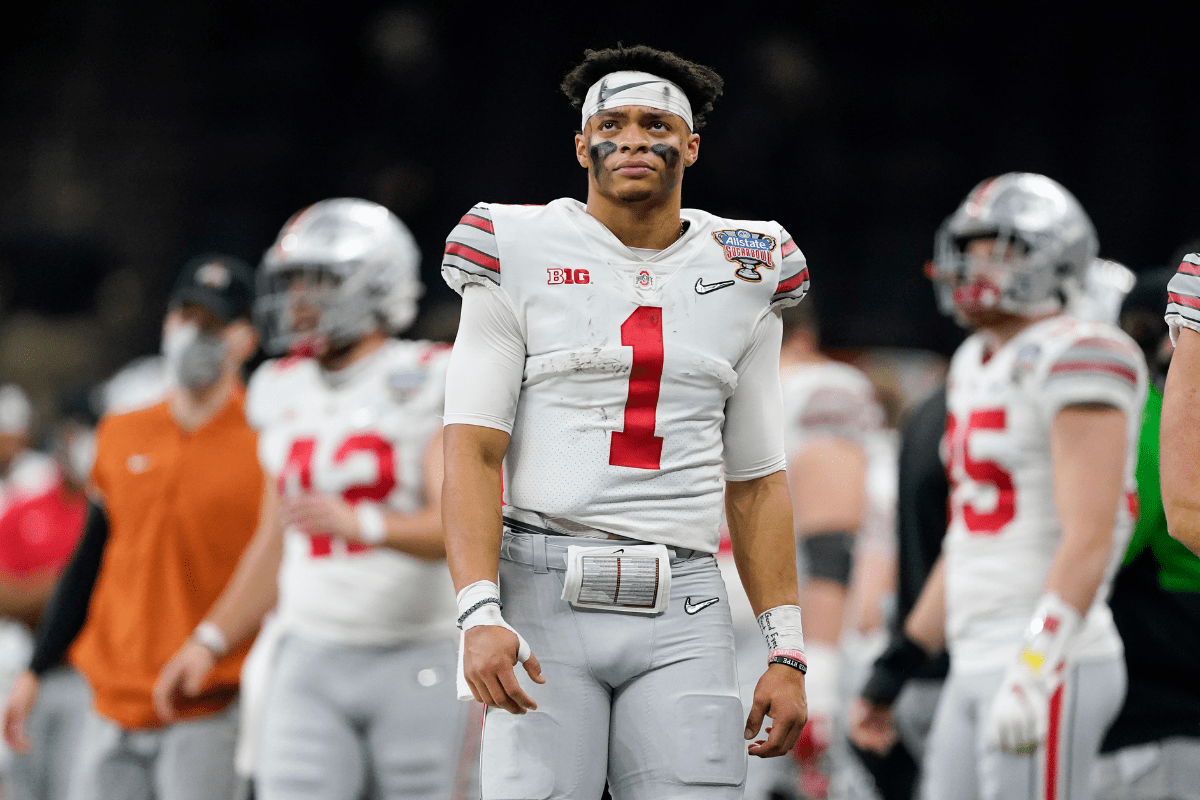 AP Photo/John Bazemore
Ohio State quarterback Justin Fields has turned heads in college football ever since his decision to transfer from the University of Georgia. The versatile quarterback is set to take the leap to the NFL following the National Championship Game against Alabama, but for now he's looking to earn one last win for Ohio State University.
Fields' family has played a strong role in shaping his football career, and he isn't the only athlete of the bunch, either. His sister plays college softball at Georgia.
Justin Fields' Family and Early Life
RELATED: What Happens If Justin Fields Never Leaves Georgia?
Justin Fields was born and raised in Kennesaw, Georgia, to father Ivant Fields, otherwise known as Pablo Fields, and mother Gina Tobey, whom are now divorced.
His father was a star linebacker at Eastern Kentucky University before becoming a police officer in Atlanta. He has since re-married to Fields' stepmother, Jo Ann Claudrick Fields.
According to reports, Gina Tobey played an influential role in Fields committing to play for the Georgia Bulldogs, having been thoroughly impressed with the program.
Additionally, Fields has two younger sisters, Jaiden, who plays softball at UGA, and Jennifer who is in middle school.
Fields attended Harrison High School where he became nationally recognized as one of the top football players in the country. He earned All-State honors in Georgia and was rated as highly as the No. 1 overall recruit in the nation by ESPN, while others ranked him second behind only Clemson star quarterback Trevor Lawrence.
College Career
Justin Fields was recruited by many top schools in the nation and even committed to Penn State in 2017 before flipping for Georgia.
Fields spent one year playing for the Georgia football program, but was stuck behind Jake Fromm on the depth chart. After his freshman football season, he decided to transfer to Ohio State in Columbus.
As a member of the Ohio State Buckeyes, Fields immediately took the Big Ten by storm.
In 2019, Fields threw for 41 touchdowns to just 3 interceptions and was a Heisman Trophy finalist. He also impressed as a rusher, logging 10 rushing touchdowns and 484 yards under head coach Ryan Day.
While OSU saw a limited schedule in 2020 due to the COVID-19 pandemic, Fields still managed to throw 21 touchdowns across seven games and lead the team past Clemson in the College Football Playoff semifinal, setting himself up for an NCAA National Championship showdown with the Crimson Tide.
He'll have the support of his family with him when he takes the field one last time as a college football player, in what will be the biggest game of his career.
After that, it's likely off to the NFL Draft for the QB, where he's anticipated to be one of the first players off the board.