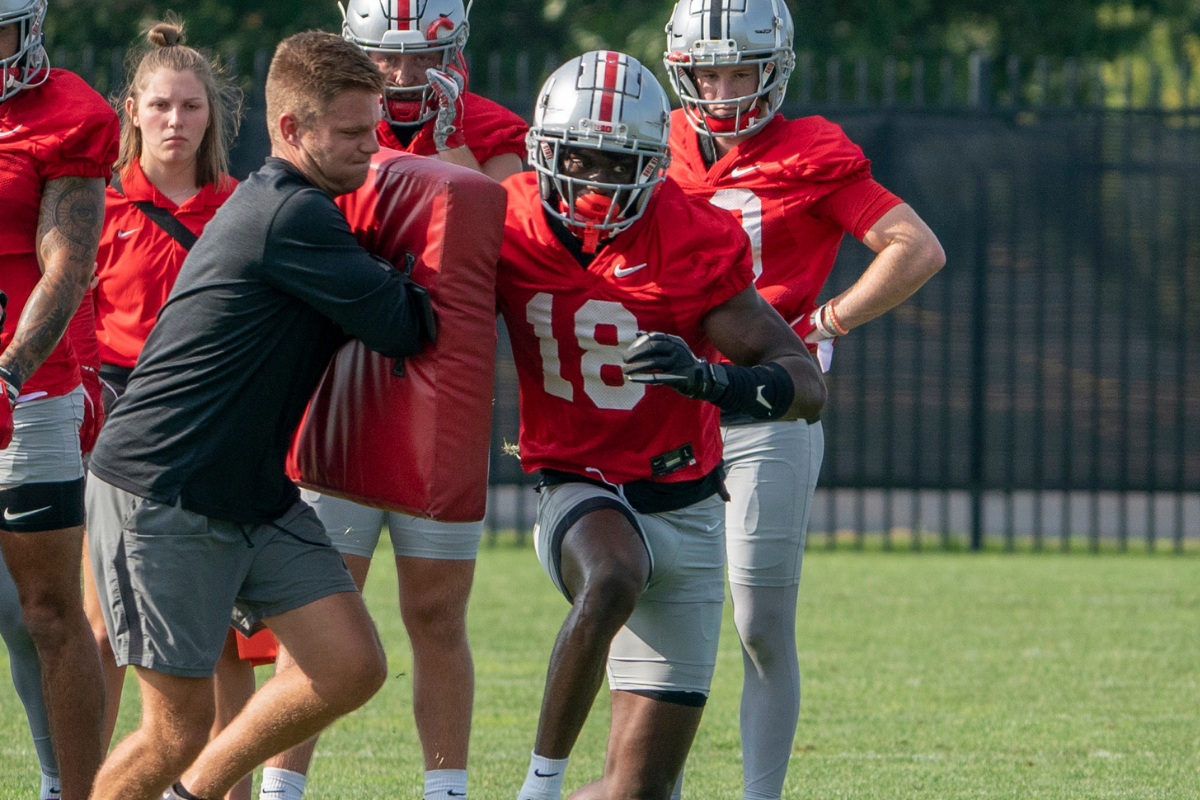 Getty Images/Icon Sportswire
With expectations to reach the College Football Playoff every season, the Ohio State Buckeyes look to maintain Big Ten supremacy with big-time recruiting classes. Wide receiver Marvin Harrison Jr. is just one of many great prospects to commit to play his college football in Columbus.
From St. Joseph's Prep School in Philadelphia, Pennsylvania, Harrison was one of the top pass catchers in the 2021 class. He is also the son of Pro Football Hall of Fame wide receiver Marvin Harrison Sr., who became famous while catching touchdown passes with the Indianapolis Colts in the NFL.
The younger Harrison committed to the Ohio State and head coach Ryan Day in October 2019 and stepped foot on campus in January.
Marvin Harrison Jr. Recruiting & Highlights

RELATED: Nation?s No. 1 QB is ?Skipping? High School & Changing College Football
A four-star recruit, Marvin Harrison Jr. also fielded offers from Arkansas, Baylor, Florida, Georgia Tech, LSU, Miami, Michigan, Michigan State, Nebraska, Notre Dame, Penn State, Pittsburgh, Rutgers, Syracuse, Tennessee and Texas A&M, among others.
Harrison Jr. is ranked the No. 14 receiver and No. 97 overall player, according to the 247Sports Composite. He was the second receiver to commit to the Buckeyes in the class at the time and following Jayden Ballard.
OSU wide receivers coach Brian Hartline has recruited some notable talents in recent years, including Julian Fleming, Jaxon Smith-Njigba, Mookie Cooper, and Gee Scott. Go ahead and add Harrison Jr. to the list.
The Buckeyes also nabbed pro-style quarterback Kyle McCord, who happens to be Harrison's high school teammate.
Listed at 6-foot-3 and 205 pounds, Harrison Jr. is much bigger than a lot of the defensive players he is going up against on the outside in his highlights, and he is also visibly faster.
He already has the height of a top target, especially in the red zone, but will need to put on some muscle to play against physical corners in the NCAA and, eventually, if he enters the NFL Draft.
Harrison finished his prep career with 144 catches, 2,625 receiving yards and 37 touchdowns. He also helped St. Joseph?s win three-straight Pennsylvania 6A state championships.
Marvin Harrison Jr Ohio State
The 2021 Ohio State football team is highlighted by the two best receivers in the nation, Garrett Wilson and Chris Olave. Although the team lost Jameson Williams to Alabama, quarterback C.J. Stroud can look to Harrison as another target.
Harrison proved he was ready for the next level in the Ohio State spring game by scoring a touchdown. Minnesota, Wisconsin, Penn State and the rest of the Big Ten will have their hands full this year and for years to come.
Being the son of an eight-time NFL All-Pro and Super Bowl champ are tough shoes to fill, but wideout Marvin Harrison Jr. is ready to take over college football.
This article was originally published March 5, 2020.