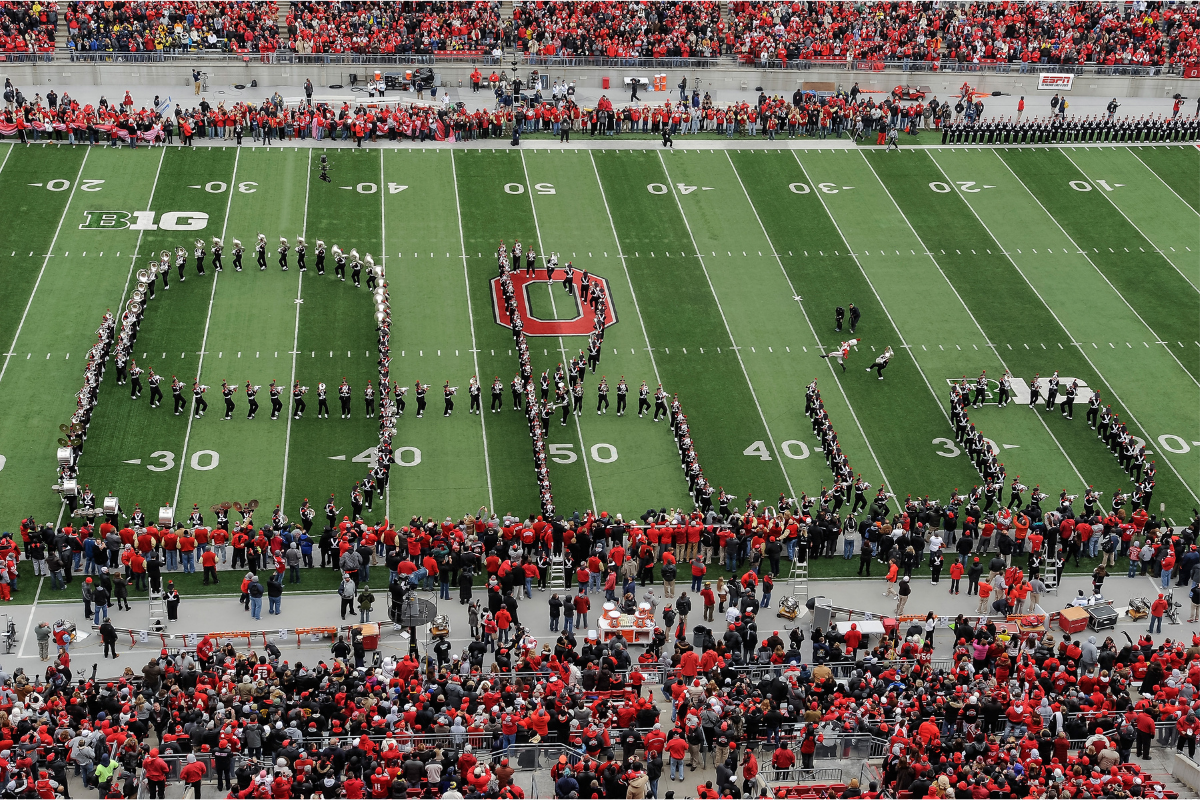 Photo by Jamie Sabau/Getty Images
"Dotting the I" was a menial task in kindergarten. The letter-tracing worksheets were a hindrance in recess time when the entire purpose of life was to stop Jimmy from hogging the tire swing.
To Ohio State football fans, "Dotting the I" has a different meaning. It's a prestigious honor bestowed upon the select few of the Ohio State University Marching Band, and it's as ingrained in Buckeye fandom as watching Archie Griffin knife through defenses.
Ohio State's "Dotting the I" Tradition
RELATED: The 12 Most Intimidating Mascots in College Football, Ranked
The storied college football tradition started way back in 1936 when band director Eugene J. Weigel first installed the the famous Script Ohio formation. "I" dotting back then had no special significance, and cornet player John Brungart was the first "I" dotter. In 1937, sousaphone player Glen Johnson took over and made the tradition what it is today.
Script Ohio takes place to the tune of "Le Régiment de Sambre et Meuse." Each performance, a fourth or fifth year sousaphone player is chosen to dot the "I". The upperclassmen takes his or her place near the end of formation. The drum major and sousaphone player cross paths and high-five like any friends would, then strut to the top of the "i" with 16 measures to go. The drum major then points to the coveted spot and the "i"-dotter bows, a tradition started by Johnson, to both sides of Ohio Stadium.
Fans were able to experience "i" dotting first-hand through the eyes of Luke Isler in an early 2021 matchup against Oregon. Isler's view gives us a glimpse on what it's like to be a band member and hear a roaring home crowd cheering on its famous tradition.
Throughout the years, the Ohio State Buckeyes have invited guests to Columbus to perform the game day honor such as comedian Bob Hope, former OSU coach Woody Hayes, golfer Jack Nicklaus, Senator John Glenn and his wife Annie Glenn, former band director Jon R. Woods, former football coach Earle Bruce and Anthony Violi, who dotted the "I" in 2018 at 100-years old. Violi was trumpet player back when the tradition became what we know today.
"The Best Damn Band in the Land" (TBDBITL) is responsible for keeping the classic NCAA football tradition alive in a Big Ten conference that has no shortage. Iowa's wave is heartwarming, Penn State's whiteout is truly special, Wisconsin's "Jump Around" gets the adrenaline pumping and Nebraska's balloon release paints the sky red.
The 85-year-old tradition is just as much as the home football game experience as the actual play on the field. Pregame and halftime are a spectacle in itself, and "dotting the I" is the grand finale.
Related Videos