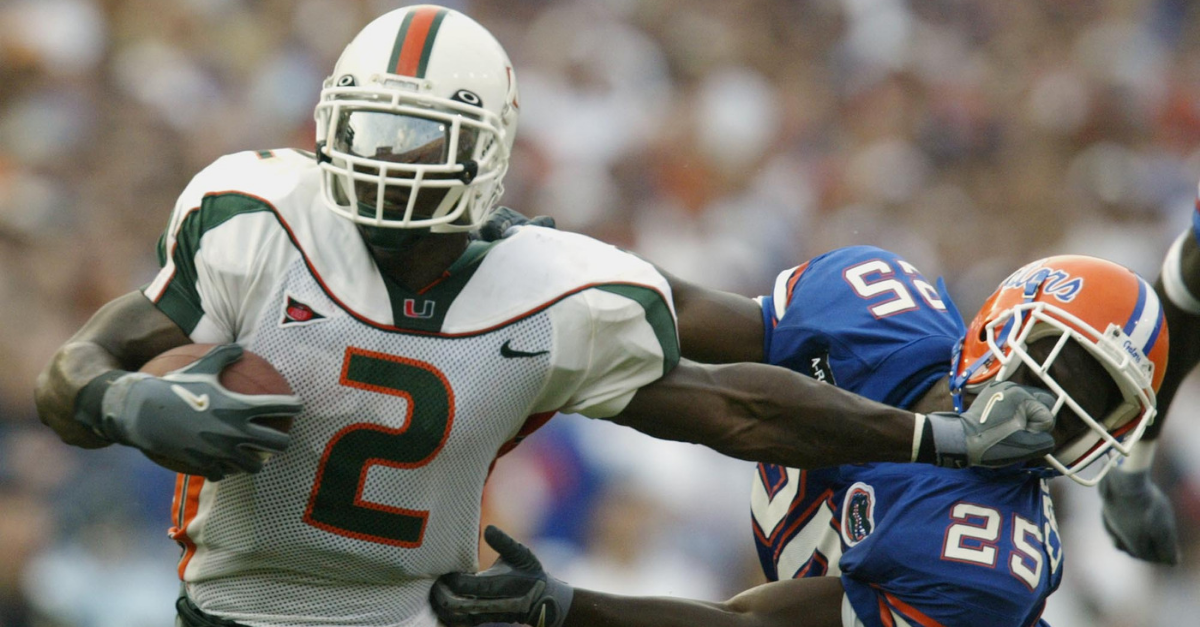 AP Photo/Scott Audette
For the Miami (FL) Hurricanes, this season didn't go as well as many thought or hoped it would, including with the latest recruiting class. Having the 33rd-ranked recruiting class by 247Sports is certainly much lower than what most fans expect from head coach Mark Richt.
Since the 2000 recruiting class, Miami has been one of the top programs when it comes to bringing in new talent. The 2019 class would be just the fourth time the Hurricanes have had a class outside the top-16 in the 20 recruiting cycles since 2000.
At 33rd, this group of signees is currently tied with the 2011 class as the worst since the turn of the century.
RELATED: Manny Diaz Leaving Miami Will Absolutely Help Florida State?s Recruiting
Of the elite high school talent to play for the Hurricanes over the years, which prospects have been the best? 247Sports gives not only a rating out of five stars, but also a rating from 0.0000-1.0000. There have only been five recruits to receive a perfect 1.000 score.
Of the top-15 players to sign with Miami, many of them have had great careers in orange and green as well as the pros, while others have struggled to find success.
Being the all-time leading rusher for a program that has seen such a plethora of talent at tailback is definitely living up to a five-star rating. The Duke finished his career with 3,519 rushing yards and 26 touchdowns. He also caught 69 passes for 719 yards and four touchdowns. He finished first in career rushing yards, second in rushing yards in a season (1,652 in 2014), tied for third in yards in a game (249 against VT in 2014), and tied for fifth in career rushing touchdowns.
He decided to leave after his junior season and was drafted in the third round by the Cleveland Browns, where he has been used as more of a third-down back. He has 1,265 yards and five touchdowns on the ground in three NFL seasons and 234 receptions for 2,167 yards and eight touchdowns.
In four seasons in Miami, Leggett never truly lived up to his rating. He finished his career with 85 catches for 1,375 yards and 11 touchdowns, but he did play his entire career on an offense that struggled in the passing game.
Chickillo came into his career at Miami with a ton of hype since he was a 'Canes legacy. He played his entire career as a part of a terrible defense. In four seasons, he finished with 24 tackles for loss and 14.5 sacks. He was drafted in the sixth round by the Pittsburgh Steelers and was moved to outside linebacker, a more natural position for him than when he was asked to put on weight and play as a big defensive end. If he were to have played under the current coaching staff, he could have been dominant and maybe doubled his tackles for loss and sack numbers.
Forston was mostly remembered for leaving after his junior season and no one understanding why. He did have a really good sophomore season with 12 tackles for loss and three sacks, but then he only played in three games as a junior and decided to forgo his senior season before going undrafted. He spent his short career in the NFL being picked up and waived by the Patriots and Rams.
Olsen had a really good career as a Hurricane, but he has had an even better career since going pro. During his three seasons in Miami, he caught 87 passes for 1,215 yards and six touchdowns. After looking like the next tight end in a long line of successful NFL tight ends out of Miami, he was drafted with the 31st-overall pick by the Chicago Bears.
After four seasons in Chicago, he was traded to the Carolina Panthers. Since then, he has been one of the best receiving tight ends in the history of the league. In 12 seasons in the pros, he has 7,847 receiving yards and 57 touchdowns on 666 receptions.
McGahee didn't come in and immediately dominate, but it only took one year. The best season for a running back in Hurricanes history was by McGahee in 2002 when he rushed for 1,753 yards and 28 touchdowns. He finished fourth in Heisman Trophy voting and was drafted with the 23rd pick by the Buffalo Bills, despite suffering a gruesome knee injury in the National Championship game. He holds the records for most rushing yards in a season, most rushing touchdowns in a season, most rushing touchdowns in a game (6 vs. Virginia Tech), third in career rushing touchdowns, ninth in career rushing yards, and fifth and sixth in yards in a game (205 vs. VT; 204 vs. UF).
McGahee begans his pro career with back-to-back 1,000 yard seasons and then after his third year in Buffalo with 990 yards, he went to Baltimore for four seasons. He played two seasons with the Broncos and had a 1,199 yard season in his first of two seasons in Denver before playing for the Browns during he final season. He finished he pro career with 8,474 yards and 65 touchdowns on the ground, which ranks 41st all-time for rushing yards in NFL history.
Leon Williams may not have had the career at Miami that he could have somewhere else and it really isn't his fault. He had to sit behind great linebackers for much of his career, and in 2004, as the starting middle linebacker, he was a Butkus Award finalist. If he had gone to another school, he may have started his whole career and dominated, but he chose to become a Hurricane and was part of one of the best linebacker groups of the past two decades with Jon Vilma and DJ Williams, both future NFL players.
Phillips was a factor immediately for Miami as a freshman. One of the most memorable plays from him as a Hurricane is an interception in the third overtime against the No. 20 Clemson Tigers to end the game. He finished his career with 203 tackles and seven interceptions in three seasons before being drafted with the 31st pick by the New York Giants. He played seven seasons in the NFL — five for the Giants and two for the Saints. His 2011 season was his best when he had 86 tackles, four interceptions, 11 passes defended and a forced fumble, which were all career highs.
Youngblood was a solid offensive lineman during his career, but never developed into the player he was graded as out of high school because of injuries. He got some opportunities with some pro teams after college due to his talent, but couldn't make a roster.
After two seasons as a backup, Brown transferred home to play for Kansas State. He had 17 total tackles as a Hurricane and then totaled 201 tackles in two seasons for the Wildcats. He was drafted in the second round by the Baltimore Ravens.
Wright had some solid moments under center for Miami, but he just could never live up to the hype of being the third-overall player. He was the starting quarterback for three seasons and threw for 5,805 yards, 38 touchdowns and 31 interceptions.
Moore came in as the top receiver and showed why in his first full season with 44 catches for 637 yards and three touchdowns in 2003. However, he never got back to that level with only 49 catches for 800 yards and eight touchdowns over the next three seasons. He played for some arena football teams after his career for the Hurricanes came to an end.
Williams is always remembered for what could have been. His time at Miami was short and full of trouble. He had a knee injury in his first season and was redshirted, then he played the next season, which would be his last for the Hurricanes. In his only season, he played in nine games and made 28 tackles. He will be remembered more for the trouble he caused off the field than what he did on the field.
Henderson was a consistent starter at both offensive tackle positions throughout his time in Miami, but he also had some injuries and suspensions. He was eventually drafted in the seventh round by the Buffalo Bills and started all 16 games at right tackle as a rookie. He has been suspended multiple times due to drug use because of his diagnosis with Crohn's disease. He signed with the Houston Texans for the 2018 season but broke his ankle in the first game of the season.
Williams began his career at fullback due to the wealth of talent at linebacker, but moved back to defense for his sophomore season and eventually became one of the best linebackers in the country by his senior year. The combination of Williams and Vilma is one of the best linebacker duos in program history, which is really saying something. He was a two-time Butkus Award semifinalist and was drafted with the 17th-overall pick by the Denver Broncos. He played 11 seasons in the NFL –nine with the Broncos and his final two with the Chicago Bears.