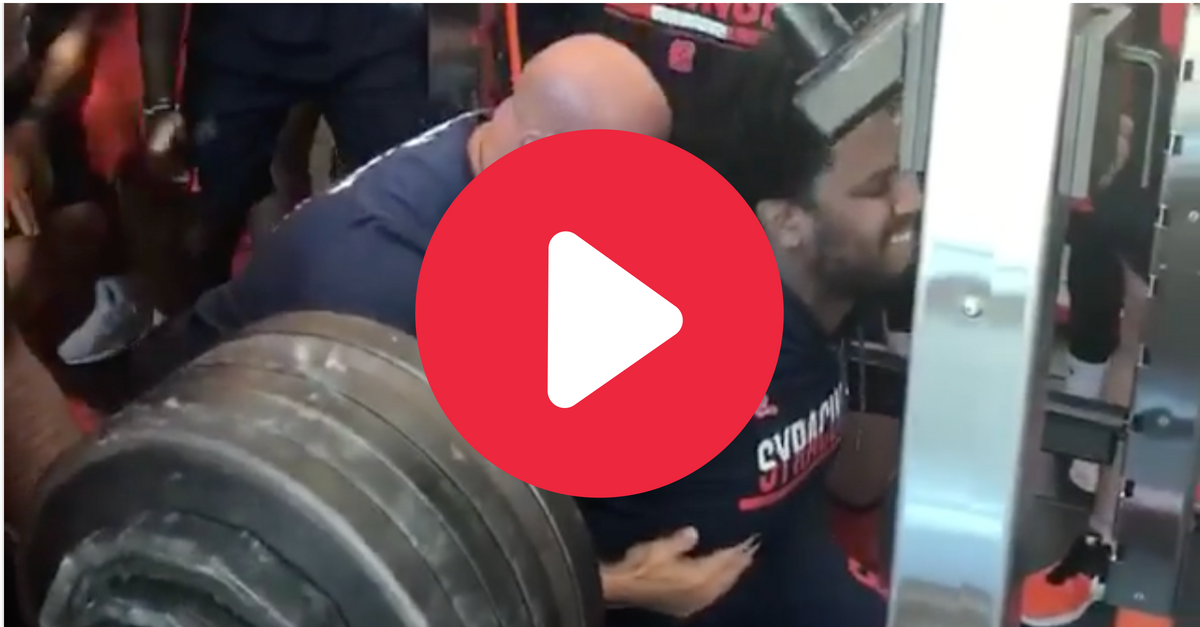 @cusefb_strength via Instagram
@cusefb_strength via Instagram
Summer college football is good for two things: season previews and max-out weightlifting videos. After pounding weights all spring, college football players gear up for training camp by showing off how much weight they can push around. In this day and age, it all gets caught on video.
The first mind-blowing lift video of the summer comes courtesy of ACC football's Syracuse University. Although the Orange posted a 4-8 record for the third year in a row in 2017, that hasn't stopped them from posting huge max-out numbers in the gym.
Chris Slayton, a defensive tackle, is the programs active leader in games played, starts, tackles for loss, sacks and forced fumbles. The senior is the unquestioned leader of the program heading into 2018.
Slayton showed off his power by squatting 670 pounds three times. For the mathematically challenged (like me), that's 2,010 pounds.
Slayton's crazy squat personal record isn't the last big weightlifting video we'll see come out of summer workouts. But it might be the most impressive, as some Division I football players can't squat close to 700 pounds once, let alone three times.
In years past, we've seen a Georgia offensive lineman bench press 405 pounds five times, a Notre Dame linebacker leg press 600 pounds after knee surgery, and first round pick Saquon Barkley do a ridiculous power clean of 405 pounds last year:
In 2017, Syracuse knocked off No. 2 Clemson in October, only to lose their next five games to end the season. This season, which will be year three under head coach Dino Babers, could very well be his last if the Orange don't at least make a bowl game appearance.
With Chris Slayton on their side though, they definitely have the strength to make a run at the program's first winning season since 2013.