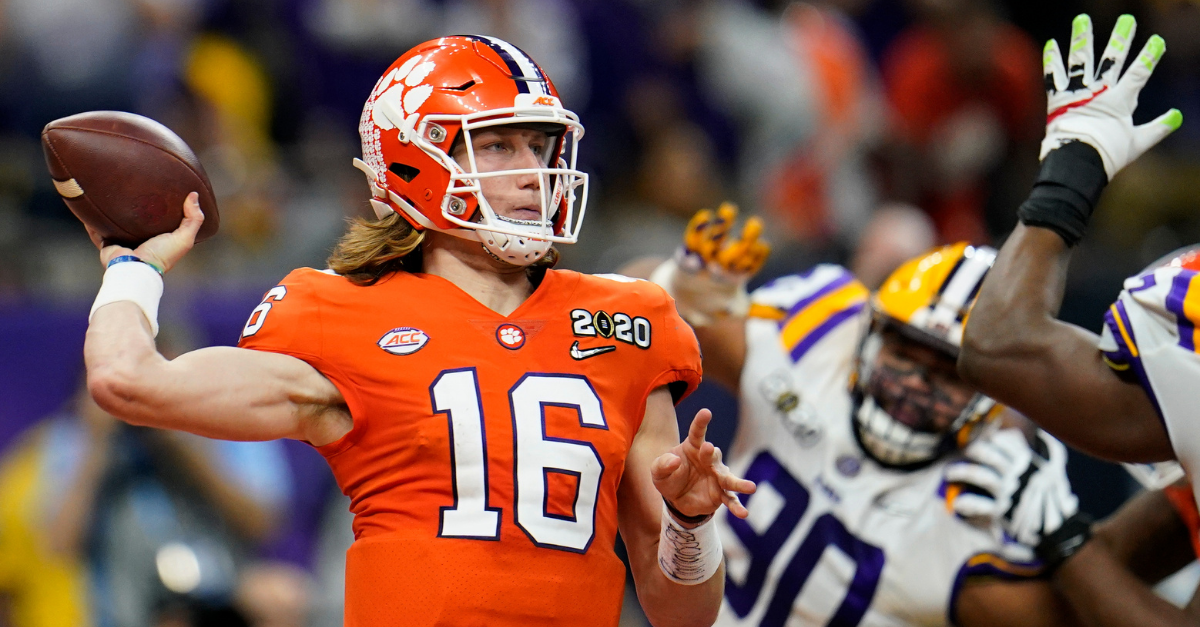 AP Photo/David J. Phillip
If you're looking to watch an SEC showdown between Alabama and LSU, or catch Clemson dominate the ACC, there are tons of ways to make sure you don't miss a touchdown.
However, figuring out the cheapest ways to do so is not always easy. Whether you're looking to get rid of your cable bill or ditch the DirecTV and select from one of the many cord-cutting services that are now available or just want to pay $6 a month for ESPN+, watching live streams of college football has never been easier.
Here's how to stream NCAA college football games from devices such as Mac, PC, Smart TVs, AppleTV, Roku, and your mobile devices.
College Football Live Stream Options
YouTube TV
Price: $65 per month
YouTube TV provides all the channels you'll need to watch primetime NCAA football, such as ABC, CBS Sports, Fox, ESPN, ESPN2, ESPNU, FS1, FS2, SEC Network, ACC Network and the Big Ten Network. This may be the most comprehensive list of channels you'll find. It also offers a sports add-on that includes NFL RedZone so fans can enjoy NFL live from their couches.
YouTube TV is available on Smart TVs, Roku, Chromecast, Apple TV, iPhones, iPads and more. Of course, you can always just log in on your computer. There's a free trial for those looking to just watch one big game.
Hulu + Live TV
RELATED: NFL RedZone: It's Time to Welcome Back Football's Greatest Invention
Price: $55 per month
Hulu + Live TV is a littler cheaper than the option above, but it also offers less channels. Included in its channel package are the standard channels you'll need for the college football season: ABC, CBS, ESPN, ESPN2 and Fox. However, Hulu also includes SEC Network, ACC Network, Big Ten Network, which gets you all the necessary channels you'll need for $10 cheaper than the previous option mentioned.
Hulu + Live TV is easily accessible by Mac or PC computers, Apple and Android devices, Roku, Fire TV, Apple TV, Chromecast, Xbox, Playstation 4 and some smart TVs. Try it for a week free here.
Sling TV
Price: $55 per month
SlingTV is full of options, and selecting the orange and blue ones for $45 per month will get you channels like ABC, ESPN, ESPN2, ESPN3, Fox, NBC Sports and even NFL Network. Select the "sports extra" add-on for an extra $10 per month and you can enjoy even more college football channels like SEC Network, SEC Network+, Pac-12 Network, ESPNU and even NBA TV (for the basketball fans out there).
You can access SlingTV on devices like Fire TV, Apple TV, Chromecast, iOS, androidTV, Roku, Xbox One and more. The service also offers a free three-day trial, which I would suggest taking advantage of before diving in to the deep end.
fuboTV
Price: $60 per month
FuboTV's channel list bombards customers with channels to watch college football live, such as ESPN, Fox, CBS, SEC Network, ACC Network, Big Ten Network and Pac-12 Network. Plus, their coverage extends beyond college sports and Saturday gamedays, because channels like NBA TV, NHL Network and MLB Network are available.
Connecting to fuboTV is pretty easy. It's supported by Apple, Android, Fire TV, Apple TV, Roku, Google Chromecast, Xbox One and more. Yes, there's a free trial.
AT&T TV Now
Price: $80 per month
AT&T TV Now looks to be a bit pricier if you want more than just the standard sports channels like ESPN to watch your favorite live events. The "Max" package will set you back $80 a month and includes SEC Network, ACC Network, Big Ten Network, Longhorn Network and more.
The cool thing about AT&T TV Now is that it's supported on pretty much every device you can think of, plus you can record what you missed and watch it later. The service also lets customers watch multiple shows on multiple devices at the same time.
ESPN+
Price: $6 per month
ESPN+ is a must-have for fans across the country that want to watch college football online or any of the other thousands of exclusive live events ESPN offers. I'm not sure where else you'll find games from the Big 12, Conference USA, American, and Sun Belt conferences.
Live streaming on connected devices includes iPhone, iPad, Apple TV, Fire TV, Fire Tablet, Android Devices, Roku, Samsung Smart TV, Chromecast, Playstation 4, Xbox One and Oculus Go. For that price, why not?
CBS All Access
Price: $6 per month
CBS All Access is perfect for college football fans only interested in listening to Brad Nessler and Gary Danielson while browsing social media or perusing player stats. This may be the route for SEC fans that want to catch games part of its SEC schedule like Texas A&M against Alabama on October 3 or Florida against Georgia on November 7. Pair this with ESPN+ and you really can't go wrong while still having money left over to buy tailgate necessities.
CBS All Access can easily be viewed on Apple and Android devices, Chromecast, Xbox One, Playstation 4 and plenty more. Check here for the full list of supported devices.