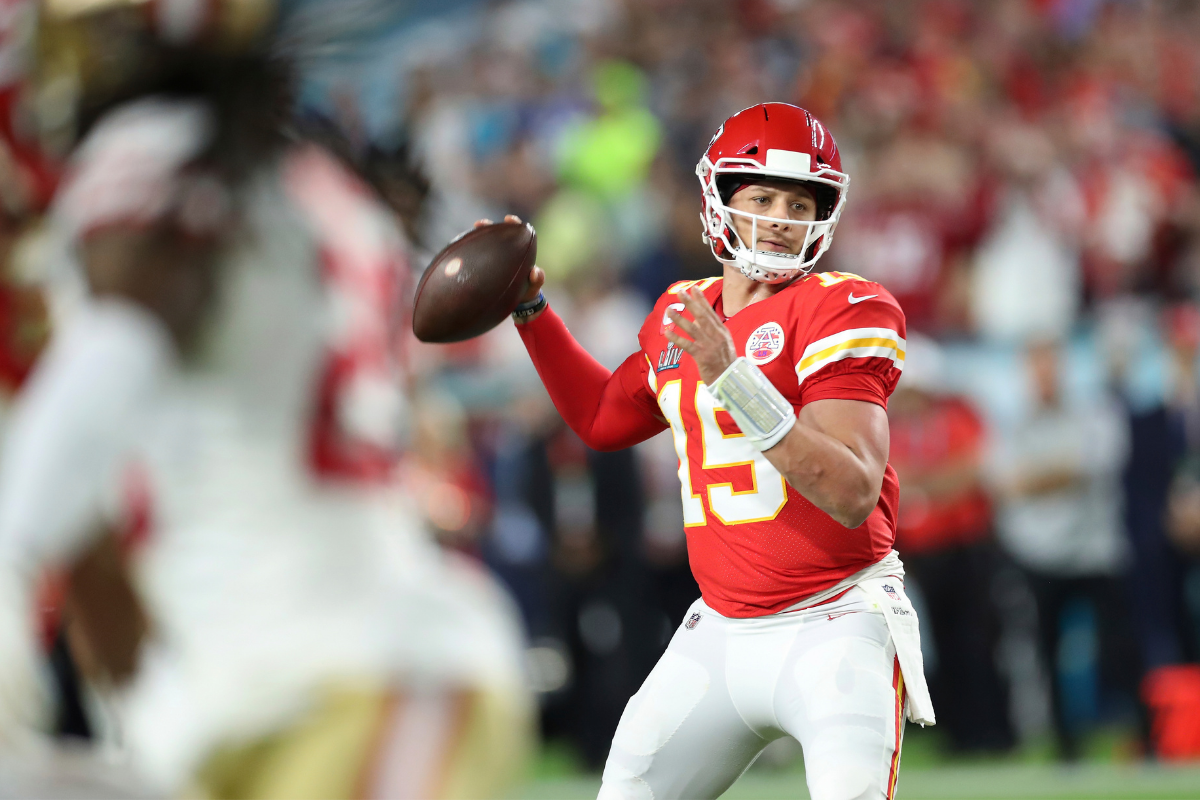 AP Photo/Doug Benc
We've all been there. It's 1 o'clock and your favorite NFL team is about to take the field on NFL Sunday. If you're not at a bar munching on chicken wings and sipping beers like Aaron Rodgers on game day, you're probably at home watching whichever local NFL game is being shown on FOX or CBS.
Maybe you want to watch that player you targeted on draft day for your fantasy football team. Maybe you want to watch your entire fantasy team play at once. Maybe you just want to watch your two lifelong teams, the Detroit Lions and Miami Dolphins, from your home in Miami. You've probably even moved a second or third TV into your living room to solve some of these problems.
It's an absolute worst-case scenario.
Unless you have NFL RedZone.
Say it with me: "Seven hours of commercial-free football starts now."
What is NFL RedZone?
RELATED: ESPN Caves on Controversial College GameDay Sign Rules at Disney
NFL RedZone is every football fan's best friend come Sunday. (Sorry, Fido.)
The channel, offered by NFL Network and hosted by Scott Hanson, shows viewers live look-ins of football games in which teams are about to score inside their opponent's 20-yard line or reach the end zone (hence the RedZone name), which means you won't miss Ezekiel Elliott punching in that much-needed goal-line touchdown to win your weekly matchup. It also provides highlights and statistics geared toward fantasy owners while showing as many as eight different live games (all hail the octobox) at once. On one screen and in high definition.
Oh, and it's 100 percent commercial-free from 1 p.m. to 8 p.m. ET, or whenever the final Sunday afternoon game comes to an end during the regular season. That way you never have to leave the couch. Ever. The only thing is it does not air during Thursday Night Football, Monday Night Football or any other days or playoff games like the Super Bowl, and has aired a limited amount of times in preseason games. It's purely for those Sunday day games, not the night games.
It's like freakin' Christmas but every single Sunday.
NFL RedZone is not to be confused with DirecTV's RedZone Channel (or Sunday Ticket, for that matter), which is hosted by Andrew Siciliano and actually began five years before NFL RedZone debuted in 2009.
That one, however, is EXTREMELY expensive compared to the one I'm talking about. For a more comprehensive comparison of the two, Awful Announcing put out a pretty detailed one.
Anyway, NFL RedZone is an absolute necessity for diehard fans of the National Football League or casual viewers hoping to win their fantasy league. Actually getting the channel in front of you can get confusing, so here's how you can do that.
How to Watch NFL RedZone Online
So you don't want to just watch one game on NBC, CBS, FOX or ESPN. We've got you covered.
There are a few ways to stream NFL RedZone on your screen, per NFL.com. Whether you want to watch how your fantasy team is doing on your smartphone, tablet or PC, you'll most likely need a streaming service to get RedZone.
The very cheapest option was limited to smartphone viewing only. Download the NFL app and select RedZone for just $5 per month as a standalone streaming service. If you're sick of squinting to view games on your phone, look into AirPlay to let you share your phone's screen onto your TV.
(Note: This offer may be expired. Please check with NFL's website, which has provided a breakdown here for mobile users)
Keep reading for more ways to watch, plus their prices.
How Much is NFL RedZone?
Sling TV: $46 Per Month
Sling TV is a pretty cost-efficient option out of the live TV streaming services. For just $35 per month, you can select the Sling Blue TV package and for another $11 a month the "Sports Extra" add-on that features NFL Network and NFL RedZone, plus a number of other good channels.
Sling TV can be watched on Apple TV, Roku, Amazon Fire TV, Chromecast, as well as mobile devices like iOS, Android, Amazon Fire Tablets, Chrome, Windows 10, Apple iPhone and gaming consoles Xbox One, Xbox Series X and Xbox Series S. After a distribution deal dispute in 2020 in which Sling TV and Dish Network did not carry NFL RedZone, it appears both are back in 2021.
FuboTV: $76 Per Month
FuboTV is another live TV option, though it's definitely more costly. For $65 per month, you can get the basic "Starter" base package and select the "Sports Plus" channel add-on for $11 per month. That includes NFL RedZone and about a million other sports channels. The plus here is it's supported on basically every platform including Roku, Apple TV, Amazon Fire TV, Chromecast, Android TV and iOS products, plus more.
Hulu + Live TV: $75 Per Month
Hulu + Live TV is another solid option to watch all your favorite NFL teams and players every Sunday. Hulu just added NFL Network and NFL RedZone in 2021, so this is also a new option that works well if you already had this streaming service.
Hulu + Live TV plans start at $65 per month, and for an extra $10 a month you can pick up the sports add-on that will get you NFL RedZone plus other sports channels like ESPN, ESPN2, Fox FS1, FS2, CBS Sports Network and NBC Sports Network.
It isn't the cheapest option if you're only looking for this golden channel, but it's slightly better than FuboTV.
YouTube TV: $66 Per Month
OK, so technically YouTube TV is $65 per month, but they're offering a limited time deal for $55 for the first three months. Once you've done that, subscribe to the "Sports Plus Add-On" that was just launched in September 2020. It costs $11 per month and includes NFL RedZone, Fox College Sports, GolTV, Fox Soccer Plus, MAVTV Motorsports Network, TVG and Stadium. There's no annual contract either.
NFL RedZone made its debut on YouTube TV just last season. It meant NFL fans that are YouTube TV subscribers could easily also be able to tune in to host Scott Hanson, whose coverage is Hall of Fame-worthy.
Note: Playstation Vue no longer an option. You didn't need a PlayStation to use PlayStation Vue to watch RedZone, but you did need about $60 per month. The "Core" package and the Sports Pack add-on that came with RedZone and a bunch of other extra ESPN channels used to make customers as happy as Patrick Mahomes with a bottle of ketchup. A couple seasons ago, fans could watch their favorite Sunday channel on the PlayStation 3 and 4 as well as Roku, Amazon Fire TV, Chromecast, Apple TV, Android TV and iOS devices. Plus, the Vue had a DVR option.
Sony shut down its Playstation Vue service in early 2020, meaning the gaming console isn't a viable way to watch RedZone this season and beyond.
What Channel is NFL Redzone?
Standard cable will likely be a lot more expensive, but pretty much every major cable provider offers RedZone in its channel lineup, which you can call and add to your subscription. The added channel will likely tack on an extra $10-15 more to your bill.
Here's a list of providers that offer the channel:
Comcast Xfinity
Verizon Fios
Spectrum
DirecTV
Optimum
COX
It used to NOT be available on DirecTV, which features its own Red Zone Channel with Andrew Siciliano. The NFL website lists DirecTV as a partner right now, though.
The NFL RedZone channel prides itself on what it calls "whip-around coverage" that ensures you never miss a touchdown or any other exciting moments all NFL season long across the United States. It provides everything fantasy managers need to monitor their teams, including up-to-the-minute fantasy stats that allow you to not have to constantly be looking at your ESPN or Yahoo! Fantasy app.
No other sports league — not the MLB, NBA or NHL — has something so wonderful. No matter what your reason for tuning in every Sunday, make sure it's with NFL RedZone. You won't regret it.
This article was originally published July 31, 2019, but has been updated for the 2021 season.
Related Videos