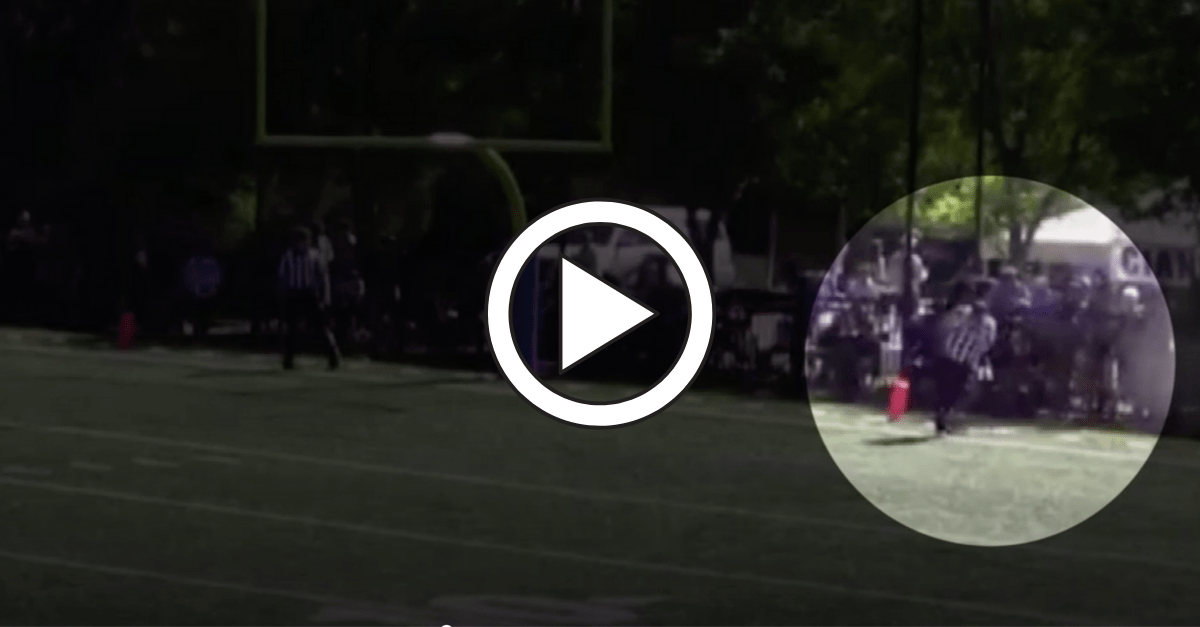 Screenshot from USA Today Video
In college football, each school has its own unique traditions. Some are cooler than others, obviously, but the one thing that each program has is homecoming. Unfortunately, a fan took the celebration way too far.
At Maine Maritime Academy in Castine, Maine, they usually fire a cannon with a blank shotgun shell when the football team scores. Yet, for some reason, a fan thought it would be a good idea to bring his own cannon and fire it. It ended up hitting an official.
As the football referee was walking at the back of the end zone, getting ready for the next snap, an alumnus who loaded his cannon with black powder fired it and hit the man in stripes with a "wad" in the face, according to USA Today Sports.
There is even video proof.
RELATED: High School Player Head-Butts Official, Game Ends Before Halftime
The Hancock County Sheriff's Office, via USA Today Sports, said the official was taken to a local hospital with non-life threatening injuries. The sheriff's office is also launching an investigation in to the incident.
When the investigation is complete, the details will be forwarded to the district attorney's office and potential criminal charges could be filed.
It's nice to see police are taking this serious because the official could have been seriously hurt, whether it was intentional or not.
As the video shows, the Maine Maritime Academy football game official had no idea this was coming. And then of all places to be shot, the face has to be the worst. The official, of course, dropped immediately.
Within seconds, the other official ran over and even some players waived for medical staff on the sidelines to get to the field immediately.
Let's just hope the Hancock County Sheriff's Dept. finds whoever was in charge of this cannon shot at the school's homecoming game and make sure it wasn't intentional because that definitely was not cool either way. They might even need to teach them about safety, too.