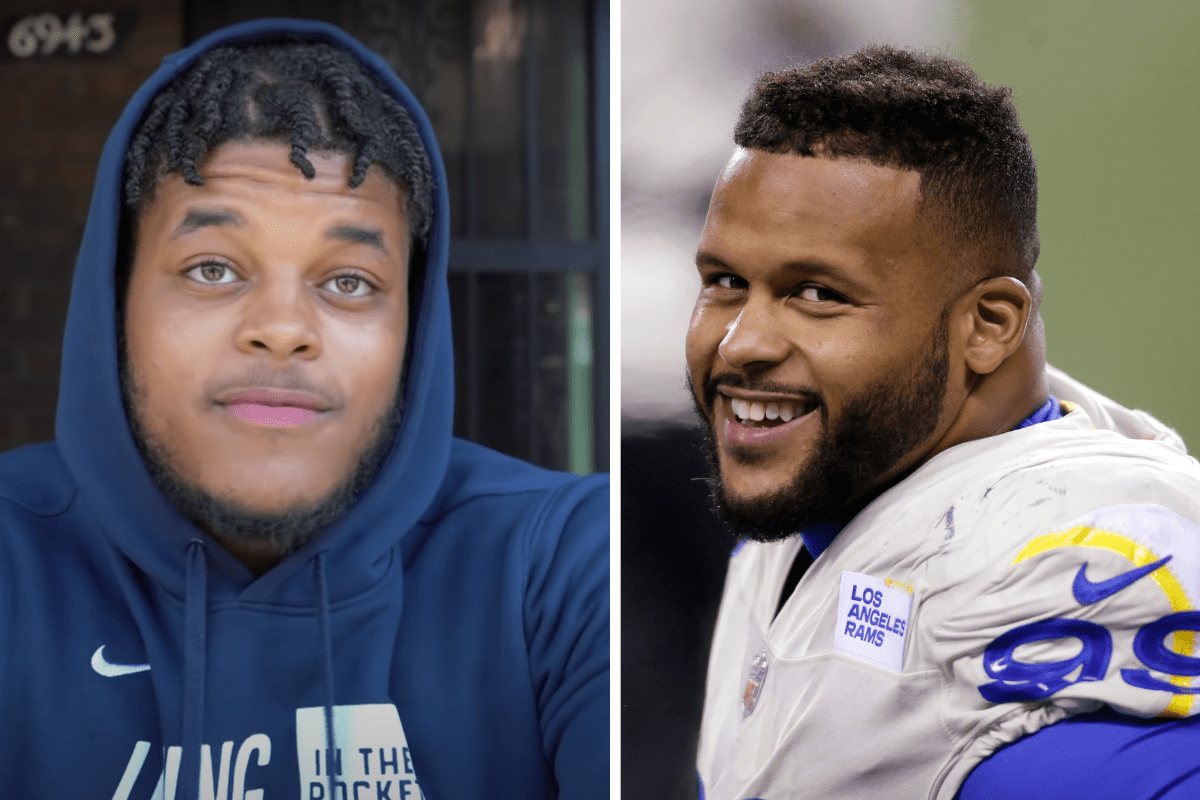 Screenshot from YouTube (left), AP Photo/Scott Eklund (right)
Aaron Donald is a legitimate NFL superstar. The defensive tackle is the anchor of the Los Angeles Rams' defense, and the team reached the Super Bowl just a few short years ago with the future Hall of Famer in charge.
Donald's nephew, Elliot Donald, is a strong prospect in his own right.
He was a four-staar defensive end for Central Catholic High School in Pennsylvania, and he is leaping to college football to play for his uncle's alma mater, the Pittsburgh Panthers.
Elliot Donald Commits to Pittsburgh
RELATED: 4-Star WR, Son of Ex-NFL Player, Passes on Dad's Alma Mater
Some big-time schools were interested in Elliiot Donald, including Kentucky, LSU, Maryland, Michigan, Notre Dame, Ohio State, Penn State, Texas A&M, Virginia Tech, West Virginia, and Wisconsin. Rutgers was also interested with the defensive end.
Donald is the most-heralded signee in Pitt's recruiting class, which is ranked as the fifth-best in the ACC.
There wasn't much fear that Donald would leave, but it must have been nice for head coach Pat Narduzzi to hear that his prized DE made it official on National Signing Day.
One of Pitt's top talents, Patrick Jones II, is leaving the team for the NFL Draft, so Donald has a prime opportunity to immediately slot in on the defense.
Elliot Donald Highlights
These highlights are from the previous two seasons because Donald opted out of his senior campaign due to COVID-19 concerns. When he was on the field, the defensive lineman was electric.
In two years, Donald totaled 25 tackles and 15.5 sacks, as Central Catholic made a deep run in the WPIAL playoffs.
Donald plays DE but is athletic enough to drop back into coverage as a linebacker if he called upon.
Comparing Elliot Donald to his uncle is unfair, but scouts are excited to see what similarities the two have at the college level.
Chances are, Pitt picked themselves up an impressive new defensive centerpiece.