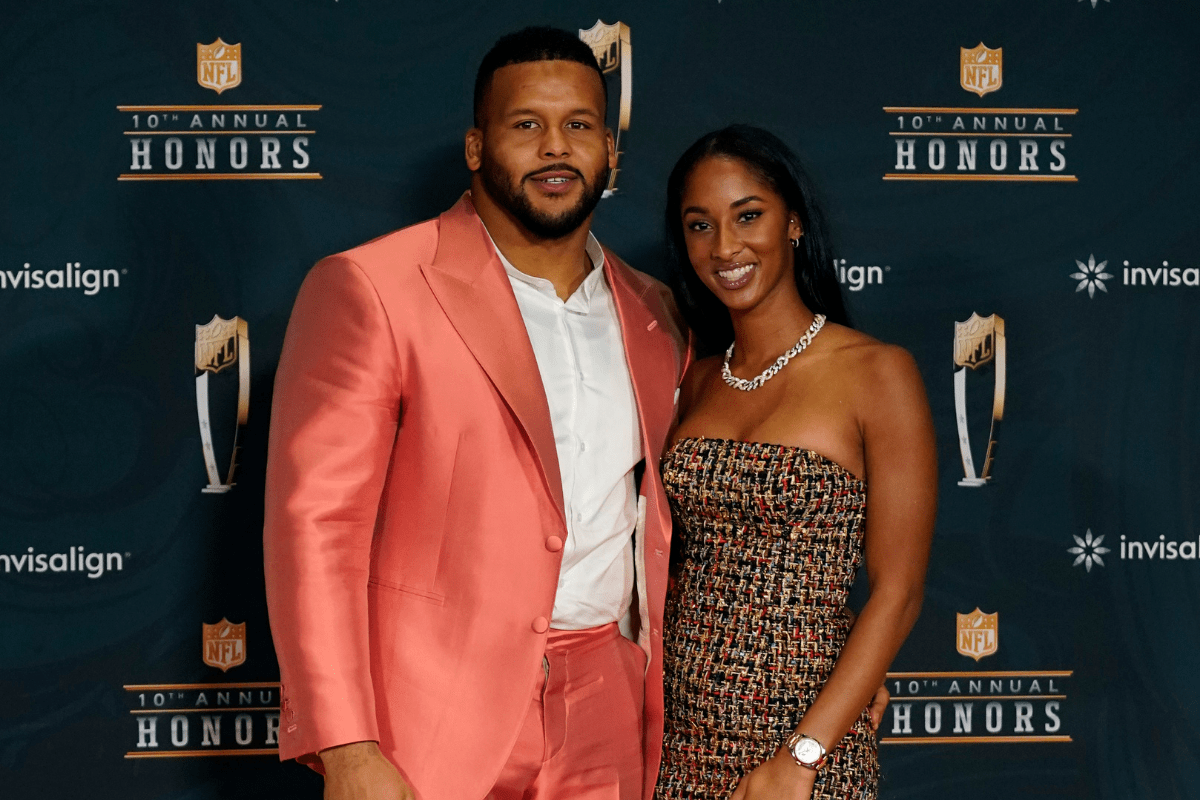 AP Photo/Marcio Jose Sanchez
Few men throughout sporting history have fully earned the nickname "The Terminator."
Tough guy Arnold Schwarzenegger both coined the moniker while setting an impossibly high bar for future Terminators to reach.
To be called "The Terminator," you have to be as badass as Arnold. And unless you're the Italian Stallion, you probably aren't that badass. Most NFL football players aren't that badass, but there is one who is. Meet American Football defensive tackle Aaron Donald.
Donald has earned his "Terminator" nickname and set the bar for its use even higher. (He also goes by "Cheat Code.") He has been a gridiron wrecking ball in the National Football League since 2014. As the reigning NFL Defensive Player of the Year, he is terminating opposing offenses with extreme prejudice.
But there's a softer side to football's Terminator. Donald is a family man with two children and a fiancee. They run an organization in Pittsburgh, Pennsylvania, which reaches out to underprivileged youth through sports and community-based projects.
The Calabasas couple met in Los Angeles, where Donald has spent much of his NFL career. With an unannounced wedding date pending, Donald is making moves to be a Los Angeles Ram for years to come.
Early Life & College Career
Aaron Charles Donald is a defensive end for the LA Rams, a father of two, and a Millennial from Pittsburgh.
The football player starred as a defensive tackle at Penn Hills High School. Donald's father Archie would wake up Aaron and his older brother Archie Donald Jr. for early morning work-outs, even earlier than his mother Anita Goggins got up.
The early-morning family time spent in the gym paid off when Aaron received scholarship offers from Toledo and Pittsburgh. He chose to stay local and play his NCAA football career at Pitt.
Donald played four seasons as a University of Pittsburgh Panthers defensive linemen before declaring for the 2014 NFL Draft. He navigated Pitt through the transition from the Big East to the ACC, through three BBVA Compass Bowls, and to one Little Ceasar's Bowl victory.
When Donald left Pittsburgh, he'd won ACC Defensive Player of the Year, the Bronko Nagurski Trophy, the Chuck Bednarik Award, the Lombardi Award, the Outland Trophy, and earned Unanimous First-Team All-American honors. And that was just in 2013.
Aaron Donald in the NFL
RELATED: Sean McVay Found True Love with a Ukrainian Model
With the 13th-overall pick in the first round of the 2014 NFL Draft, the (then) St. Louis Rams selected Aaron Donald. Donald came off the board one pick after the New York Giants selected Odell Beckham Jr.
Kahlil Mack went to the Oakland Raiders at No. 5 that year. Mack will continue to one-up Donald for years to come.
Since his All-Rookie Team season, Donald has been a Pro Bowl-level defensive tackle for the Rams organization. He won the NFL Defensive Rookie of the Year and was voted First-Team All-Pro team during his sophomore season. Donald has since made every Pro Bowl and All-Pro team since 2015 — the last year the Rams were in St. Louis.
The franchise relocated and became the Los Angeles Rams (once again) in 2016. By 2018, Donald was up for a new contract. He became the highest-paid NFL player EVER on a six-year, $87 million guaranteed deal.
Donald's claim to highest-paid ever lasted less than a day, as Kahlil Mack signed an even bigger deal with the Bears soon after Donald made his announcement. Undeterred and angered, if anything, Donald proved he was worth every penny.
While Donald led the Rams defense, Jared Goff and Todd Gurley led the upstart offense to Super Bowl LIII, where they lost to (who else?) Tom Brady and the New England Patriots. The Rams defeated the Dallas Cowboys and the New Orleans Saints to get there.
Aaron Donald remains one of the NFL's most dominant forces in 2021. Teams must constantly double-team the consistent NFC Defensive Player of the Week, though he continues to put up huge sack numbers.
He is recognized as a mastermind defenseman, likely one of the best to play his position ever. Opposing running backs fear the beast, and there have even been calls to let the talented Donald run the ball, too.
Donald keeps it clean off the field, avoiding legal drama like chop blocks. He was mistakenly accused of assault earlier this year, but that situation has since worked itself out.
Though he has two children, Donald has never been married. The former highest-paid NFL player ever plans to change that soon.
Ex-Girlfriend Jaelynn Blakey
Apologies to Jaelynn Blakey, who is not the woman depicted above. Erica Sherman is the woman in the video (more on her in a moment), but the video focuses on Blakey's children.
Jaelynn Blakey is Aaron Donald's former longtime girlfriend. She gave birth to Donald's first child Jaeda Donald in 2013 and his second child Aaron Donald Jr. in 2016.
Blakey keeps a low profile and abstains from social media. She was raised in Pittsburgh and was Aaron's high school sweetheart.
It's unclear when Blakey and Donald broke up. Safe to assume, it was some time before Donald asked Erica Sherman to marry him.
Who is Erica Sherman?
Erica Sherman is Aaron Donald's current fiancee and future wife. They met while Erica worked in community marketing for the Los Angeles Rams. Erica is a Louisiana State University graduate and no longer works for the Rams.
She's currently the Vice President of Athlete Partnerships for game1, a sports-focused Hollywood production company, in addition to being Donald's personal marketing manager.
While helping the NFL star manage endorsements, she also serves on the board of AD99 Solutions, Aaron Donald's Pittsburgh-based outreach program. The foundation is Aaron Donald's way of giving back to the city that helped give him such an intimidating net worth.
Their engagement date is unknown (to the Internet, at least), but they live together with Aaron's children in Calabasas, California. They are also expecting their first child together.
Sherman makes frequent cameos on the footballer's YouTube channel and vlog series, which has almost 1 million subscribers.
Their wedding date is a secret kept under tight wraps, just like opposing quarterbacks when Donald inevitably reaches them.
Aaron Donald is at the top of his game right now. With his wife and children behind him, Donald plans to Terminate NFC offenses for years to come.