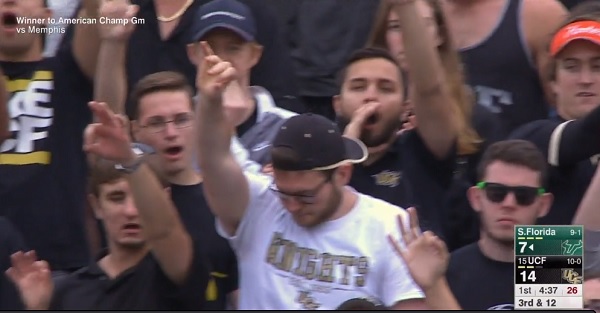 Clippit/Screenshot
This is probably a trend that ESPN would like to put a stop to.
During Friday's big game between 10-0 Central Florida and 9-1 South Florida, the ESPN on ABC cameras made a cut to fans in the crowd… and directly to a UCF fan throwing up two middle fingers.
Part of this is just really bad timing for ESPN, as it looks like the fan threw up the birds right as the shot switched to that camera. Still, it is comical to see the ESPN cameras have to pan away as quickly as possible because of a poor shot.
Of course, this is far from the first time this has happened this season… maybe networks should consider cutting back on pointless shots of the fans. I mean, that wasn't even a big moment where you want to see fans celebrating, so what was the point?