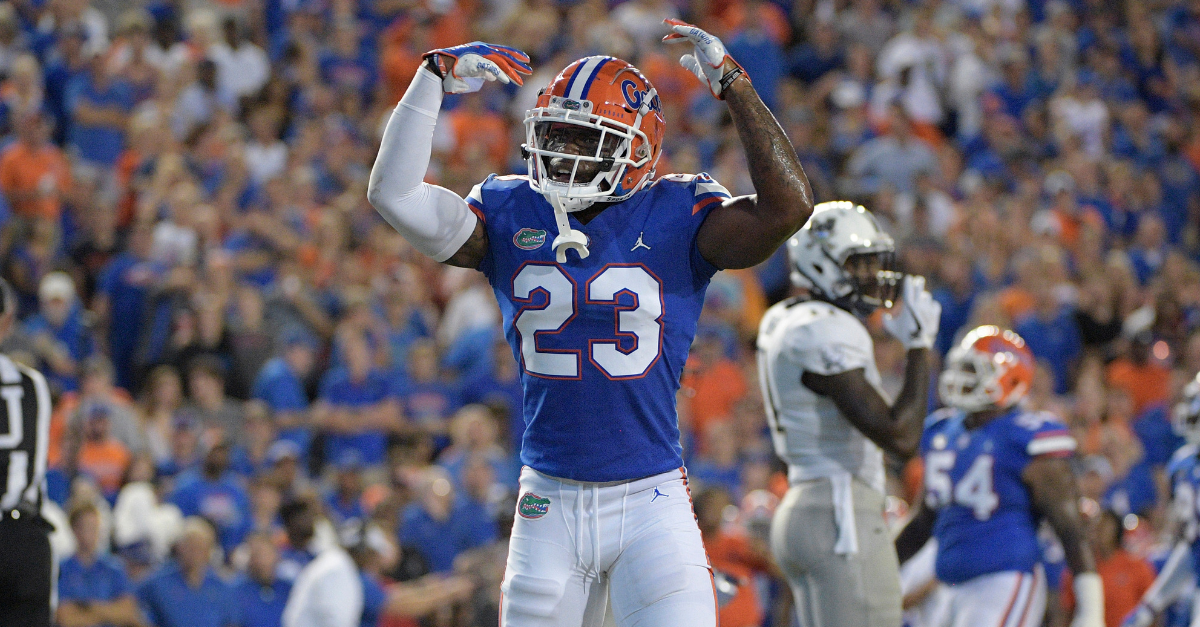 AP Photo/Phelan M. Ebenhack
AP Photo/Phelan M. Ebenhack
Over the past four years, there are not many states that can say they have produced college football talent the way the state of Florida has. Between Florida, Florida State, and Miami, they have been factories for NFL talent. Now you can add the rest of the Florida schools to that list.
In 2018, the state of Florida had some ups and downs for their college football programs. Central Florida went undefeated during the regular season again, the Gators came back from a poor showing in 2017 to win 10 games, the Hurricanes went in the opposite direction, and the Seminoles' bowl streak ended. But even the worst teams in the state had players show out. So if we were to build an all-star team for the Sunshine State, what would that look like?
It isn't exactly easy to compare players at the same position when they play in completely different conferences and decide who had a better season. How does 800 yards in Conference USA compare to 600 in the ACC? Or 100 tackles in the AAC to 75 in the SEC? Well, I decided to go case-by-case and look at all of the numbers for each player at each position, and this is the team I came up with.
Offense
Quarterback
McKenzie Milton, UCF
2018 Stats: 171-for-289, 59.2 percent passing, 2,663 passing yards, 25 passing touchdowns, 6 interceptions; 79 carries, 307 yards, 9 rushing touchdowns.
Running Backs
Devin Singletary, FAU
2018 Stats: 261 carries, 1,348 yards, 5.2 yards per carry, 22 touchdowns
Travis Homer, Miami
2018 Stats: 164 carries, 985 yards, 6.0 yards per carry, 4 touchdowns; 19 catches, 184 yards
This one was close because Homer had less yards and touchdowns than a few guys. However, he also was facing tougher defenses than players from other schools that only 100 yards difference on the season wasn't enough to beat a guy who was playing better defensive fronts every week.
Greg McCrae had a little over 100 yards more than Homer on the season, but each of them played Pittsburgh and Homer had the much better game. Homer rushed for 168 yards and a touchdown on eight carries against the Panthers, while McCrae only rushed for 64 yards on 10 carries.
Wide Receivers
Gabriel Davis, UCF
2018 Stats: 53 catches, 815 yards, 7 touchdowns
Jovon Durante, FAU
2018 Stats: 65 catches, 873 yards, 5 touchdowns
Nyqwan Murray, FSU
2018 Stats: 54 catches, 744 yards, 3 touchdowns
Tight End
Harrison Bryant, FAU
2018 Stats: 45 catches, 662 yards, 4 touchdowns
This one is weird because a player like Miami's Brevin Jordan is so talented and I think he is one of the most talented tight ends in the country, but Bryant just put up huge numbers compared to Jordan. If the yardage was a little closer, I would have put Jordan in this spot, but Bryant had well over double the yards, over double-digit more catches, and the same amount of scores.
Offensive Line
Jawaan Taylor, Florida
Martez Ivey, Florida
Jordan Johnson, UCF
Tyler Gauthier, Miami
Tyree St. Louis, Miami
Defense
Defensive Line
These are in no particular order because they were all dominant throughout the season. I also have five because I felt like it and if I am building a team, all five of these guys will be on the field.
Brian Burns, FSU
2018 Stats: 52 tackles, 15.5 TFL, 10 sacks, 3 forced fumbles
Gerald Willis III, Miami
2018 Stats: 59 tackles, 18 TFL, 4 sacks
Jabari Zuniga, Florida
2018 Stats: 45 tackles, 11 TFL, 6.5 sacks
Joe Jackson, Miami
2018 Stats: 47 tackles, 14.5 TFL, 8.5 sacks, 1 interception, 2 forced fumbles, 1 touchdown
Jachai Polite, Florida
2018 Stats: 45 tackles, 19.5 TFL, 11 sacks, 6 forced fumbles
Linebackers
Shaquille Quarterman, Miami
2018 Stats: 82 tackles, 14 TFL, 5.0 sacks, 1 interception, 1 forced fumble, 1 fumble recovery
Michael Pinckney, Miami
2018 Stats: 74 tackles, 11 TFL, 3.5 sacks, 1 interception
Sage Lewis, FIU
2018 Stats: 124 tackles, 4.5 TFL, 1.0 sacks, 8 passes defended, 1 fumble recovery, 1 touchdown
Defensive Backs
C.J. Henderson, Florida
2018 Stats: 38 tackles, 5 TFL, 3.0 sacks, 2 interceptions, 5 passes defended, 2 forced fumbles
Richie Grant, UCF
2018 Stats: 108 tackles, 3.0 TFL, 6 interceptions, 2 forced fumbles, 1 fumble recovery
Jaquan Johnson, Miami
2018 Stats: 92 tackles, 1.5 TFL, 2 interceptions, 2 forced fumbles
Chauncey Gardner-Johnson, Florida
2018 Stats: 71 tackles, 9.0 TFL, 3.0 sacks, 4 interceptions, 2 touchdowns
Special Teams
Kicker
Evan McPherson, Florida
2018 Stats: 17-for-19 field goals, 50-for-50 PATs
Punter
Tommy Townsend, Florida
2018 Stats: 51 punts, 2,315 yards, 45.4 yards per punt, 71-yard punt
Returners
Terrence Horne, USF
2018 Stats: 6 returns, 282 yards, 2 touchdowns, 47.0 yards per return
Jeff Thomas, Miami
2018 Stats: 10 kick returns, 260 yards, 26.0 yards per return; 9 punt returns, 221 yards, 1 touchdown, 24.6 yards per return