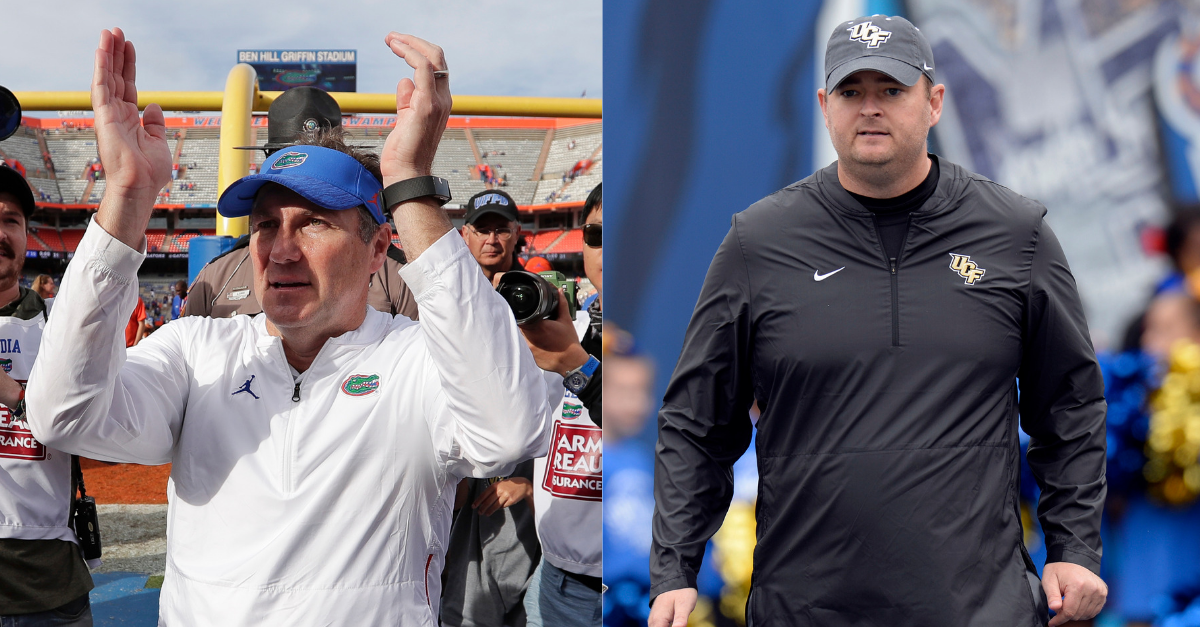 AP Photo/John Raoux, Mark Zalesk
What happens when one of the nation?s biggest up-and-coming football programs resides just two hours down the road from one of the most storied programs? Easy: They want to play each other. Badly.
I?m talking about the University of Florida and the University of Central Florida, of course. The Knights haven?t lost since 2016, winning 25 straight games while self-declaring themselves last season?s national champion. The Gators have turned around last season?s dismal 4-7 record to a 9-3 mark this year and a Peach Bowl berth against the Michigan Wolverines under first-year head coach Dan Mullen.
The College Football Playoff Selection Committee could have, and should have, pegged UCF against UF in Atlanta?s Peach Bowl this year, likely sparking an in-state rivalry fans across the state of Florida and the nation would have tuned in for. The committee instead opted to pit Central Florida against LSU in the Fiesta Bowl.
Rejoice, Gator and Knight fans. I think the two schools will take matters into their own hands and schedule each other as long as a couple things happen.
1. UCF?s athletic director needs to stop being stubborn.
Related: Gatoropoly is Finally Going to Settle Who Owns the University of Florida
Danny White, who happens to be the brother of UF men?s basketball coach Mike White, has been very vocal on Twitter lobbying for his program to make the CFP. It won?t happen because it can?t happen, at least not with their current schedule.
White is currently prioritizing money. He said that he?s open to a home-and-home series with Florida, but won?t do a two-for-one deal suggested by UF AD Scott Stricklin for fear of losing millions of dollars in revenue from the loss of a home game.
Here?s the thing, though: Stricklin has the power. Florida doesn?t have to change a thing in their schedule because it already features a theoretical path to the playoff. UCF can?t say the same, as evidenced by both the 2017 and 2018 seasons. White doesn?t want to budge? It?s no sweat off Stricklin?s back.
2. Florida?s AD needs to compromise.
The good thing is Stricklin and White have both seemed to warm to the idea of a neutral site game. White has suggested the notion of a home-and-home plus a neutral-site matchup, and that makes the most sense for the two teams. Plus, Florida playing non-conference UCF would draw a hell of a lot more of its own fans than playing Idaho or Charleston Southern would. And it?s no secret Mullen was discouraged by attendance this year.
To UF?s credit, it?s already scheduled USF ? UCF?s conference rival ? albeit in the two-for-one format Stricklin clearly prefers for a non-Power 5 team. But White doesn?t think of UCF has just another non-Power 5 team. He?s said, ?Top 10 programs don?t schedule two-for-one series where the balance is not in their favor. Our growing fanbase and student athletes deserve better than that.?
White's 100 percent correct. But he should do everything in his power to strengthen UCF?s schedule. That may just mean biting the bullet and settling for a two-for-one or working with Stricklin to find a neutral site location.
For the sake of college football fans, let?s hope they make it happen.