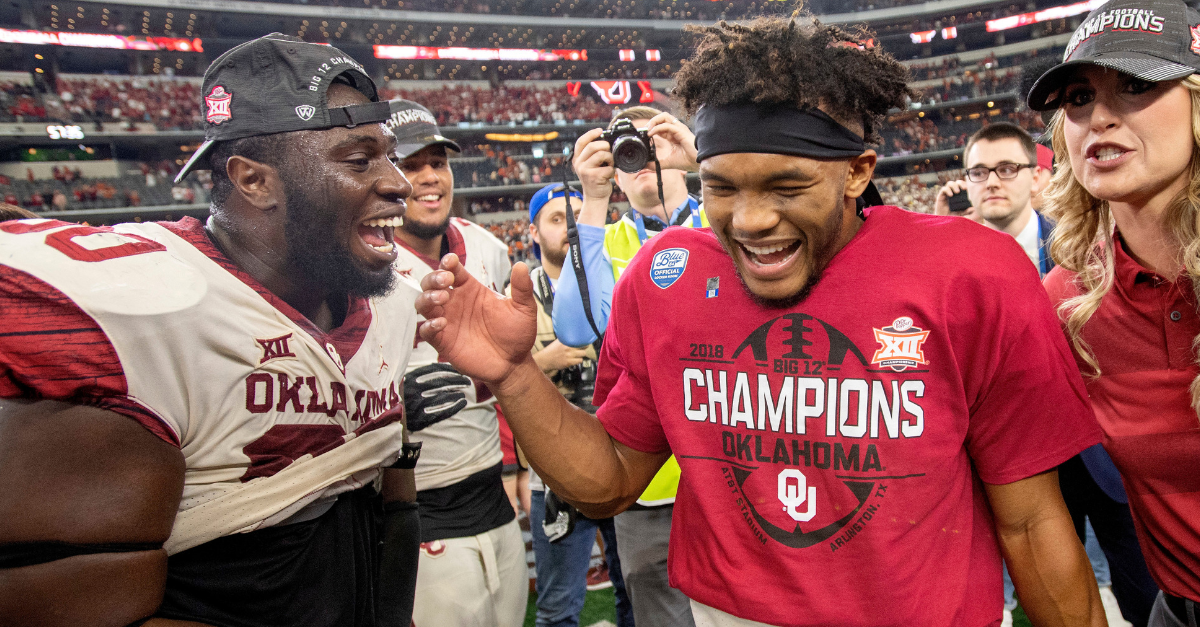 (AP Photo/Jeffrey McWhorter
It has been almost a week, and Georgia Bulldogs fans are still fuming that they didn?t get into the College Football Playoff, but in hindsight, I think the committee made the right choice with picking the Oklahoma Sooners.
Although Georgia may be one of the four best teams in the country, they didn?t deserve to make it in, even after a close loss to the Alabama Crimson Tide in the SEC Championship game in Atlanta.
Here are five main reasons why:
1. Georgia's Loss at LSU
After watching LSU against Alabama and Texas A&M, you have to wonder how in the world a team with that much talent could lose to LSU? I am certain the committee members were asking the same thing. This is the same team that took the No. 1 team in the country to the brink of elimination and yet got stomped in Baton Rouge back in October.
2. Oklahoma Won the Big 12
RELATED: Oklahoma?s Kyler Murray Made More Money Than These Pro Athletes in 2018
Say what you want about the Sooners, but after their close loss to Texas in the Red River Showdown, they did take care of business and won the Big 12. It was clear from the committee?s stand point had it come down to Alabama and Oklahoma, it was probably going to be Alabama had they lost to Georgia. The Sooners had another thing going for them: They only had one loss. Had the Sooners dropped one against Oklahoma State or West Virginia, they would have had two losses, basically eliminating them and pitting Georgia against Ohio State, which would have increased the Bulldogs' chances of getting in.
3. The CFP Committee Didn't Want a Quick Rematch
Had the committee decided to pick Georgia, it also would have meant another rematch against Alabama. Although the previous games have been classics, neither Georgia or Alabama (despite what Kirby Smart says) wanted to face the other a month later. It was a tough, hard-fought game by both teams and the CFP committee might have thought putting Georgia onto the field to face Alabama again might be punishing both teams.
4. The CFP Committee Wanted No SEC Bias Rumors
There was a BIG stink last year when the committee choose two SEC teams to be part of the final four, so doing it again, despite the fact that the Bulldogs are probably one of the four best teams in the country, was not going to be a good look for the committee.
5. The CFP Committee Wanted to Be Fair to OU
I think what this all comes down to is being fair to the Sooners. They earned their way in by winning the rest of their games and winning their conference title, which three out of the four teams in the CFP did. There was no way the committee could ignore those factors in deciding in who got in.