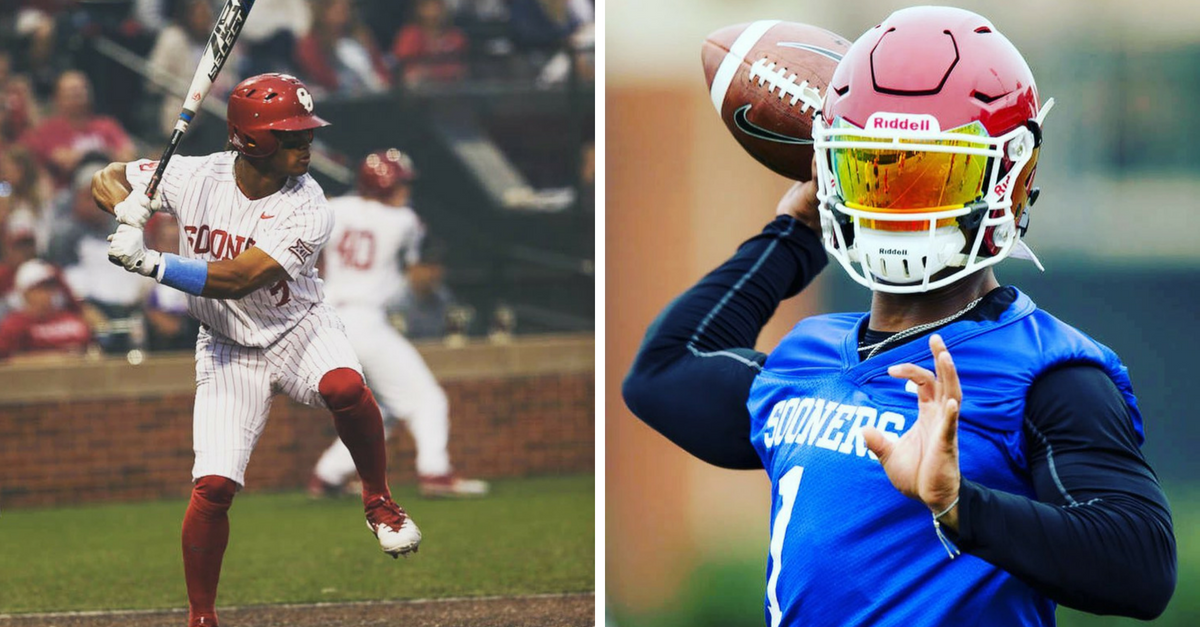 Instagram: @kyler1murray
Instagram: @kyler1murray
Instagram: @kyler1murray
The Oklahoma Sooners faced a problem not many college football programs had to worry about in 2018. One of their star players, and arguably their most valuable, was about to become a professional baseball player.
When the Oakland Athletics drafted Oklahoma center fielder Kyler Murray with the ninth-overall pick draft pick in the 2018 MLB Draft, they gambled on a young man with two focuses: a blossoming baseball career, and starting at quarterback for the Oklahoma Sooners. The gambled paid off, and Murray signed a major league baseball contract with Oakland that included a $4.6 million signing bonus.
At Big 12 Media Days, Oklahoma head coach Lincoln Riley made one thing clear: Kyler Murray was not the Sooners' starting quarterback heading into the regular season.
Well, things certainly escalated quickly huh?
In an incredible football season where the first-round baseball draftee threw for 4,053 yards and 40 touchdowns and ran for 892 yards and 11 touchdowns, Murray led Oklahoma to their fourth-straight Big 12 Championship, won the Davey O'Brien Award as college football's top quarterback, was named AP Player of the Year, is a finalist for the Heisman Trophy, and he led the Sooners to their second-straight appearance in the College Football Playoff.
Not bad for a two-sport athlete who filled the void left by Heisman trophy winner Baker Mayfield. He's likely to head to the major leagues to join Oakland's farm system for spring training next year, but the first-round draft pick certainly turned some heads and is regarded as a potentially high selection in the NFL Draft, too.
We couldn't help but wonder though: what professional athletes made LESS money than Oklahoma quarterback Kyler Murray did when he signed his baseball contract in 2018?
All of these values are the average yearly salary based on information from Spotrac.com.
NFL
Marshawn Lynch, RB: $4.5 million
Josh Rosen, QB: $4.39 million
Justin Tucker, K: $4.2 million
Mark Ingram, RB: $4 million
Ted Ginn, Jr., WR: $3.67 million
DeShaun Watson, QB: $3.46 million
Todd Gurley, RB: $3.45 million (since re-signed for 4 years, $57.5 million)
Aaron Donald, DT: $2.53 million (since re-signed for 6 years, $135 million)
Mark Sanchez, QB: $915,000
MLB
Matt Adams, 1B: $4.00 million
Noah Syndergaard, P: $2.97 million
Joc Pederson, RF: $2.6 million
Bartolo Colon, P: $1.75 million
Chase Utley, 2B: $1.00 million
Francisco Lindor, SS: $623,000
Aaron Judge, OF: $622,000
Luis Severino, P: $604,975
NBA
Lance Stephenson, SG: $4.5 million
Lauri Markkanen, PF: $4.17 million
Marcus Smart, SG: $3.71 million
Seth Curry, SG: $2.79 million
Myles Turner, C: $2.70 million
Udonis Haslem, PF: $2.32 million
Dwayne Wade: SG: $2.32 million
Kyle Kuzma, PF: $1.55 million