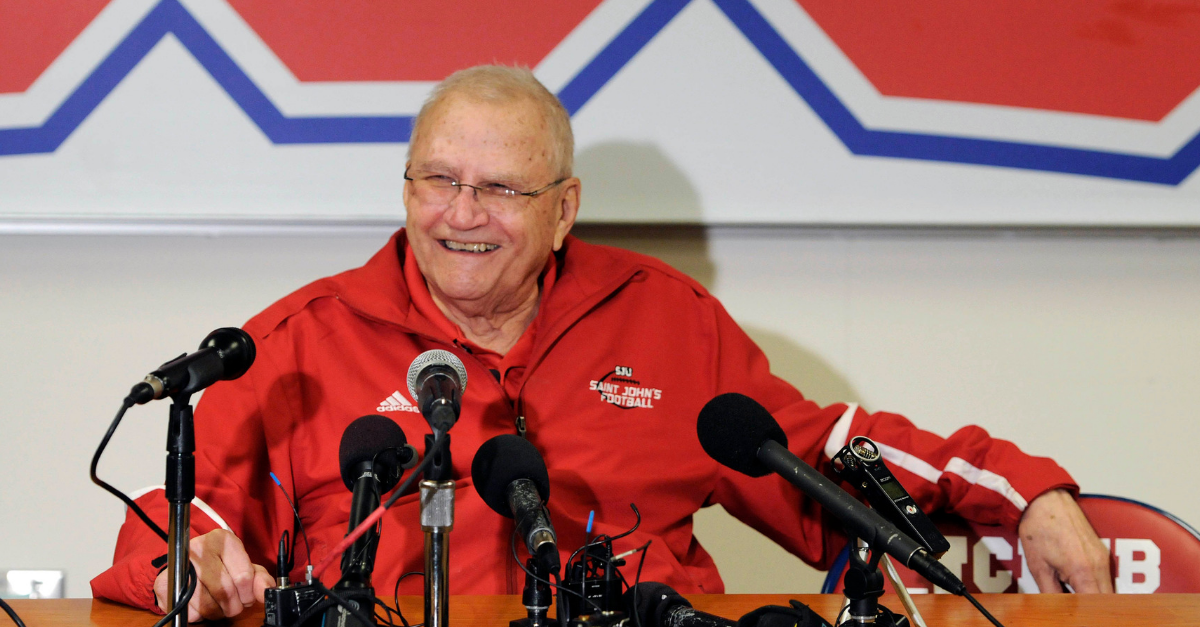 AP Photo/Jim Mone, File
AP Photo/Jim Mone, File
When people talk about the greatest football coaches of all-time, a few major figures immediately come to mind. Bear Bryant and Nick Saban built absolute powerhouses at the University of Alabama. Joe Paterno accrued 409 career wins at Penn State, the most all-time by a Division I coach. Pop Warner was not only the game's first major innovator, but he was the first to reach 300 career wins.
One name forgotten by the casual football fan is coach John Gagliardi. As the head football coach at St. John's University, a private all-male Roman Catholic university in Collegeville, Minnesota, Gagliardi spent 60 seasons coaching the Johnnies and racked up an all-time record 489 career wins. The legendary coach, whose unorthodox methods will never again be reproduced with that success, died on Sunday. He was 91.
Known for not using whistles or blocking sleds and preferring to be called "John" rather than "Coach," Gagliardi's practices typically never lasted longer than 90 minutes, and he never cut a single player.
While the Trinidad, Colorado native's unconventional methods resonated so heavily with his players, he still never made the jump from the Division III level, choosing to hold true to his commitment and lead the St. John's Johnnies to 27 Minnesota Intercollegiate Athletic Conference titles and four national championships (2 NAIA titles and 2 NCAA Division III national titles).
"We have one rule with our players: the golden rule. Treat everybody the way you would want to be treated. We get the right guys. The ones that don't need any rules. We just hope they can play football." — John Gagilardi in a 2003 interview, via the New York Times
His 64 years of coaching experience, which began as a 22-year-old head coach at Carroll College (where he won three Montana Collegiate Conference championships in four years), ultimately built Gagliardi's coaching record to 489-138-11, which is magnified by the fact he accomplished this at a non-scholarship Division III program.
For reference, the closest active coach is Nick Saban, who would have to average 10 wins over the next 18 years to catch Gagliardi.
RELATED: Every Coach has a Method, But This One Gives Out Syrup Shots for Pancake Blocks
Every year since 1993, the Gagliardi Trophy is given to the most outstanding player in Division III college football, similar to the Heisman Trophy among Division I players. Twice was a member of the St. John's Johnnies given the award named for the same man who coached them that season.
Gagliardi and longtime Florida State head coach Bobby Bowden were the first two coaches to have been inducted into the College Football Hall of Fame while they were still coaching.
It's rare for a coach to have such a lasting impact, but Gagliardi's career at St. John's is one that will be revered for longer than his record coaching tenure can measure.
For John Gagliardi, football was more than a game. It was an opportunity to reach into the lives of young men and show them that faith, family and camaraderie were more important than the game.
But hey, the winningest coach in college football history also happened to be a heck of a football mind, too.