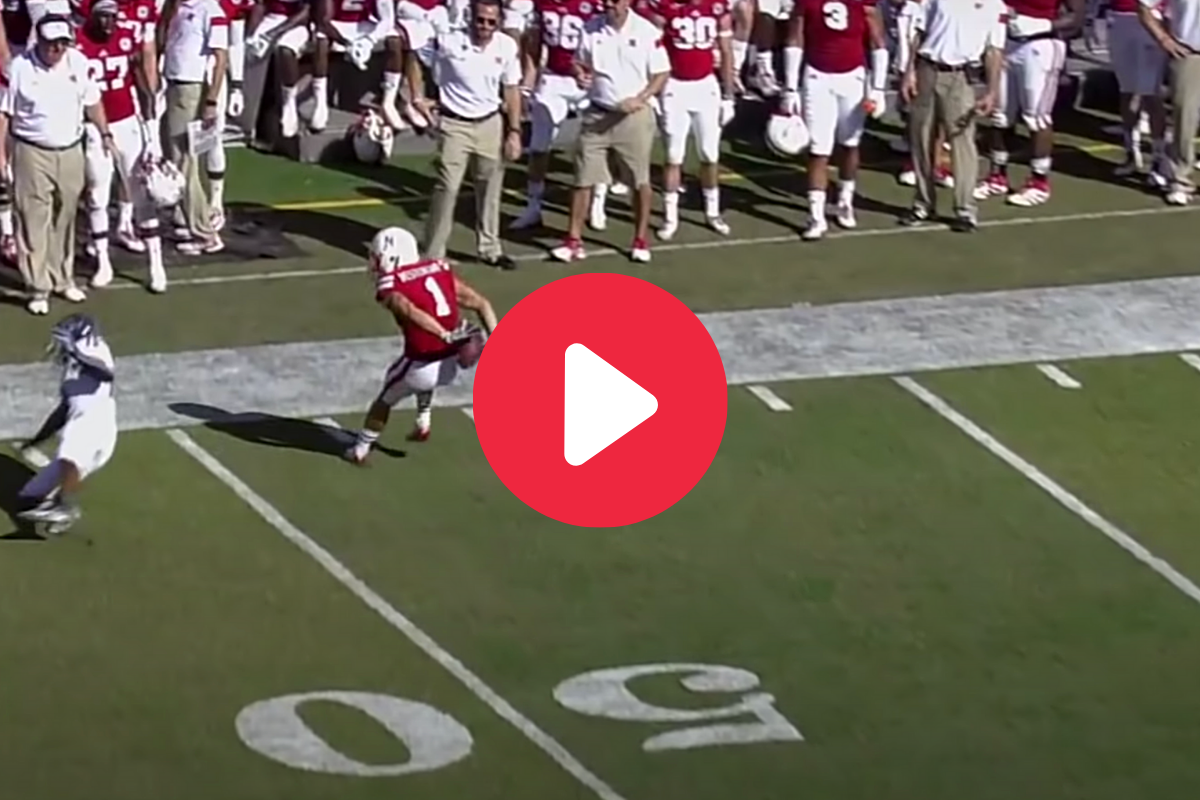 Screenshot from YouTube
Throughout college football history, there are plays that truly make your jaw drop. Some are incredibly lucky. Others take a great amount of skill. Regardless, they are amazing, and there?s no doubt Nebraska Cornhuskers wide receiver Jordan Westerkamp belongs on the list of unreal moments.
Westerkamp caught 167 passes for 2,474 yards during his career in Lincoln, including this phenomenal Hail Mary grab against the Northwestern Wildcats. However, none quite compare to the behind-the-back catch he made against the Florida Atlantic Owls back in 2014.
Sometimes it?s better to be lucky than good, and Westerkamp proved that with this snag for the ages.
Nebraska Player's Behind-the-Back Catch
RELATED: The ?Fake Statue of Liberty? Worked Like a Charm
Leading 31-7 early in the third quarter of the 2014 season opener at Memorial Stadium, Nebraska head coach Bo Pelini wasn?t ready for the Huskers to take their foot off the gas just yet. He wanted a few more points before his ranked team could coast.
With his offense back on the field, quarterback Tommy Armstrong fired a pass to the left near the sideline. It was a pretty risky throw, and FAU defense back Christian Milstead got his hands on the ball. Then, somehow, the ball bounced off the defender?s hands and right to sophomore wide receiver Jordan Westerkamp, who blindly put his hands behind his back.
Call it lucky if you want. It was. But it absolutely worked. Westerkamp had the concentration to catch the ball while keeping one foot in bounds, and it was one of the best catches you?ll ever see.
During Nebraska football?s 55-7 rout that day, Westerkamp caught seven passes for 125 yards and a touchdown, while fellow wide receiver Kenny Bell snagged four passes for 116 yards. The dynamic duo of pass catchers found the end zone a lot in the Big Ten that NCAA football season and flooded their highlight reels with great catches.
Westerkamp, a Lombard, Illinois, native who starred at Montini Catholic High School, signed with the Miami Dolphins but was waived before the 2007 NFL season. He also tried his luck in the CFL, AAF and the XFL.
Although his professional career hasn?t taken off, it?s impossible to forget the behind-the-back catch that made him famous and will be replayed for years and years to come.