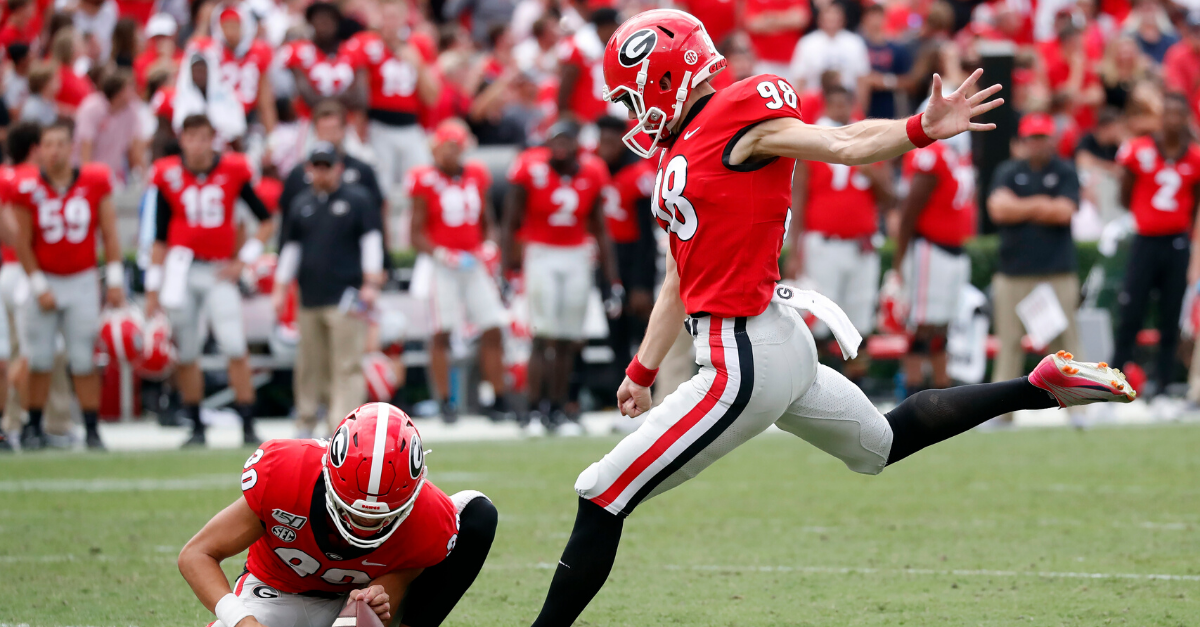 AP Photo/John Bazemore
Kickers have it tough in football today, so finding a great one when they come along is cherished by fan bases. George Blanda. Morten Anderson. Adam Vinatieri. These guys are legends, but only one kicker carries an unforgettable nickname like "The Toe."
Lou Groza defined the kicking position. "The Toe" demolished NFL records over 21 seasons of professional football with the Cleveland Browns. Standing 6-foot-3 and weighing around 250 pounds, Groza bombed 50-yard field goals while also playing offensive tackle, won four-straight All-American Football Conference championships (1946-49), captured four NFL Championships (1950, '54, '55 and '64), and was even named NFL MVP in 1954
Groza shined a light on how important the kicking position could be, especially with razor-thin margins in modern football, and his legacy lives on through the Lou Groza Award.
What is the Lou Groza Award?
Established by the Palm Beach County Sports Commission in 1992, Lou Groza Collegiate Place-Kicker Award is given to the top placekicker in college football. A panel consisting of Division 1 head coaches, sports journalists, conference representatives, professional kickers and previous winners votes to determine the winner every year. Fans also have an opportunity to vote on the winner.
Past Lou Groza Award Winners
Memphis State's Joe Allison (1992), Kansas State's Martin Gramatica (1997), Iowa's Nate Kaeding (2002), Ohio State's Mike Nugent (2004), Texas A&M's Randy Bullock (2011), Tulane's Cairo Santos (2012), UCLA's Ka'imi Fairbairn (2015), Arizona State's Zane Gonzalez (2016), Utah's Matt Gay (2017), and Syracuse's Andre Szmyt (2018) are among the list of previous winners.
Three Florida State kickers ? Sebastian Janikowski (1998 and 1999), Graham Gano (2008) and Roberto Aguyao (2013) ? were also named Lou Groza winners in Tallahassee.
A watch list of 30 players is released at the start of every season, then is trimmed to 20 semifinalists in November.
Lou Groza Award Semifinalists
Matt Ammendola, Oklahoma State
Rodrigo Blankenship, Georgia
Gabe Brkic, Oklahoma
Brent Cimaglia, Tennessee
Keith Duncan, Iowa
Christopher Dunn, NC State
Blake Grupe, Arkansas State
Peyton Henry, Washington
Logan Justus, Indiana
Jake Koehnke, Air Force
Connor Limpert, Arkansas
Blake Mazza, Washington State
Riley Patterson, Memphis
Justin Rohrwasser, Marshall
A.J. Reed, Duke
Nick Sciba, Wake Forest
Sam Sloman, Miami (OH)
Jonathan Song, TCU
Brandon Talton, Nevada
Jake Verity, East Carolina
The Lou Groza Award is part of the National College Football Awards Association (NCFAA), which includes 25 of the most prestigious awards in college football. These awards range from the Bednarik Award (nation's top defender) to the Rimington Trophy (nation's best center) and, of course, the Heisman Trophy.
In early December, three finalists were announced for the 2019 Lou Groza Award. A senior with zero misses in 190 career extra point attempts, a record-setting junior in the Big Ten Conference, and a sophomore who made almost every field goal attempt he took were honored.
Lou Groza Award Finalists
Rodrigo Blankenship, Senior, Georgia
Stats: 25-of-31 on field goals, 44-of-44 on extra points
Keith Duncan, Junior, Iowa
Stats: 29-of-34 on field goals, 25-of-25 on extra points
Blake Mazza, Sophomore, Washington State
Stats: 20-of-21 on field goals, 52-of-54 on extra points
At the Home Depot College Football Awards show on December 12, the Southeastern Conference cleaned house. The LSU Tigers claimed four awards, including the Maxwell Award (Joe Burrow), Biletnikoff Award (Ja'Marr Chase), Jim Thorpe Award (Grant Delpit) and Coach of the Year (Ed Orgeron. Kentucky's Max Duffy took home hardware by winning the Ray Guy Award as punter of the year.
Finally, Georgia Bulldogs kicker Rodrigo Blankenship, a two-time semifinalist for this award, was honored as the nation's top kicker. The former walk-on accounted for 432 career points heading into UGA's Sugar Bowl matchup against Baylor, which trailed only Auburn's Daniel Carlson (480 points) on the SEC's all-time list.
Georgia's Rodrigo Blankenship Wins Lou Groza Award