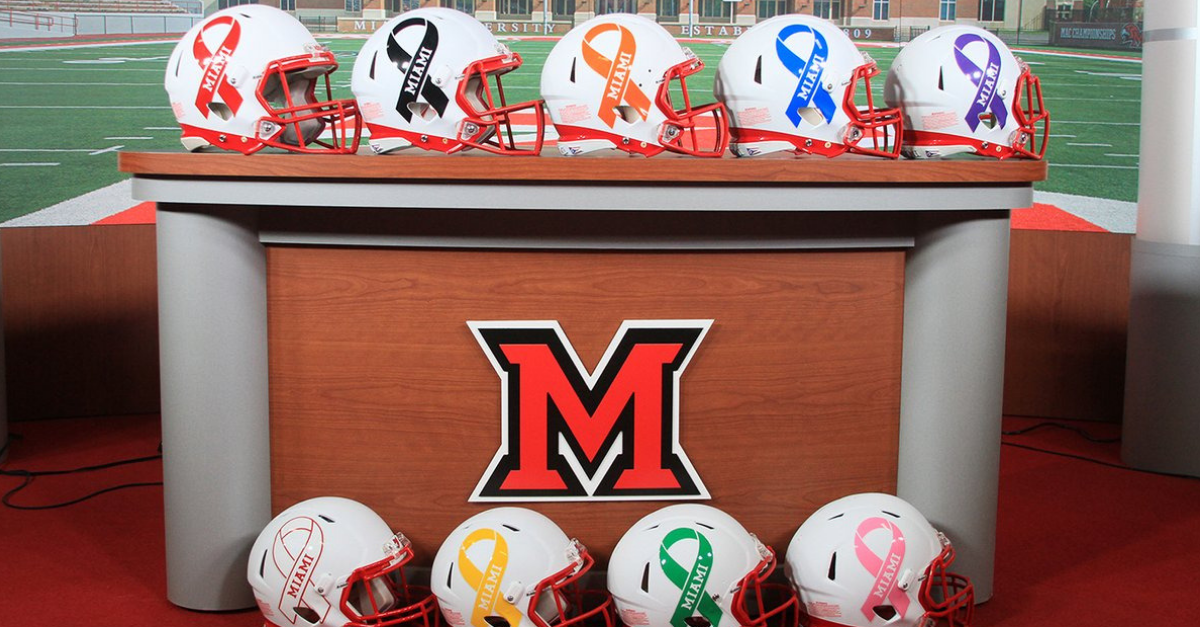 Twitter: @MiamiOHFootball
As the Miami (OH) Redhawks take the field Saturday afternoon against the Kent State Golden Flashes at Yager Stadium, every single player will be wearing a special helmet with a special meaning and it's one of the most amazing things you will see in college football this season.
All 112 Miami University players will have a helmet with a colored ribbon of their choice during the Cancer Awareness Game to symbolize how they have been effective by cancer. The options for ribbons with "Miami" written in them are red, orange, pink, green, purple, blue, yellow, white, and black.
RELATED: TSU Launches NCAA Approved GoFundMe Page to Help Critically Injured Player
This is special in every kind of way.
Here is what the nine color options stand for and how many players will wear that specific ribbon on their helmet:
Red: All Blood Cancers (8 players)

Orange: Kidney Cancer, Leukemia (12 players)

Pink: Breast Cancer (32 players)

Green: Liver Cancer, Ovarian Cancer, Cervical Cancer (8 players)

Purple: Leiomyosarcoma, Pancreatic Cancer, Testicular Cancer (14 players)

Blue: Colon Cancer, Esophageal Cancer (14 players)

Yellow: Bladder Cancer, Sarcoma/Bone Cancer (11 players)

White: Lung Cancer (9 players)

Black: Melanoma (4 players)
With so many interested in owning one of these unique helmets, Miami Athletics made five helmets available on an online auction. Bids start at $250 and increase in $25 increments. The auction ends on Sunday at 5 p.m.
Additionally, there will be a silent auction in the southwest corner of Yager Stadium and the limited edition helmets are also available via "Buy Now" for $2,000.
Everyone who purchases the helmet directly will have the option of what color ribbon they receive on the helmets.
Miami announced all proceeds go to Swoop's Stoop, a student-athlete organization that partners with Cincinnati Children's Hospital to provide opportunities to children and families who are battling cancer.