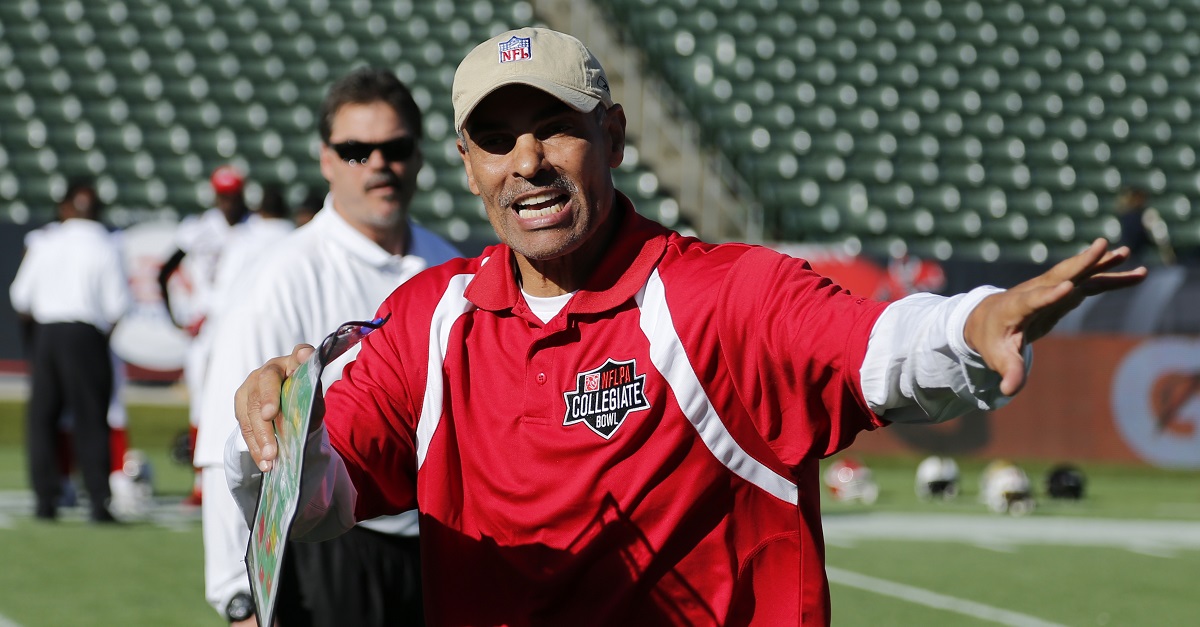 Ric Tapia/AP Photo
Coaches Herm Edwards talks with his players during the NFLPA Collegiate Bowl American team practice on Friday, Jan. 18, 2013 in Carson, Calif. (Ric Tapia/AP Images for NFLPA)
In reports when he was being hired, the idea of Herm Edwards taking over at Arizona State is that the school would retain both of Todd Graham's coordinators and have Edwards act in more of a managerial and motivational role over them.
That plan is now in shambles.
Just two days after defensive coordinator Phil Bennett resigned, it now appears that offensive coordinator Billy Napier going to take the open job at Louisiana-Lafayette.
Napier is a former assistant at Alabama and Clemson, and had taken the job as Arizona State's offensive coordinator this past year. Arizona State performed well on the offensive side of the ball this season, averaging 32 points per game in their 7-5 campaign. Napier will take over at Louisiana after they fired head coach Mark Hudspeth after a 5-7 season. Hudspeth is now an assistant at Mississippi State.
Edwards will now have some scrambling to do in just a couple of weeks, as his Sun Devils have no coordinators ahead of their Dec. 28 bowl game against N.C. State.
The Arizona State job opened after the school fired head coach Todd Graham at the end of the regular season. Graham was 46-31 in his six year tenure, but the Sun Devils? administration had grown impatient with the lack of growth after Graham put together back-to-back 10-win seasons in his second and third years with the team.