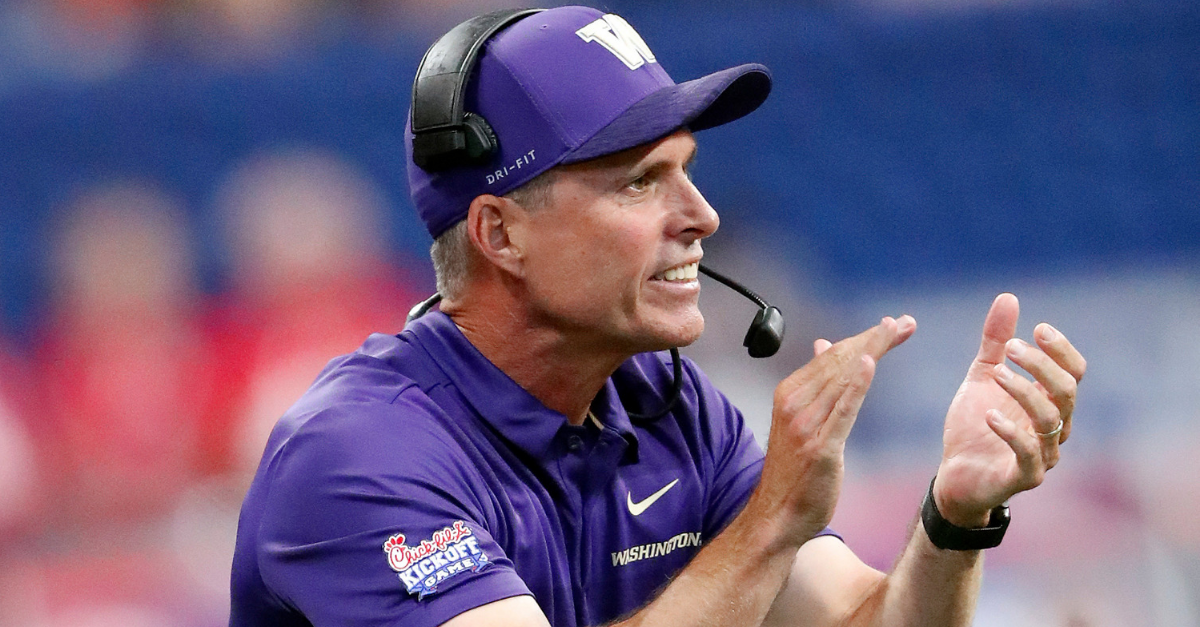 (AP Photo/John Bazemore
In a college football world filled with crazy College GameDay signs and heavily watched rivalries, one ESPN broadcaster has continued his weird feud with the Washington Huskies and head coach Chris Petersen.
While calling the Huskies? win over California last season at Husky Stadium, play-by-play broadcaster Mark Jones strangely called Petersen ?irascible and somewhat cantankerous? after ESPN sideline reporter Quint Kessenich placed three cupcakes near the field as a symbol to the team?s non-conference schedule.
Then, following No. 6 Washington?s 21-16 loss to No. 9 Auburn in Atlanta, Jones fired off a bizarre tweet aimed right at the Huskies.
?Washington Huskies took one on the chin. Where?s Montana?? Jones wrote.
Trying to wrap your mind around this feud will make you dizzy. It really makes absolutely no sense, to be perfectly honest.
Jones, a Canada native, attended York University in Toronto. That?s over 4,000 miles away from Seattle. So why the Huskies? Why Peterson? Why is this even a thing?
There was an apology, of course. Jones sent it out via Twitter on Monday afternoon:
?Hey don?t get me wrong? I still think Washington will have a great season.. losing to Auburn in their backyard is a lot better than what a team like Miami did to their CFP chances. All love Seattle. [Shoutout] to the bruthas at Greenlake Park.?
Shortly after the apology, though, this feud, or whatever you want to call it, was definitely limited to social media and will not be an on-air thing this season. Jones will reportedly not be assigned to do the play-by-play for any Washington games this season.
Jones has been with ABC and ESPN since 1990 and has been the voice of some memorable sports calls for the NBA and college football over the years.
What Jones did last year on air and then on social media this weekend has basically made sure he won?t be part of any Washington memories anytime soon.
Who knows what will come next?