The NCAA may be the butt of many jokes and everyone's enemy, but it's not something to mess with. Southern Methodist University's football program found that out the hard way in 1987 when they received the dreaded death penalty. And while the organization's other penalties may not be as harsh, they do have lasting effects.
You've heard of Penn State's sex abuse scandal that led to the NCAA vacating 111 of its wins under Joe Paterno. We all remember Ole Miss being forced to vacate 33 wins over six seasons for recruiting violations. The same story followed for Notre Dame in 2012 and 2013 after it supplied extra benefits to players.
But do you remember when the national-title-winning, all-powerful Alabama Crimson Tide's football team found itself in hot water and had to vacate more than 20 of its wins more than a decade ago?
Alabama's Textbook Scandal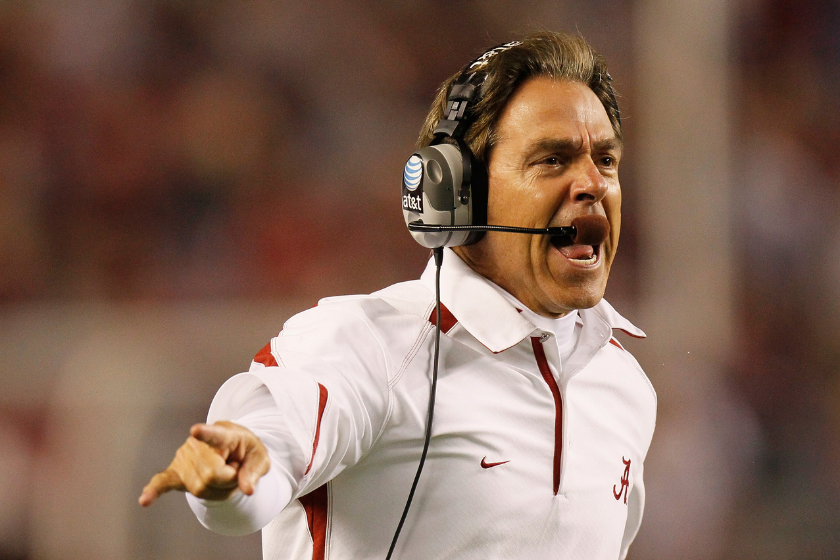 Let's take a trip down memory lane. Nick Saban was in his first year as head coach of the University of Alabama football program in 2007. He took over for former coach Mike Shula.
Before the Crimson Tide's rivalry game against Tennessee, five players -- Antoine Caldwell, Marlon Davis, Glen Coffee, Marquis Johnson and Chris Rogers -- were suspended for four games by the school for violating NCAA rules.
Essentially, the school reported that these players were using their scholarships to acquire free textbooks and provide them to friends at the school. Student athletes get their textbooks for free but many took advantage of the university's textbook distribution system. According to Bleacher Report, this began in 2005, long before Saban arrived.
The scandal's scope wasn't just limited to the football program. As ESPN reported, 201 athletes across 16 sports obtained textbooks they weren't entitled to under their scholarships. That included "22 'intentional wrongdoers' in football, track and tennis who knowingly exploited the system to get books for others."
While the worst of the school's offenders were a handful of football players that received books worth a few thousand dollars, the total across all sports was about $40,000, according to former Miami athletic director and infractions committee chairman Paul Dee.
NCAA Made Alabama Vacate 21 Wins
The NCAA, of course, brought the hammer down. The Infractions Committee ruled that Alabama had to vacate all wins these players participated in, which came out to a grand total of 21.
At the time of the decision in 2009, Alabama fans were probably on cloud nine. The Tide had just finished sixth in the final AP Poll after a stellar season that ended in losses to Florida in the SEC Championship Game and Utah in the Sugar Bowl.
All 10 wins from 2005 (including a Cotton Bowl win over Texas Tech), six wins from 2006 and the first five of 2007 -- up until the violations were reported -- were wiped away. Alabama lost to Auburn in both 2005 and 2006, so no Iron Bowl victories were vacated. But the Tide finished the 2007 season 2-4 in their final six games, with their only wins coming against Tennessee and Colorado in the Independence Bowl.
Alabama appealed the decision, citing the ruling as "inconsistent." As Roll Bama Roll wrote, the Tide's case was similar to the textbook scandal that took place at Ball State University. Unlike Alabama, the Cardinals didn't have to vacate any wins but were put on probation for two seasons and lost three scholarships.
While Alabama didn't lose any scholarships, it was fined $43,900 and put on three years probation. Former Alabama athletic director Mal Moore told ESPN she wasn't happy with the ruling.
"We're very disappointed because the Committee missed an excellent opportunity to follow its precedent set in recent cases, the precedent we followed due to the nature of the case."

-- Former Alabama Athletic Director Mal Moore
Maybe the NCAA wanted to make an example of one of the biggest football programs in the country. Maybe the ruling was completely warranted.
The ruling gave Alabama 29 total vacated wins in its program's history. The team had to vacate eight victories from the 1993 season due to playing an ineligible player. Since 2000, only one other SEC team -- Ole Miss, which vacated 33 wins from 2010-16 -- has had to vacate any amount of wins.
Alabama nearly received the death penalty in 2002 for a recruiting scandal in which boosters were paying potential recruits, and the NCAA could've easily been harsher for this scandal. That would've almost certainly changed the landscape of American and college football. Saban probably never takes the 'Bama job and stays with the Miami Dolphins.
History had different plans. All Saban has done since year one in Tuscaloosa is win six national championships and turn the Tide into a perennial powerhouse and factory for future NFL players.
Related Videos
Enjoy all things sports?
Don't miss a story! Sign up for daily stories delivered to your inbox.